B2Gold (BTG) Hits 52-Week High: What's Driving the Rally?
Shares of B2Gold Corp. BTG touched a 52-week high of $54.07, before closing the session a tad lower at $4.04 on Dec 26. Better-than-expected third-quarter earnings, an upbeat outlook for 2019 and higher gold prices have contributed to this rally.

B2Gold, which has a market cap of roughly $3.95 billion, has an expected long-term earnings per share growth rate of 2.71%. It surpassed the Zacks Consensus Estimate in three of the trailing four quarters by 11.31%, on average.
In the past six months, shares of B2Gold have gained 36%, outperforming the industry and the S&P 500's rally of 16.8% and 10.2%, respectively.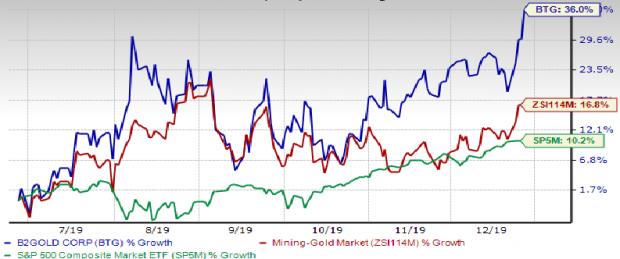 Driving Factors

B2Gold's share price has been on the rise following its stellar third-quarter results on Nov 5. Adjusted earnings came in at 9 cents per share in the quarter, up an impressive 125% from the prior-year quarter and also beat the Zacks Consensus Estimate by a margin of 29%. The company generated revenues of $311 million in the third quarter, reflecting year-over-year improvement of 11% primarily due to increase in the average realized gold price. Moreover, B2Gold's consolidated gold production was a record 258,200 ounces in the reported quarter, 7% above the company's budget. This can be attributed to solid performances across the board. On a year-over-year basis, gold production was up 7% in the quarter.

Backed by strong gold production so far in 2019, B2Gold remains well poised for continued robust operational and financial performance. It anticipates producing gold at the mid-point of the previous estimate of 935,000-975,000 ounces this year. With these projections, the company is set to outperform its peers with production growth of 74% from 2016 through 2019.

Consolidated cash costs are projected to remain low in the current year, with cash operating costs forecast to be at or below the lower end of $520 and $560 per ounce guidance. Meanwhile, All-in sustaining costs (AISC) are expected to be within the company's guided range of $835 per ounce and $875 per ounce.

The Fekola Mine in Mali had produced 336,567 ounces of gold year to date, ahead of its budget by 7%. It also displays an improvement of 1% from the prior-year. Backed by these solid numbers, Fekola's gold production for 2019 is projected at 445,000-455,000 ounces, higher than the prior guidance of 420,000 and 430,000 ounces. Production at the Fekola Mine in 2020 is projected to be approximately 600,000 ounces of gold.

The company announced that a new large-scale off-grid Fekola solar plant project has been approved by its board. The plant, which is scheduled for completion in August 2020, is estimated to reduce Fekola's processing costs by approximately 7%. B2Gold plans to invest $50 million over a period of approximately 18 months for the expansion of the mine, which would enable the company to produce around 5 million ounces of gold over the new mine life of 12 years.

Gold prices have been up 17% so far this year, which has also been driving B2Gold's share price performance. The trade war, slowdown in manufacturing activity and rate cuts have collectively helped lift the yellow metal's investment appeal.

Positive Growth Projections

Analysts are steadily growing bullish on the stock. Over the last 60 days, the Zacks Consensus Estimate for 2019 earnings moved 5% north. For 2020, the Zacks Consensus Estimate for earnings moved up 3%, during the same time frame.

The Zacks Consensus Estimate for B2Gold's 2019 earnings is currently pegged at 23 cents, indicating year-over-year growth of 43.8%. The same for 2020 is pinned at 43 cents, suggesting a year-over-year improvement of 86.1%.

Zacks Rank & Other Stocks to Consider

B2Gold currently carries a Zacks Rank #2 (Buy). You can see the complete list of today's Zacks #1 Rank (Strong Buy) stocks here.

Some other top-ranked stocks in the basic materials space are Impala Platinum Holdings Limited IMPUY, Pan American Silver Corp. PAAS and Air Products and Chemicals, Inc. APD. While Impala Platinum and Pan American Silver currently sport a Zacks Rank #1, Air Products carries a Zacks Rank #2.

Impala Platinum Holdings has projected earnings growth rate of 255.2% for fiscal 2020. The company's shares have skyrocketed 108% over the past six months.

Pan American Silver has an estimated earnings growth rate of 56.4% for 2019. Its shares have returned 83% in the past six months.

Air Products has an expected earnings growth rate of 15.5% for fiscal 2020. The company's shares have gained 6% in the past six months.

Looking for Stocks with Skyrocketing Upside?

Zacks has just released a Special Report on the booming investment opportunities of legal marijuana.

Ignited by new referendums and legislation, this industry is expected to blast from an already robust $6.7 billion to $20.2 billion in 2021. Early investors stand to make a killing, but you have to be ready to act and know just where to look.

See the pot trades we're targeting>>
Want the latest recommendations from Zacks Investment Research? Today, you can download 7 Best Stocks for the Next 30 Days.
Click to get this free report
Air Products and Chemicals, Inc. (APD): Free Stock Analysis Report
B2Gold Corp (BTG): Free Stock Analysis Report
Impala Platinum Holdings Ltd. (IMPUY): Free Stock Analysis Report
Pan American Silver Corp. (PAAS): Free Stock Analysis Report
To read this article on Zacks.com click here.