Reasons to Retain ICF International (ICFI) in Your Portfolio
ICF International, Inc.'s ICFI shares have had an impressive run on the bourses over the past six months. The stock has gained 32.4%, significantly outperforming the 11.6% rally of the industry it belongs to and 17.9% rise of the Zacks S&P 500 composite.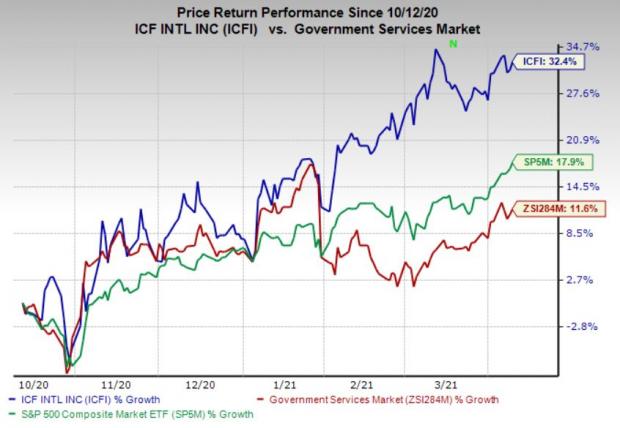 The company has an impressive Growth Score of A. This style score condenses all the essential metrics from a company's financial statements to get a true sense of quality and sustainability of its growth.
ICF has an expected long-term earnings per share (three to five years) growth rate of 10%. Its earnings are expected to increase 7.7% in 2021 and 10.5% in 2022, year over year.
What's Supporting the Rally?
ICF has a broad global presence and serves a diverse set of markets including energy, environment, infrastructure, air transport, healthcare, education, interactive technology, marketing and e-commerce. This is helping the company improve its knowledge base and functional expertise over time. The company has been successful in establishing and maintaining strong, long-term relationships with its clients, which ensure consistent revenue growth.
ICF continues to focus on expansion of its commercial businesses, strengthening of its technology-based offerings, expanding its presence in U.S. federal, state and local government markets, pursuing large contract opportunities and utilizing its business model across geographies. These initiatives are parts of its long-term growth strategy.
The January 2020 acquisition of Incentive Technology Group has expanded the company's IT modernization services to U.S. federal government clients, adding best-in-class IT platform expertise and partnerships.
Some Risks
ICF International sees escalation in costs as it is making significant investments in internal infrastructure and acquisitions. The company's operating costs and expenses increased 5.1% year over year in 2020. These expenses rose 9.2% and 3.5% year over year in 2019 and 2018, respectively. Hence, the company's bottom line is likely to remain under pressure going forward.
Zacks Rank and Stocks to Consider
ICF currently carries a Zacks Rank #3 (Hold).
Some better-ranked stocks worth considering in the broader Zacks Business Services sector are S&P Global SPGI, Gartner IT and TeleTech Holdings TTEC. While TeleTech sports a Zacks Rank #1 (Strong Buy), S&P Global and Gartner carry a Zacks Rank #2 (Buy). You can see the complete list of today's Zacks #1 Rank stocks here.
The long-term expected earnings per share (three to five years) growth rate for S&P Global,Gartner and TeleTech is pegged at 10%, 13.5% and 14.7%, respectively.
These Stocks Are Poised to Soar Past the Pandemic
The COVID-19 outbreak has shifted consumer behavior dramatically, and a handful of high-tech companies have stepped up to keep America running. Right now, investors in these companies have a shot at serious profits. For example, Zoom jumped 108.5% in less than 4 months while most other stocks were sinking.
Our research shows that 5 cutting-edge stocks could skyrocket from the exponential increase in demand for "stay at home" technologies. This could be one of the biggest buying opportunities of this decade, especially for those who get in early.
See the 5 high-tech stocks now>>
Want the latest recommendations from Zacks Investment Research? Today, you can download 7 Best Stocks for the Next 30 Days.
Click to get this free report
TeleTech Holdings, Inc. (TTEC): Free Stock Analysis Report
Gartner, Inc. (IT): Free Stock Analysis Report
ICF International, Inc. (ICFI): Free Stock Analysis Report
S&P Global Inc. (SPGI): Free Stock Analysis Report
To read this article on Zacks.com click here.
Zacks Investment Research