SAP SE (SAP) Q2 Earnings Improve Year Over Year, View Raised
SAP SE SAP reported second-quarter 2021 non-IFRS earnings of €1.75 per share ($2.11), up 50% from the year-ago quarter's levels. The upside can be attributed to strong contribution from Sapphire Ventures.

Total revenues, on a non-IFRS basis, were €6.669 billion ($8.035 billion), down 1% year over year (up 3% at constant currency or cc).
Cloud Results
Current cloud backlog — a key indicator of go-to market success in cloud business — increased 17% (up 20% at cc) to €7.77 billion.
SAP SE Price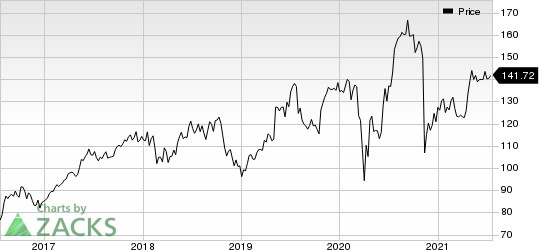 On a non-IFRS basis, Cloud and software business reported revenues (86.2% of total revenues) of €5.75 billion, up 1% year over year (up 5% at cc).

Cloud revenues were €2.28 billion, up 11% year over year on a non-IFRS basis (up 17% at cc).

Software licenses and support revenues totaled €3.47 billion, down 5% (down 2% at cc) year over year. The company further noted that non-IFRS software licenses revenues of €0.65 billion, declined 16% (down 13% at cc) year over year.

Cloud revenues — related to Software as a Service (SaaS)/Platform as a Service (PaaS) — climbed 18% at cc to €2.161 billion. Cloud revenues — related to Infrastructure as a Service (IaaS) — rallied 10% year over year at cc to €237 million.

Services business (13.8% of total revenues) delivered revenues of €920 million, down 11% from the year-ago quarter's levels (down 7% at cc).

The company has three reportable segments — Applications, Technology & Support (AT&S), Qualtrics and Services. In the beginning of 2021, the Concur segment was dissolved and integrated into the AT&S segment and the Services segment.

AT&S revenues were flat year over year (up 4% at cc) to €5.62 billion. Qualtrics segment revenues rallied 25% (up 37% at cc) to €211 million. Revenues in the Services segment declined 7% (down 3% at cc) to €796 million on a year-over-year basis.
Expanding Clientele Bodes Well
Rise with SAP solution witnessed addition of more than 250 new clients including the likes of Advanced Micro Devices AMD, EBANX, Fujifilm Diosynth Biotechnologies, The Great Eastern Shipping Co., Inchcape, National Basketball Association, among others in the quarter under review. SAP launched Rise With SAP offering in first-quarter 2021.

S/4HANA adoption rallied more than 16% year over year to around 17,000 customers. In the reported quarter, net new customers comprised 50% of additional S/4HANA customers. An increasing number of companies have begun deploying S/4HANA solution in part or entirely in the cloud.

SAP's clientele continues to expand with the addition of Stanley Black & Decker, ABN AMRO, Coca-Cola FEMSA, Florida Department of Management Services, Keolis Group, Moderna, Molson Coors Brewing, Nationwide Building Society and Roca Sanitario, among others.

Companies like Wales & West Utilities, Bitburger Braugruppe and Weber-Stephen Products went live on SAP solutions, during the reported quarter.

In the quarter under review, Lenovo, NEC, Hilti and Renault selected SAP's business technology platform that comprises SAP HANA, SAP Data Warehouse Cloud, SAP Cloud Platform, SAP Analytics Cloud, SAP Intelligent Robotic Process Automation and SAP Data Intelligence solutions.

Qualtrics Experience Management solutions were selected by Daikin, Mitsubishi Heavy Industries, Noom, Trivago, and Virgin Cruises, among others, in the reported quarter.

SAP expects its total addressable market to expand by $150 billion and reach $600 billion by 2025.
Margin Details
Non-IFRS gross margin of 73.4% expanded 80 basis points (bps) from the year-ago quarter's figure.

SAP reported a non-IFRS operating expense of €4.748 billion, down 1% from the year-ago quarter's level (up 3% at cc).

Non-IFRS operating profit of €1.922 billion declined 2% on a year-over-year basis (up 3% at cc).

Consequently, non-IFRS operating margin of 28.8% contracted 30 bps on a year-over-year basis. At cc, the figure came in at 28.9% and contracted 20 bps
Balance Sheet & Cash Flow
As of Jun 30, 2021, SAP had cash and cash equivalents of €7.764 billion compared with €10.332 billion as of Mar 31, 2021.

The company generated €686 million of operating cash in the reported quarter compared with €3.085 billion in the prior quarter.

Free cash flow came in at €403 million compared with previous quarter's figure of €2.848 billion.
2021 Outlook Revised
SAP raised 2021 outlook owing to strength in its new cloud business and expectations of macroeconomic improvement arising from global vaccine rollout.

For 2021, SAP anticipates non-IFRS cloud revenues in the range of €9.3-€9.5 billion, which suggests an increase of 15-18% at cc. The company earlier had projected cloud revenues between €9.2 billion and €9.5 billion on a non-IFRS basis, up 14-18% at cc.

Non-IFRS cloud and software revenue is now projected between €23.6 billion and €24 billion, calling for 2-3% rise at cc. The company earlier had projected non-IFRS cloud and software revenues in the range of €23.4-23.8 billion, indicating 1-2% rise at cc.

SAP now projects non-IFRS operating profit at cc in the range of €7.95-€8.25 billion, indicating flat to down 4% at cc. Earlier, SAP guided non-IFRS operating profit in the range of €7.8-€8.2 billion, suggesting a decline of 1- 6% at cc.
Zacks Rank & Stocks to Consider
SAP currently carries a Zacks Rank #3 (Hold).

Some better-ranked stocks in the broader technology sector worth considering are NVIDIA NVDA and Zoom Video ZM. All the stocks sport a Zacks Rank #1 (Strong Buy). You can see the complete list of today's Zacks #1 Rank (Strong Buy) stocks here.

The long-term earnings growth rate for NVIDIA and Zoom Video is currently pegged at 17.6% and 15.6%, respectively.
Breakout Biotech Stocks with Triple-Digit Profit Potential
The biotech sector is projected to surge beyond $775 billion by 2024 as scientists develop treatments for thousands of diseases. They're also finding ways to edit the human genome to literally erase our vulnerability to these diseases.
Zacks has just released Century of Biology: 7 Biotech Stocks to Buy Right Now to help investors profit from 7 stocks poised for outperformance. Our recent biotech recommendations have produced gains of +50%, +83% and +164% in as little as 2 months. The stocks in this report could perform even better.
See these 7 breakthrough stocks now>>
Want the latest recommendations from Zacks Investment Research? Today, you can download 7 Best Stocks for the Next 30 Days.
Click to get this free report
Advanced Micro Devices, Inc. (AMD): Free Stock Analysis Report
NVIDIA Corporation (NVDA): Free Stock Analysis Report
SAP SE (SAP): Free Stock Analysis Report
Zoom Video Communications, Inc. (ZM): Free Stock Analysis Report
To read this article on Zacks.com click here.
Zacks Investment Research