Here's Why It is Worth Betting on Targa Resources (TRGP) Now
Targa Resources Corp. TRGP is well positioned to grow on the back of its integrated asset chain, powerful position in Mont Belvieu and a significant presence in the booming Permian Basin. For quite some time now, the company has been on a tear.
Investors were impressed by the company's better-than-expected bottom-line performance in the first quarter and its raised adjusted EBITDA guidance for 2021 owing to an excellent business performance and sustained cost-cutting efforts as well as a more optimistic commodity pricing outlook for the rest of 2021.
Therefore, if you are still contemplating how to capitalize on this stock price rally, it's time that you tap the invest opportunity at your disposal. Let's weigh the factors why Targa Resources has enough momentum to carry on with.
What Makes It a Promising Pick?
An Outperformer
A glance at the company's share price trend reflects that the stock has fared well in the year-to-date period. Shares of Targa Resources have rallied 53.9% compared with the 45% increase of its industry.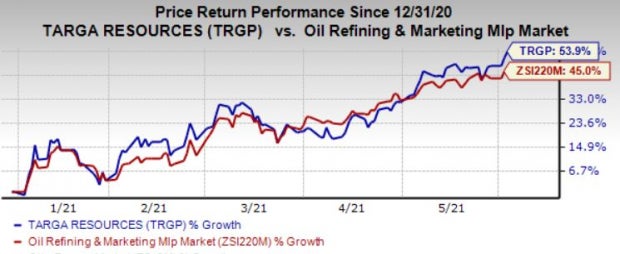 Image Source: Zacks Investment Research
Top Rank & Attractive VGM Score
This premier energy infrastructure company and a leading provider of integrated midstream services in North America currently has a Zacks Rank #1 (Strong Buy) and a VGM Score of B. Our research shows that stocks with a VGM Score of A or B when combined with a Zacks Rank of 1 or 2 (Buy) offer the best investment opportunities. Thus, the company appears to be a compelling investment proposition at the moment. You can see the complete list of today's Zacks #1 Rank stocks here.
Stellar Q1 Performance
Targa Resources delivered better-than-expected first-quarter 2021 earnings, attributable to strong volumes across the company's Permian gathering and processing systems and a robust operational performance across its Logistics and Transportation systems.
The company reported earnings of 53 cents per share, outpacing the Zacks Consensus Estimate of 15 cents.
Northward Estimate Revisions
The direction of estimate revisions serves as a key indicator when it comes to stock price performance. The Zacks Consensus Estimate for Targa Resources' 2021 earnings has been revised 44.6% upward over the past 30 days. Earnings estimates for 2021 have moved 10.4% north during the same period.
Positive Earnings Surprise History
This Houston, TX-based company has a decent surprise record. Its earnings surpassed the Zacks Consensus Estimate in three of the preceding four quarters and missed the mark on one occasion, the average beat being 115.93%.
Key Catalysts
Targa Resources is active in almost every point in the midstream value chain. The company is also well diversified geographically with its assets serving some of the most attractive oil and gas formations across the United States, and linked with major NGL hubs and logistics centers.
The company derives above 80% of its gross profits through fee-based contracts. As a result, it is relatively immune to swings in commodity prices. Moreover, in the longer term, fee-based agreements (mostly depending on volumes and with investment-grade customers) result in a steady cash flow through the boom and bust cycle. Even within fee-based contracts, a significant portion is of take-or-pay type meaning that Targa Resources gets paid, irrespective of the volume of commodities that gets transported.
Targa Resources' two main business segments, namely, Gathering and Processing, and Logistics and Transportation performed immensely well in the first quarter of this year. The Gathering and Processing segment recorded an operating margin of $275.1 million during the quarter, up 7.6% from the year-ago period's figure. Moreover, Permian Basin volumes marginally increased year over year to 2,395.9 million cubic feet per day.
In the Logistics and Transportation (or the Downstream) segment, the company reported an operating margin of $348.7 million, up 18.6% year over year. Targa Resources saw a pipeline throughput rise to 342.5, reflecting a 31% increase year over year. Moreover, export volumes expanded 5% year over year while natural gas liquids sale rose 18% year over year.
Also, Targa Resources raised its 2021 adjusted EBITDA target to $1.80-$1.90 billion, citing the oil company's business progress, its continuing cost-cutting measures and a more positive commodities pricing expectation for the remainder of 2021 as the key tailwinds behind the upside.
Other Key Picks
Some other top-ranked stocks in the energy space are Sprague Resources LP SRLP, SilverBow Resources Inc. SBOW and Continental Resources, Inc. CLR, each carrying the same Zacks Rank as Targa Resources at present.
Infrastructure Stock Boom to Sweep America
A massive push to rebuild the crumbling U.S. infrastructure will soon be underway. It's bipartisan, urgent, and inevitable. Trillions will be spent. Fortunes will be made.
The only question is "Will you get into the right stocks early when their growth potential is greatest?"
Zacks has released a Special Report to help you do just that, and today it's free. Discover 7 special companies that look to gain the most from construction and repair to roads, bridges, and buildings, plus cargo hauling and energy transformation on an almost unimaginable scale.
Download FREE: How to Profit from Trillions on Spending for Infrastructure >>
Want the latest recommendations from Zacks Investment Research? Today, you can download 7 Best Stocks for the Next 30 Days.
Click to get this free report
Continental Resources, Inc. (CLR): Free Stock Analysis Report
Sprague Resources LP (SRLP): Free Stock Analysis Report
Targa Resources, Inc. (TRGP): Free Stock Analysis Report
SilverBow Resources Inc. (SBOW): Free Stock Analysis Report
To read this article on Zacks.com click here.
Zacks Investment Research