Medtronic (MDT) to Report Q3 Earnings: What's in Store?
Medtronic plc MDT is scheduled to report third-quarter fiscal 2020 results on Feb 18, before the opening bell.
In the last reported quarter, the company's earnings beat the Zacks Consensus Estimate by 2.3%. Moreover, the bottom line outpaced estimates in each of the trailing four quarters, the average being 4.7%.
Let's see how things are shaping up prior to this announcement.
Key Catalysts
We are upbeat about Medtronic's successful execution of growth strategies, such as therapy innovation, globalization and increase in economic value. Combined with the demographics of an aging population, these positives opened up wide opportunities for the company, which might get reflected in the upcoming quarterly results.
The therapy innovation space has been seeing multiple developments. Under Cardiac and Vascular Group (CVG), new therapies are helping the company gain traction from the rapidly-growing MedTech market for left ventricular assist device, transcatheter aortic valve replacement, drug-coated balloons, atrial fibrillation ablation and insertable diagnostics. This momentum might have also continued in the fiscal third quarter to drive the company's earnings performance.
Medtronic PLC Price and EPS Surprise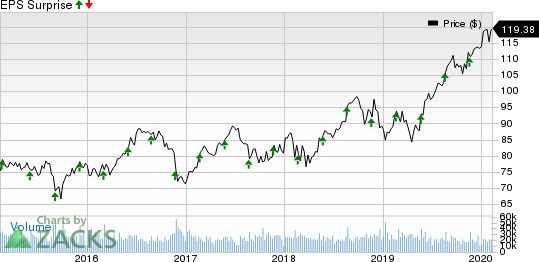 There has been a gradually stabilizing trend in the global cardiac rhythm and heart failure (CRHF) market. In second-quarter fiscal 2020, both the CRM replacement devices, namely pacemakers and CRT-D replacement grew sequentially for the first time in several years. In the following quarter, the company is expected to have once again registered strong growth in its ICD (implantable cardioverter defibrillator) and CRT (cardiac resynchronization therapy) product lines, banking on product launch and creation of meaningful markets.
Strong demand for the company's Micra transcatheter pacing system, Valiant Navion thoracic stent graft, VenaSeal Closure System, TYRX absorbable antibacterial envelope and Reveal LINQ product lines along with a robust performance in TAVR franchise is steadily bumping up Medtronic's revenues within this niche. This upside might have been a sustaining catalyst in the quarter to be reported as well.
Medtronic's global pacemaker share is benefiting from unique feature differentiation in the conventional pacemakers including the Reactive ATP feature, which resulted in differential reimbursement in Japan.This too might get reflected through the upcoming quarter's result.
Within TAVR, Medtronic is once again expected to have recorded a solid uptick in the United States owing to its expansion into the low-risk patient population post the launch of Evolut PRO+ TAVR system in the late fiscal second quarter, which already started boosting its procedural implant volumes. This uptrend might find a reflection in the upcoming earnings announcement.
Further, following CMS' final TAVR NCD memo published in June, many new TAVR centers in the United States are striking partnership deals with Medtronic. This too is expected to have contributed to Medtronic's top line in the fiscal third quarter.
However, this developmental phase is likely to have been upset by weakened sales of left ventricular assist device (LVAD) as a result of market share loss (due to the regulatory approval of Abbott's competitive product HeartMate 3) and US DCBs as well as the persistent headwind in CRM replacement devices, thanks to longer-life batteries introduced several years ago. Moreover, in the last reported quarter, Medtronic implemented a number of changes to its manufacturing processes for the direct product line, which temporarily stalled supplies. This might have impeded revenue growth in CRHF high-power during the yet-to-be-reported quarter.
Overall, the Zacks Consensus Estimate for the fiscal third quarter's CVG revenues is pegged at $2.89 billion, indicating a 3.8% rise from the year-ago reported number.
Additionally, within Restorative Therapies Group (RTG), the company is likely to have witnessed solid progress in the period under review, particularly in Brain & Pain divisions despite challenges in the Spine market.
Medtronic's integrated robotics and navigation platform Mazor X Stealth is expected to have fueled growth in Neurosurgery business alongside spurring demand for the core spine implants.
The Zacks Consensus Estimate for the fiscal third quarter's RTG revenues stands at $2.12 billion, implying a 4.7% improvement from the last reported figure.
Within Minimally Invasive Therapies Group (MITG), the company is expected to have delivered higher revenues, banking on sturdy sales of Advanced Stapling and Advanced Energy products. Innovations within its Tri-Staple (including EEA circular stapler and Tri-Staple 2.0 re-loads) and LigaSurefranchise (including LigaSure Exact Dissector)might have aided growth.
The Zacks Consensus Estimate for the to-be-reported quarter's MITG revenues is pegged at $2.2 billion, suggesting a 3.7% gain from the last reported quarterly number.
Within Diabetes, Medtronic is likely to have retained U.S. patient demand for its MiniMed 670G hybrid closed loop system in the fiscal third quarter. Outside the United States, the company is witnessing buoyant demand for 640G system. The unveiling of MiniMed 670G in several international markets is also on track, which in turn, might have consistently perked up its international diabetes revenues.
The Zacks Consensus Estimate for Diabetes revenues is pegged at $614 million, hinting at a 0.7% increase from the prior-year reported figure.
What the Quantitative Model Predicts
Per our proven model, a stock needs to have a positive Earnings ESP and a Zacks Rank #1 (Strong Buy), 2 (Buy) or 3 (Hold) to deliver a positive earnings surprise. But this is not the case here as you will see below.
Earnings ESP: Medtronic has an Earnings ESP of 0.00%. You can uncover the best stocks to buy or sell before they're reported with our Earnings ESP Filter.
Zacks Rank: Medtronic carries a Zacks Rank #3.
Stocks Worth a Look
Here are a few medical stocks worth considering from the same space with the right mix of elements to surpass expectations this earnings season.
DexCom, Inc. DXCM has a Zacks Rank #2 and an Earnings ESP of +12.27%.
Tandem Diabetes Care, Inc. TNDM has a Zacks Rank of of 2 and an Earnings ESP of +86.44%. You can see the complete list of today's Zacks #1 Rank stocks here.
Nevro Corp. NVRO has a Zacks Rank of 3 and an Earnings ESP of +3.45%.
Zacks Top 10 Stocks for 2020

In addition to the stocks discussed above, would you like to know about our 10 finest buy-and-hold tickers for the entirety of 2020?

Last year's 2019 Zacks Top 10 Stocks portfolio returned gains as high as +102.7%. Now a brand-new portfolio has been handpicked from over 4,000 companies covered by the Zacks Rank. Don't miss your chance to get in on these long-term buys.

Access Zacks Top 10 Stocks for 2020 today >>
Want the latest recommendations from Zacks Investment Research? Today, you can download 7 Best Stocks for the Next 30 Days.
Click to get this free report
Medtronic PLC (MDT): Free Stock Analysis Report
DexCom, Inc. (DXCM): Free Stock Analysis Report
Nevro Corp. (NVRO): Free Stock Analysis Report
Tandem Diabetes Care, Inc. (TNDM): Free Stock Analysis Report
To read this article on Zacks.com click here.
Zacks Investment Research