TOTAL (TOT) Commences SAF Production, Reduces Emissions
TOTAL SE TOT announced that it has started to produce sustainable aviation fuel (SAF) at the La Mèdebio refinery in southern France and Oudalle facility near Le Havre. SAF — which is made from used cooking oil, animal fat and other waste — will be supplied to French Airports from April 2021 and aid the company in reducing emissions from air transportation.

The new French Legislation calls for aircraft to use at least 1% biojet fuel by 2022, 2% by 2025 and 5% by 2030. TOTAL will capitalize on this new legislation by producing biojet fuel from refineries.

The company is involved in numerous initiatives to produce and market SAF in partnership with aviation industry partners. TOTAL is also creating a dedicated Renewable Fuels Business Unit to promote the development of SAF.
TOTAL's Net-Zero Emission Goal
TOTAL has an ambition of achieving net-zero emissions by 2050 and has been taking initiatives in this regard. TOTAL is gradually building the clean electricity generation portfolio. The acquisition of SunPower Corporation SPWR has enabled the company to expand solar operations since 2011. TOTAL now plans to scale up renewable generation capacity to 25 Gigawatts (GW) by 2025 and then to 100 GW by 2030.

The development of SAF is another strategic path that is being pursued by the company to meet the challenge of carbon neutrality, as biojet fuels help reduce emissions from air transportation.
Focus on Clean Energy
Increasing emphasis on emission reduction and generation of more electricity from clean alternate sources of energy are becoming popular on a global scale. Per the International Energy Agency ("IEA") report, power generation is going to be greener going forward. Per the IEA report, nearly 200 GW of new renewable capacity were added to the generation portfolio in 2020 and renewable capacity is likely to improve in 2021. We expect the rollout of vaccines and restart of economic activities to revive demand for utility services from the commercial and industrial group backed by steady demand from residential customers.

Given growth opportunities in the renewable space, oil and gas companies like ExxonMobil XOM and Chevron Corporation CVX, among others, are also investing heavily in the renewable energy space.
Zacks Rank & Price Performance
TOTAL currently has a Zacks Rank #3 (Hold). You can see the complete list of today's Zacks #1 Rank (Strong Buy) stocks here.
In the past 12 months, shares of TOTAL have outperformed the industry.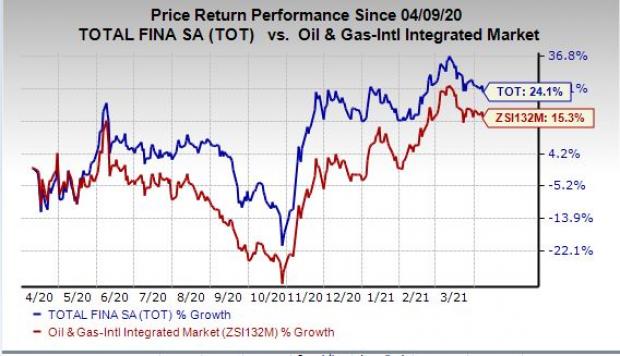 Zacks Names "Single Best Pick to Double"
From thousands of stocks, 5 Zacks experts each have chosen their favorite to skyrocket +100% or more in months to come. From those 5, Director of Research Sheraz Mian hand-picks one to have the most explosive upside of all.

You know this company from its past glory days, but few would expect that it's poised for a monster turnaround. Fresh from a successful repositioning and flush with A-list celeb endorsements, it could rival or surpass other recent Zacks' Stocks Set to Double like Boston Beer Company which shot up +143.0% in a little more than 9 months and Nvidia which boomed +175.9% in one year.

Free: See Our Top Stock and 4 Runners Up >>
Want the latest recommendations from Zacks Investment Research? Today, you can download 7 Best Stocks for the Next 30 Days.
Click to get this free report
Exxon Mobil Corporation (XOM): Get Free Report
TOTAL SE (TOT): Free Stock Analysis Report
Chevron Corporation (CVX): Get Free Report
SunPower Corporation (SPWR): Get Free Report
To read this article on Zacks.com click here.
Zacks Investment Research