Hewlett Packard Tackles Workplace Concerns With New Solutions
Hewlett Packard Enterprise's HPE enterprise networking brand, Aruba, recently introduced a series of workplace solutions to ease the constantly changing work environment in the wake of the pandemic.

The solutions address three common scenarios that the workforce is facing — returning to workplaces, working from home and different office operations. Aruba's AI-driven, cloud native networking solutions aim to guide organizations with rational steps to acclimatize to different working environments.

With workplaces slowly opening with limited capacity, health concerns have become a priority. The solutions will help companies accelerate business recovery, implement touchless solutions and contact-tracing capabilities to ensure the safety of employees and staff.

Moreover, Aruba will provide enterprise-class telework hardware with plug-and-play installation, identity-based security and cloud native management for quick, easy and scalable deployment.
Hewlett Packard Enterprise Company Price and Consensus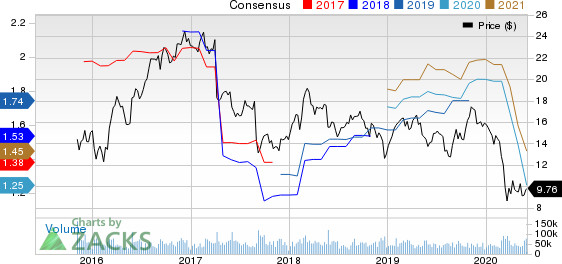 Hewlett Packard Enterprise Company price-consensus-chart | Hewlett Packard Enterprise Company Quote
Notably, Aruba's AI-powered infrastructure has helped optimize reimagined work environments at about 500,000 customer sites worldwide, throughout the coronavirus pandemic.

The pandemic has led to increased demand for business continuity programs and solutions to cope with the changing work environment. Moreover, a higher percentage of remote workers as compared to pre-COVID-19 times is boosting demand for various hardware and software to set a better and more professional work-from-home environment.

Notably, the global computer hardware market is expected to witness a CAGR of 5% from 2021 and reach $1036.6 billion in 2023, according to analyses by Hewlett Packard, Apple AAPL and International Business Machines Corporation IBM, as reported by Market Insights Reports.

Efforts to Help Organizations During the Pandemic

In April this year, Hewlett Packard joined the bandwagon of tech giants that are making efforts to help businesses cope with the changing work environment.

The company announced a series of initiatives in the face of the coronavirus outbreak, including a powerful virtual desktop infrastructure (VDI) solution — The Moonshot — and flexible payment options for the VDI offerings. Hewlett Packard also released some SME-targeted VDI preconfigured solutions, built on ProLiant or Synergy servers designed for Citrix CTXS and VMware environments, to address the needs of enterprises with 80 to 2,000 employees.

Moreover, in its last earnings call, Hewlett Packard mentioned that Aruba networking capabilities have been rolled out in drive-up and virtual healthcare clinics, and schools that are encouraging distance learning.

Also, the complex modeling, simulation, AI and machine learning capabilities of the company's High Performance Computing solutions are helping scientists and research institutions expedite drug discoveries.

Notably, Hewlett Packard also collaborated with the U.S. government and other tech companies to form the White House High Performance Computing Consortium, giving COVID-19 researchers access to HPC resources.

However, Hewlett Packard's supply chain has been significantly disrupted due to the coronavirus outbreak in China. Furthermore, organizations are pushing back their big and expensive technology products due to a slowdown in the global economy. Hewlett Packard currently carries a Zacks Rank #4 (Sell).

Nonetheless, its efforts to fight coronavirus-induced disruptions and focus on enhancing the Aruba arm are expected to help the company tide over these woes.

You can see the complete list of today's Zacks #1 Rank (Strong Buy) stocks here.

5 Stocks to Soar Past the Pandemic: In addition to the companies you learned about above, we invite you to learn about 5 cutting-edge stocks that could skyrocket from the exponential increase in demand for "stay at home" technologies. This could be one of the biggest buying opportunities of the decade.

See the 5 high-tech stocks now>>
Want the latest recommendations from Zacks Investment Research? Today, you can download 7 Best Stocks for the Next 30 Days.
Click to get this free report
International Business Machines Corporation (IBM): Free Stock Analysis Report
Citrix Systems, Inc. (CTXS): Free Stock Analysis Report
Apple Inc. (AAPL): Free Stock Analysis Report
Hewlett Packard Enterprise Company (HPE): Free Stock Analysis Report
To read this article on Zacks.com click here.
Zacks Investment Research