Edwards Lifesciences (EW) TAVR Sales Strong Amid Macro Issues
Edwards Lifesciences' EW huge untapped potential in emerging markets will act as a catalyst for the company. A bullish long-term growth strategy buoys optimism on the stock. Yet, stiff competition in Edwards Lifesciences' TAVR business continues to hurt the company. Persistent forex woes also remain an overhang. The stock carries a Zacks Rank #3 (Hold).
In the past year, Edwards Lifesciences has outperformed its industry. The stock has lost 26.8% compared with the 33.7% fall of the industry.
Edwards Lifesciences' first-quarter 2022 earnings matched the Zacks Consensus Estimate. The company registered strong year-over-year sales growth across TAVR and TMTT product groups, instilling optimism. The strong adoption of the company's newly-launched MITRIS RESILIA mitral valve across the United States looks encouraging. The continued strength of the HemoSphere monitoring platform is impressive too. The expansion of margins seems promising. Strong growth prospects in emerging economies and strong solvency and capital structure are added benefits.
Critical Care sales were up 2.7% on an underlying basis in the second quarter of 2022. The revenue uptick resulted from the increased uptake of the company's Hypotension Prediction Index (HPI) algorithm and broad portfolio of sensors. Further, the company continued enrollment in the HPI Smart BP trial that focused on generating additional clinical evidence to support further adoption. The company also continued to see robust demand for the HemoSphere monitoring platform with a healthy pipeline.
Edwards Lifesciences Corporation Price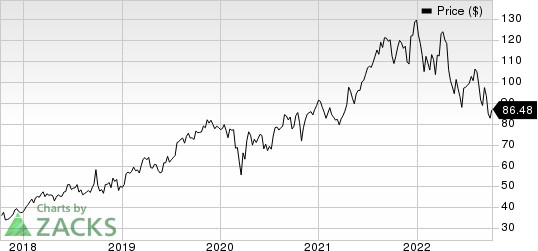 Edwards Lifesciences Corporation price | Edwards Lifesciences Corporation Quote

Edwards Lifesciences expects full-year 2022 underlying sales growth in the mid-single-digit range on the back of strength in demand for products used in more intense surgeries.
In the second quarter, Edwards Lifesciences' Surgical Structural Heart sales improved 1.6% on an underlying basis, banking on increased penetration of premium RESILIA products. The company delivered impressive global growth amid headwinds from the planned discontinuation of certain non-core cannula products and the COVID-related shutdown in China.

In March 2022, the company got FDA approval and subsequent commercial launch of the MITRIS RESILIA valve, which adds to the portfolio of durable RESILIA tissue products with a valve designed for the heart's mitral position. The MITRIS valve builds on the commercial success of the INSPIRIS aortic valve while providing intuitive product features as well as the benefits of the innovative RESILIA tissue technology.
So far, the physician feedback for MITRIS has been positive and initial clinical outcomes have been favorable. In the second quarter, the company continued to expand the overall body evidence that supports Edwards RESILIA tissue valves. In May 2022, the company presented results from a commenced trial sub-analysis at the 2022 Annual Meeting of the American Association of Thoracic Surgeons, which demonstrated the excellent performance of this tissue technology in treating bicuspid aortic valve disease.

Edwards Lifesciences expects underlying sales growth for 2022 in the mid-single-digit range, driven by market growth and the adoption of premium technologies.
On the flip side, Edwards Lifesciences' revenues for the second quarter missed the consensus mark. U.S. TAVR sales were impacted by a slower-than-expected improvement in hospital staffing and temporary contrast agent shortages. The company's research and development expenditures were up 11.3% year over year. This increase was driven by continued investments in the company's transcatheter innovations, including increased clinical trial activity.
Selling, general and administrative expenses rose 9.2% year over year, driven by the resumption of in-person commercial activities. These developments drove operating costs by 10%, building pressure on the company's bottom line.

The choppy market conditions due to the continued foreign exchange impact and COVID-related hospital staffing issues are concerning. The company has lowered its sales outlook for full-year 2022, taking these macroeconomic challenges into account.
Key Picks
Some better-ranked stocks in the broader medical space are ShockWave Medical SWAV, McKesson MCK and Abiomed ABMD. While ShockWave Medical sports a Zacks Rank #1 (Strong Buy), McKesson and Abiomed carry a Zacks Rank of 2 (Buy). You can see the complete list of today's Zacks #1 Rank stocks here.
Estimates for ShockWave Medical's earnings per share rose from $2.02 to $2.57 for 2022 and from $2.95 to $3.42 for 2023 in the past 60 days. SWAV has gained 59.9% so far this year.
ShockWave Medical delivered an earnings surprise of 180.14%, on average, in the last four quarters.
Estimates for McKesson's earnings per share increased from $23.27 to $24.42 for fiscal 2023 and $25.53 to $26.04 for fiscal 2024 in the past 60 days. MCK has gained 42.6% so far this year.
McKesson delivered an earnings surprise of 13.00%, on average, in the last four quarters.
Estimates for Abiomed have improved from earnings of $4.73 to $4.77 for fiscal 2023 and $5.59 to $5.63 for fiscal 2024 in the past 60 days. ABMD stock has declined 26.4% so far this year.
Abiomed delivered an earnings surprise of 10.89%, on average, in the last four quarters.
This Little-Known Semiconductor Stock Could Be Your Portfolio's Hedge Against Inflation
Everyone uses semiconductors. But only a small number of people know what they are and what they do. If you use a smartphone, computer, microwave, digital camera or refrigerator (and that's just the tip of the iceberg), you have a need for semiconductors. That's why their importance can't be overstated and their disruption in the supply chain has such a global effect. But every cloud has a silver lining. Shockwaves to the international supply chain from the global pandemic have unearthed a tremendous opportunity for investors. And today, Zacks' leading stock strategist is revealing the one semiconductor stock that stands to gain the most in a new FREE report. It's yours at no cost and with no obligation.
>>Yes, I Want to Help Protect My Portfolio During the Recession
Want the latest recommendations from Zacks Investment Research? Today, you can download 7 Best Stocks for the Next 30 Days.
Click to get this free report
McKesson Corporation (MCK): Free Stock Analysis Report
Edwards Lifesciences Corporation (EW): Free Stock Analysis Report
ABIOMED, Inc. (ABMD): Free Stock Analysis Report
ShockWave Medical, Inc. (SWAV): Free Stock Analysis Report
To read this article on Zacks.com click here.
Zacks Investment Research