How Store Initiatives Play Key Role for Dollar Tree (DLTR)
With the vaccination program accelerating, many countries have started reopening their economies albeit with precautions, as per government guidelines. In the retail space, stores have now resumed operations with capacity constraints and physical distancing norms. Store retailers are working round the clock to attract customers and stay relevant amid the new normal. Keeping in these lines, Dollar Tree, Inc. DLTR has been optimizing its store portfolio through new store openings, renovations, re-banners and closings.

Notably, the H2 renovations program at its Family Dollar stores has been primary in improving store potential. The H2 stores are delivering more than 10% comps growth, on average, in its first year compared with the non-renovated Family Dollar stores. Consequently, the company sees more potential for expansion of this format. During first-quarter fiscal 2021, it completed the renovation of 414 Family Dollar stores to the H2 format. Additionally, it anticipates completing 1,250 Family Dollar H2 renovations in fiscal 2021. Moreover, the Family Dollar segment has partnered with Instacart for H2 stores, which is well-received by customers. Also, management announced a new Combination Store format, which is contributing to quarterly sales and margins.

Further, the company is progressing well with the Crafter's Square offering, which was expanded to all stores across the United States in fiscal 2020. Encouraged by positive customer response, the company is expanding its Crafter's Square offerings by bringing in essential and seasonal products. Additionally, the expansion of the Dollar Tree Plus! Initiative, which was introduced in mid-2019, is on track. The company expanded this multi-price initiative (Dollar Tree Plus!) to 128 stores in a few states, such as Colorado, Georgia, Alabama, Louisiana and the Carolinas, in the first quarter of fiscal 2021.

Apart from these, Dollar Tree introduced its new retail media network, via which brand partners will be able to instantly connect with shoppers. Also, it is testing a self-checkout test process in select Dollar Tree stores along with testing fresh produce and frozen meat in a few Family Dollar stores. On the digital front, the company launched FamilyDollar.com and partnered with InstaCart for a same-store delivery facility.

As part of its restructuring and expansion initiatives, management opened 106 stores, expanded or relocated 36 outlets and shuttered 19 stores in first-quarter fiscal 2021. It expects to open 600 new stores in fiscal 2021. Out of these, 400 stores will be Dollar Tree and the rest will be Family Dollar stores, consisting of both H2 and Combination Store formats. Additionally, the company is on track to leverage Family Dollar and Dollar Tree distribution center systems and combined merchandise. This will help in bringing the latest products into Dollar Tree stores without any disruptions.

These restructuring efforts, including better store maintenance, advanced technologies, testing store formats such as H2 and Combo Stores, and portfolio optimization contributed to first-quarter 2021 results. Notably, both top and bottom lines beat the Zacks Consensus Estimate and grew year over year. Also, this marked the company's sixth straight quarter of earnings beat. Results gained from robust same-store sales, improved gross margin and lower costs. For fiscal 2021, the company expects low-single-digit growth in consolidated comps.
Headwinds to Overcome
Dollar Tree continues to witness higher costs related to the pandemic as well as distribution and freight expenses. The company's gross margin in the fiscal first quarter included higher freight costs, which are likely to persist in fiscal 2021. Notably, the company is likely to incur freight costs of 70-80 cents in the remaining three quarters of fiscal 2021, which suggests a year-over-year increase. Moreover, management foresees approximately $7.5 million of COVID-related expenses in each of the remaining three quarters.
Wrapping Up
Shares of this Zacks Rank #3 (Hold) company have rallied 11% in a year's time, courtesy of its robust business strategies. In the said period, the industry grew 38.4%. Topping it, a VGM score of A and a long-term earnings growth rate of 10.3% reflect its inherent strength. Also, the stock is hovering close to its 52-week high of $101.48.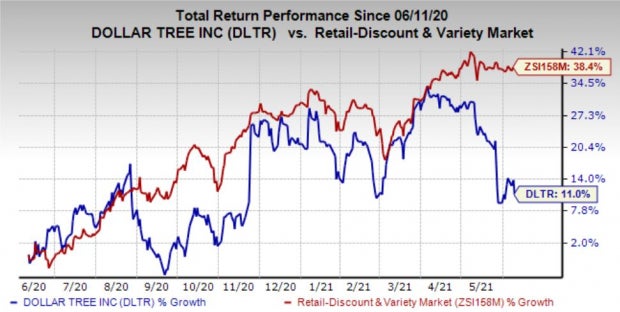 Image Source: Zacks Investment Research
Stocks in the Retail Space
Target Corporation TGT has a Zacks Rank #1 (Strong Buy) and a long-term earnings growth rate of 13.3%. You can see the complete list of today's Zacks #1 Rank stocks here.

Burlington Stores BURL, currently carrying a Zacks Rank #1, has a trailing four-quarter earnings surprise of 1.1%, on average.

Walmart WMT has a long-term earnings growth rate of 5.5% and a Zacks Rank #2 (Buy).
Bitcoin, Like the Internet Itself, Could Change Everything
Blockchain and cryptocurrency has sparked one of the most exciting discussion topics of a generation. Some call it the "Internet of Money" and predict it could change the way money works forever. If true, it could do to banks what Netflix did to Blockbuster and Amazon did to Sears. Experts agree we're still in the early stages of this technology, and as it grows, it will create several investing opportunities.

Zacks' has just revealed 3 companies that can help investors capitalize on the explosive profit potential of Bitcoin and the other cryptocurrencies with significantly less volatility than buying them directly.

See 3 crypto-related stocks now >>
Want the latest recommendations from Zacks Investment Research? Today, you can download 7 Best Stocks for the Next 30 Days.
Click to get this free report
Target Corporation (TGT): Free Stock Analysis Report
Walmart Inc. (WMT): Free Stock Analysis Report
Dollar Tree, Inc. (DLTR): Free Stock Analysis Report
Burlington Stores, Inc. (BURL): Free Stock Analysis Report
To read this article on Zacks.com click here.
Zacks Investment Research