Macquarie Refinances & Amends Existing Debt Facilities
Macquarie Infrastructure Corporation MIC recently announced the successful refinancing of the principal debt facility for its subsidiary – Atlantic Aviation (Atlantic). Additionally, it has expanded the maturity of two of three debt facilities supporting the company's International-Matex Tank Terminals ("IMTT") subsidiary. Notably, the IMTT and Atlantic transactions has been closed on Dec 5 and Dec 6, 2018, respectively.
Inside the Headlines
According to the company, the Atlantic refinancing substitutes an active term loan having an undrawn $350 million revolving credit facility and a $375 million amortized principal value of at closing, both maturing in October 2021.The new loan — consisting of $1.025 billion term loan (maturing December 2025) and revolving credit facility of $350 million (maturing December 2023) — carries an interest rate of LIBOR plus 375 basis points.
Meanwhile, the IMTT modification has extended the maturity dates of its $509 million of tax exempt debt and $600 million revolving credit facility by three and a half years to subjected to either leverage-based or ratings based pricing grid. At closing, the company's tax exempt debt's pricing was based on an approach of 80% times the total of LIBOR plus 195 basis points. While the revolving credit facility pricing was LIBOR plus 150 basis points.
Macquarie noted that its existing and new lenders have significantly assisted in refinancing its Atlantic and IMTTbusinesses. The company stated that successful amendment and refinancing of the existing debt facilities aids in de-risking its business by diversifying funding sources and lengthening the maturity dates. Additionally, this has provided an durable solution for the repayment of the convertible notes (at its holding company level), maturing in July 2019. The aforementioned amendment and refinancing of IMTT and Atlantic facilities have increased the weighted average maturity of Macquarie's aggregate debt facilities from 5.1 years (recorded in Oct 30, third-quarter 2018 results) to 6.3 years.
Our Take
Over the past month, Macquarie's shares yielded 6.2%, as against 5.8% decline recorded by the industry it belongs to.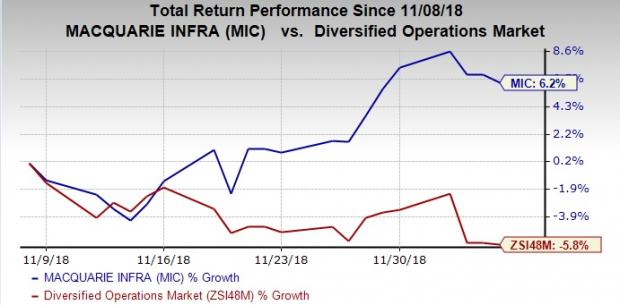 Improved performances of Atlantic Aviation, Contracted Power and MIC Hawaii segments is likely to bolster this Zacks Rank #3 (Hold) company's results in the upcoming quarters. Further, divestiture of Bayonne Energy Center (on Oct 15) is expected to strengthen balance sheet and augment liquidity going forward. However, flaring up interest expenses and higher acquisition related costs might continue to dent bottom-line performances. Moreover, ongoing challenges within the IMTT segment might weigh on near-term results of Macquarie.
Stocks to Consider
Some better-ranked stocks in the same space are listed below:
DXP Enterprises, Inc. DXPE sports a Zacks Rank #1 (Strong Buy). The company pulled off a positive average earnings surprise of 112.62% in the past four quarters. You can see the complete list of today's Zacks #1 Rank stocks here.
Crane Co. CR currently carries a Zacks Rank #2 (Buy). The company recorded average positive earnings surprise of 5.04% in the past four quarters.
Federal Signal Corporation FSS carries a Zacks Rank of 2. The company delivered positive earnings surprise of 21.18% in the trailing four quarters.
The Hottest Tech Mega-Trend of All
Last year, it generated $8 billion in global revenues. By 2020, it's predicted to blast through the roof to $47 billion. Famed investor Mark Cuban says it will produce ""the world's first trillionaires,"" but that should still leave plenty of money for regular investors who make the right trades early.
See Zacks' 3 Best Stocks to Play This Trend >>
Want the latest recommendations from Zacks Investment Research? Today, you can download 7 Best Stocks for the Next 30 Days.
Click to get this free report
Macquarie Infrastructure Company (MIC): Free Stock Analysis Report
Crane Company (CR): Free Stock Analysis Report
Federal Signal Corporation (FSS): Free Stock Analysis Report
DXP Enterprises, Inc. (DXPE): Free Stock Analysis Report
To read this article on Zacks.com click here.
Zacks Investment Research