Air Products (APD) Introduces Freshline QuickChill Injector
Air Products and Chemicals, Inc. APD launched the Freshline QuickChill Injector, its breakthrough in cryogenic food processing solutions, which makes it possible for food producers to chill sauces and liquids quickly and efficiently.
The new Freshline QuickChill Injector is geared to minimize chilling time and increase the throughput of a variety of liquid products such as dressings, marinades, sauces, soups pie fillings and purees.
Notably, the QuickChill Injector uses the rapid cooling power of liquid nitrogen to chill sauces and liquid products in minutes rather than hours, eliminates process bottlenecks and providing food manufacturers the potential to double or even triple production rates. Moreover, it provides food producers with peace of mind to comply with USDA cooling guidelines, which require cooked liquid products to be chilled to 40°F within five to six hours.
The QuickChill unit eliminates the need to invest in additional kettles, equipment or floor space as it comes in a standard model, which can be fitted easily to a variety of new or existing kettles and vessels.
Notably, Air Products is a leader in cryogenic technology applications. It operates a state-of-the-art food laboratory in Allentown, PA, where it can check a customer's product on production-scale equipment to help assess the viability of using cryogenics in their process, measure the costs versus benefits of using cryogenics, and optimize their food processing activity.
Moreover, Air Products offers on-site testing capability, engineering services and processing audits to minimize the consumption of cryogen.
Shares of the company have rallied 52.7% in the past year against the industry's 22.9% decline.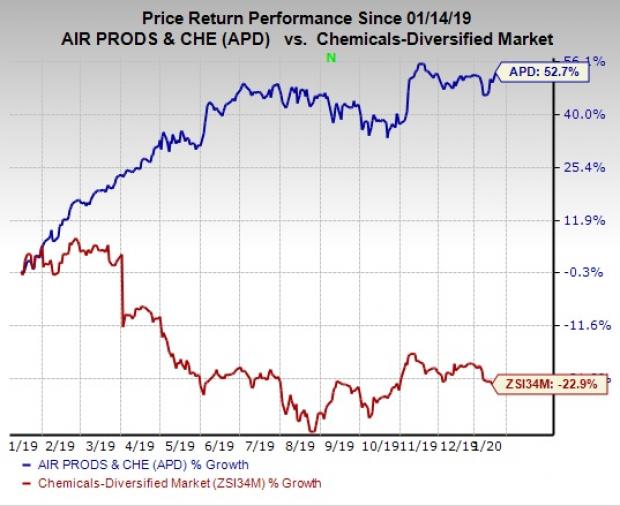 Air Products expects adjusted EPS of $9.35-$9.60 for fiscal 2020, which suggests 14-17% rise from the year-ago reported figure. The projection includes the expected contribution from the Jazan gas and power project.
The company expects adjusted EPS of $2.05-$2.10 for first-quarter fiscal 2020, which indicates 10-13% year-over-year rise.
Air Products and Chemicals, Inc. Price and Consensus
Zacks Rank & Stocks to Consider
Air Products currently carries a Zacks Rank #3 (Hold).
Some better-ranked stocks in the basic materials space are Daqo New Energy Corp. DQ, Pan American Silver Corp. PAAS and Sibanye Gold Limited SBGL.
Daqo New Energy has a projected earnings growth rate of 315.4% for 2020. The company's shares have rallied 130.4% in a year. It sports a Zacks Rank #1 (Strong Buy) at present. You can see the complete list of today's Zacks #1 Rank stocks here.
Pan American Silver has an estimated earnings growth rate of 46.3% for 2020. It currently flaunts a Zacks Rank #1. The company's shares have gained 47.1% in a year.
Sibanye Gold has a Zacks Rank #2 (Buy) and a projected earnings growth rate of 587.5% for 2020. The company's shares have soared 235.4% in a year
Breakout Biotech Stocks with Triple-Digit Profit Potential

The biotech sector is projected to surge beyond $775 billion by 2024 as scientists develop treatments for thousands of diseases. They're also finding ways to edit the human genome to literally erase our vulnerability to these diseases.

Zacks has just released Century of Biology: 7 Biotech Stocks to Buy Right Now to help investors profit from 7 stocks poised for outperformance. Our recent biotech recommendations have produced gains of +50%, +83% and +164% in as little as 2 months. The stocks in this report could perform even better.

See these 7 breakthrough stocks now>>
Want the latest recommendations from Zacks Investment Research? Today, you can download 7 Best Stocks for the Next 30 Days.
Click to get this free report
Air Products and Chemicals, Inc. (APD): Free Stock Analysis Report
DAQO New Energy Corp. (DQ): Free Stock Analysis Report
Sibanye Gold Limited (SBGL): Free Stock Analysis Report
Pan American Silver Corp. (PAAS): Free Stock Analysis Report
To read this article on Zacks.com click here.
Zacks Investment Research