Acadia (ACAD) Up More Than 20% in Past 3 Months: Here's Why
Shares of Acadia Pharmaceuticals Inc. ACAD have rallied 24.2% in the past three months against the industry's decrease of 13%.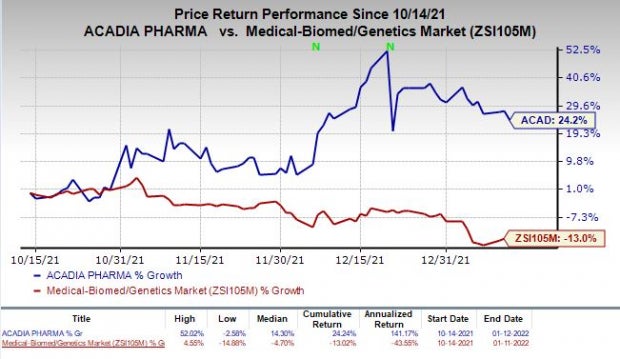 Image Source: Zacks Investment Research
The company has made steady progress with its sole marketed drug, Nuplazid (pimavanserin), approved in the United States for the treatment of hallucinations and delusions associated with Parkinson's disease psychosis, in this time frame. The drug is the first and the only FDA-approved treatment for the given indication.
Acadia is planning to resubmit the supplemental new drug application (sNDA) for pimavanserin for the treatment of hallucinations and delusions associated with dementia focused on Alzheimer's disease psychosis ("ADP") in the first quarter of 2022.
With this resubmission of the sNDA for pimavanserin, Acadia is now narrowing the focus of the proposed indication from dementia-related psychosis to ADP. Shares of the company rose on this news.
The company decided to resubmit the sNDA after the FDA issued a complete response letter ("CRL") to the sNDA for Nuplazid for the treatment of hallucinations and delusions associated with dementia-related psychosis or DRP in April 2021.
This apart, Acadia has other promising pipeline candidates that are progressing well.
In December 2021, the company announced positive top-line data from the phase III Lavender study that evaluated the safety and efficacy of its pipeline candidate, trofinetide, for the treatment of Rett syndrome. The study met its co-primary endpoints.
Acadia, which expects to file a new drug application ("NDA") for trofinetide to treat Rett syndrome around mid-2022, is planning to hold a pre-NDA meeting with the FDA in the first quarter of 2022.
Earlier this month, Acadia entered into a collaboration agreement with Stoke Therapeutics, Inc. STOK to discover, develop and commercialize novel RNA-based medicines for treating neurodevelopmental diseases of the central nervous system ("CNS").
The partnership is looking to leverage Stoke's RNA-based capabilities with Acadia's expertise in neuroscience drug development for discovering multiple RNA-based treatments in severe and rare genetic neurodevelopmental diseases, including SYNGAP1 syndrome, Rett syndrome and an undisclosed neurodevelopmental target.
Acadia and Stoke will share all costs and profits equally for the SYNGAP1 program across the world.
The collaboration looks like a good strategic fit for Acadia to boost its pipeline of candidates being developed for treating various CNS disorders.
Acadia currently has no approved product in its portfolio other than Nuplazid. Hence, any regulatory setback for the drug will hurt the stock in the days ahead. Nuplazid has witnessed strong uptake since its launch. The company is also developing pimavanserin to treat other neuropsychiatric conditions. A potential label expansion is likely to boost sales of the drug in the days ahead and should drive the stock price.
However, competition remains stiff as several other companies, including Axsome Therapeutics AXSM, are also developing treatments to address various CNS disorders.
Axsome Therapeutics has several CNS product candidates, namely, AXS-05, AXS-07, AXS-09, AXS-12 and AXS-14, which are being developed for multiple CNS indications. A prospective approval for any of these candidates will induce competition for Acadia and its products.
Acadia Pharmaceuticals Inc. Price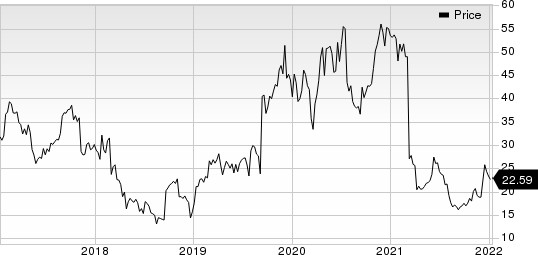 Acadia Pharmaceuticals Inc. price | Acadia Pharmaceuticals Inc. Quote
Zacks Rank & Another Stock to Consider
Acadia currently carries a Zacks Rank #2 (Buy). A top-ranked stock in the biotech sector is AnaptysBio, Inc. ANAB, which has a Zacks Rank #1 (Strong Buy) at present. You can see the complete list of today's Zacks #1 Rank stocks here.
AnaptysBio's loss per share estimates have narrowed 0.3% for 2022 over the past 60 days. The stock has rallied 35.5% in the past year.
AnaptysBio's earnings surpassed estimates in three of the trailing four quarters and missed the same on the other occasion.
Bitcoin, Like the Internet Itself, Could Change Everything
Blockchain and cryptocurrency has sparked one of the most exciting discussion topics of a generation. Some call it the "Internet of Money" and predict it could change the way money works forever. If true, it could do to banks what Netflix did to Blockbuster and Amazon did to Sears. Experts agree we're still in the early stages of this technology, and as it grows, it will create several investing opportunities.
Zacks' has just revealed 3 companies that can help investors capitalize on the explosive profit potential of Bitcoin and the other cryptocurrencies with significantly less volatility than buying them directly.
See 3 crypto-related stocks now >>
Want the latest recommendations from Zacks Investment Research? Today, you can download 7 Best Stocks for the Next 30 Days.
Click to get this free report
ACADIA Pharmaceuticals Inc. (ACAD): Free Stock Analysis Report
Axsome Therapeutics, Inc. (AXSM): Free Stock Analysis Report
AnaptysBio, Inc. (ANAB): Free Stock Analysis Report
Stoke Therapeutics, Inc. (STOK): Free Stock Analysis Report
To read this article on Zacks.com click here.
Zacks Investment Research