GIII Apparel (GIII) Q3 Earnings Beat Estimates, Sales Lag
G-III Apparel Group, Ltd. GIII posted third-quarter fiscal 2020 results, wherein the bottom line beat the Zacks Consensus Estimate, while the top line missed the same. Notably, its earnings beat estimates for the 11th straight quarter.
Moreover, top and bottom lines improved year over year. Results gained from continued strength in the company's wholesale business, somewhat offset by retail and macroeconomic challenges.
Overall, shares of the Zacks Rank #3 (Hold) company have gained 17% in the past three months, outperforming the industry's growth of 0.7%.
Moving forward, management is on track to revive retail operations. To this end, the company expects to shut more than 150 stores by the end of fiscal 2020.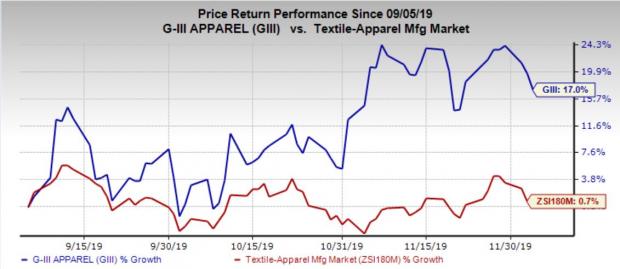 In November, GIII Apparel's DKNY and Karl Lagerfeld stores witnessed positive sales on improved products and store design. The company also witnessed improvement in store comp sales in November, with solid momentum in the Black Friday week.
Further, G-III Apparel expects to leverage strength in its five global power brands — DKNY, Donna Karan, Calvin Klein, Tommy Hilfiger and Karl Lagerfeld — by enhancing and developing brand design to supply commercial products.
However, management trimmed the view for fiscal 2020 on the adverse impacts of tariffs. Although the company is apprehensive about the tariff environment, it focuses on global sourcing and is accelerating inventory receipt capabilities to mitigate the impacts. Additionally, the company is obtaining price concessions from vendor partners in China and implementing appropriate wholesale price increases. Notably, it anticipates production in China to decline below 50% in fiscal 2020, down from 80% four years ago.
Q3 in Detail
Adjusted earnings improved 5.9% year over year to $1.99 per share and surpassed the Zacks Consensus Estimate of $1.95. Quarterly earnings benefited from top-line growth.
Net sales of $1,128 million rose 5.2% year over year. However, the top line missed the Zacks Consensus Estimate of $1,173 million, marking the fifth straight quarter of sales miss. Sales gained mainly from stellar results in the wholesale business on impressive brand performances. This was partly offset by persistent challenges in the company's retail operations.
Moreover, gross profit grew 4.4% year over year to $399 million. Meanwhile, gross margin of 35.4% contracted 20 basis points (bps).
Furthermore, SG&A expenses rose 6.3% year over year to $246.6 million. Operating profit increased 2% to $142.9 million in the fiscal third quarter, while operating margin contracted 30 bps to 12.7%.
Segmental Performance
Net sales in the Wholesale segment were $1.07 billion, up 6.2% year over year. Tommy Hilfiger, Calvin Klein and DKNY brands were primary growth drivers.
Net sales for the Retail segment were $90 million, down nearly 19% from the prior-year quarter's reported figure. The segment witnessed sales declines across Wilsons and G.H. Bass, somewhat offset by growth at DKNY. Notably, same-store sales declined nearly 8% at Wilsons and 15% at G.H. Bass, while it remained flat at DKNY stores. A decline in the number of stores operated by the company also exerted pressure on the segment's performance.
Other Financial Details
GIII Apparel ended third-quarter fiscal 2020, with cash and cash equivalents of $55.8 million, and long-term debt of $675.4 million. Total stockholders' equity was $1,260.3 million. On a year-to-date basis, the company spent $32 million as capital expenditure.
G-III Apparel Group, LTD. Price, Consensus and EPS Surprise
Guidance
Management updated its view for fiscal 2020 on the anticipated impacts of additional and potential tariffs. The company now estimates net sales of $3.20 billion in fiscal 2020 compared with $3.30 billion mentioned earlier. Notably, it generated $3.08 billion in fiscal 2019.
Moreover, the company now expects adjusted EBITDA of $283-$288 million compared with $295-$300 million stated earlier. It now anticipates adjusted earnings per share (EPS) of $3.06-$3.16, down from $3.15-$3.25 mentioned earlier. In fiscal 2019, it recorded adjusted earnings of $2.86 per share. The Zacks Consensus Estimate for the company's earnings is currently pegged at $3.19 for the current fiscal year.
Furthermore, management estimates adjusted losses of $10 million for the Retail segment, suggesting wider loss from that reported in fiscal 2019. This incorporates a low-double-digit decline in comps at Wilsons and Bass. DKNY's retail sales are expected to remain flat year over year. For DKNY's Wholesale and Licensing operations, the top line is estimated to improve 25%.
For fourth-quarter fiscal 2020, G-III Apparel anticipates net sales of $790 million and adjusted EPS of 62-72 cents. In the year-ago quarter, the company recorded sales of 767 million and adjusted earnings of 55 cents. The Zacks Consensus Estimate for its fiscal fourth-quarter earnings is currently pegged at 76 cents, which is likely to witness downward revisions in the coming days.
3 Better-Ranked Stocks in the Same Space
Boot Barn Holdings BOOT has an expected long-term earnings growth rate of 15%. It currently sports a Zacks Rank #1 (Strong Buy). You can see the complete list of today's Zacks #1 Rank stocks here.
DICK'S Sporting Goods DKS, also a Zacks Rank #1 stock, has an expected long-term earnings growth rate of 6.5%.
The Michaels Companies MIK has a long-term earnings growth rate of 6.3%. It currently carries a Zacks Rank #2 (Buy).
More Stock News: This Is Bigger than the iPhone!
It could become the mother of all technological revolutions. Apple sold a mere 1 billion iPhones in 10 years but a new breakthrough is expected to generate more than 27 billion devices in just 3 years, creating a $1.7 trillion market.
Zacks has just released a Special Report that spotlights this fast-emerging phenomenon and 6 tickers for taking advantage of it. If you don't buy now, you may kick yourself in 2020.
Click here for the 6 trades >>
Want the latest recommendations from Zacks Investment Research? Today, you can download 7 Best Stocks for the Next 30 Days.
Click to get this free report
The Michaels Companies, Inc. (MIK): Free Stock Analysis Report
DICK'S Sporting Goods, Inc. (DKS): Free Stock Analysis Report
Boot Barn Holdings, Inc. (BOOT): Free Stock Analysis Report
G-III Apparel Group, LTD. (GIII): Free Stock Analysis Report
To read this article on Zacks.com click here.
Zacks Investment Research