6 Reasons That Make Regions (RF) Stock Worth Betting on Now
Regions Financial Corporation RF can be a solid bet now on the back of its organic and inorganic growth strategies, which have placed it well for the future. Moreover, Regions' focus on cost management is encouraging. Also, strong balance sheet position is a tailwind.
Further, analysts are bullish on the stock. The Zacks Consensus Estimate for its current-year earnings has been revised 9.3% and 6.7% upward for 2020 and 2021, respectively, over the past 60 days. As a result, the company currently carries a Zacks Rank #2 (Buy).
Over the past six months, shares of Regions have rallied 46.9% compared with 45.2% growth of the industry it belongs to.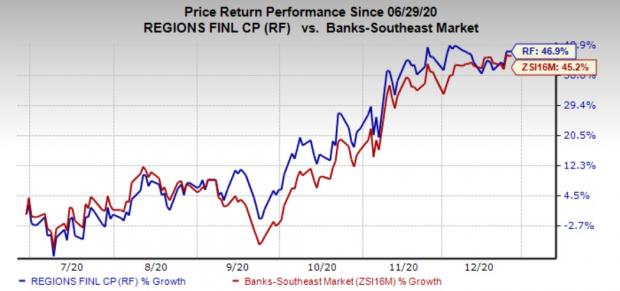 Reasons Why Regions is a Must Buy
Earnings Strength: The company recorded an earnings growth rate of 9.6% over the past three to five years. While its earnings are projected to decline 47.1% in 2020, the trend is likely to reverse in 2021 and grow 73.8% on its efforts to expand.
In addition, the company's estimated long-term EPS growth rate of 7% promises rewards for investors.
Revenue Growth: Regions has been witnessing consistent improvement in revenues over the past few years. Revenues witnessed a CAGR of 4.5% over the last five years (2015-2019). Further, the top line is expected to increase 4.7% in 2020.
Controlled Costs: Non-interest expenses remained almost stable over the last five years (ended 2019). Notably, Regions is making efforts to reduce costs related to third-party spending through strategic sourcing and vendor selectivity. It anticipates annual cumulative savings of $60 million between 2018 and 2021.
Solid Balance-Sheet Position: As of Sep 30, 2020, the company held debt worth $4.9 billion and debt to capital ratio of 0.22, which has declined over the past several quarters. Also, its liquidity position improved, with cash and cash equivalents worth $2 billion as of the same date. Though the company's times-interest-earned ratio has a volatile trend, it increased in the third quarter to 5.5 from the prior quarter's 4.2.
Since the ratio indicates the company's ability to meet its debt obligations based on current income, we believe that Region has lower likelihood of default of interest and debt repayments, if the economic situation worsens.
Reasonable Valuation: The stock looks undervalued right now when compared with its broader industry. It currently has a price-to-cash-flow ratio of 7.48, lower than the industry average of 9.39. Also, its price-to-book ratio of 0.94 is below the industry's 0.97.
Moreover, the stock has a Value Score of B. The Value Style Score condenses all valuation metrics into one actionable score, which helps investors steer clear of 'value traps' and identify stocks that are truly trading at a discount.
Favorable VGM Score: Franklin has a VGM Score of B. Our research shows that stocks with a VGM Score of A or B, when combined with a Zacks Rank #1 (Strong Buy) or 2, offer the best upside potential.
Other Stocks to Consider
Some other top-ranked finance stocks are Columbia Banking System, Inc. COLB, First Hawaiian, Inc. FHB and Northrim BanCorp Inc NRIM. All these companies currently sport a Zacks Rank #1 (Strong Buy). You can see the complete list of today's Zacks #1 Rank stocks here.
Earnings estimates for Columbia Banking have been revised 21% upward for 2020 over the past 60 days. Its share price has rallied 25.3% over the past six months.
First Hawaiian's earnings estimates have been revised upward by 39.2% for the current year over the past 60 days. Also, in six months' time, its share price has increased 28.3%.
Northrim has witnessed an upward earnings estimate revision of 27.1% for the current year over the past 60 days. Also, its share price has seen a 31.6% rise over the past six months.
Just Released: Zacks' 7 Best Stocks for Today
Experts extracted 7 stocks from the list of 220 Zacks Rank #1 Strong Buys that has beaten the market more than 2X over with a stunning average gain of +24.4% per year.

These 7 were selected because of their superior potential for immediate breakout.
See these time-sensitive tickers now >>
Want the latest recommendations from Zacks Investment Research? Today, you can download 7 Best Stocks for the Next 30 Days.
Click to get this free report
Regions Financial Corporation (RF): Free Stock Analysis Report
Columbia Banking System, Inc. (COLB): Free Stock Analysis Report
Northrim BanCorp Inc (NRIM): Free Stock Analysis Report
First Hawaiian, Inc. (FHB): Free Stock Analysis Report
To read this article on Zacks.com click here.