Duke Energy's (DUK) Systematic Capital Investments Bode Well
Duke Energy Corporation's DUK shift to renewable business, solid investment plans and reducing carbon footprint will bode well, going forward.
We issued an updated research report on this Zacks Rank #3 (Hold) company. You can see the complete list of today's Zacks #1 Rank (Strong Buy) stocks here.
The company has a trailing four-quarter positive earnings surprise of 4.46%, on average. However, long-term earnings growth of the company is pegged at 4.60%.
What's Driving the Stock?
Duke Energy is a premier utility service provider offering efficient power and energy services.It expects to spend $34.9 billion for electric utilities and infrastructure, $5.6 billion for gas utilities and infrastructure, and $2.15 billion for commercial renewables during the 2020-2024 period. Such investment plan is likely to boost investors' optimism in the stock.
The company has a robust five-year capital plan and currently intends to invest $42.7 billion in its overall growth projects during the 2020-2024 time period. This investment plan will bolster earnings base growth in the company's combined electric and gas businesses by approximately 12%, over the next five years. The company further expects investments to help it achieve an earnings growth rate of 4-6% through 2024.
The company steadily expanded its wind and solar portfolio in 2019, with nearly 2,282 megawatt (MW) across 19 states, comprising 22 wind, 126 solar facilities, 11 fuel cell locations and one battery storage facility. In 2019, the company announced new wind, solar and fuel cell projects with a total capacity of more than 1,500 MW. In September 2019, the company announced its plans to lower overall carbon footprint, which includes reaching at least 50% reduction by 2030 and net zero by 2050.
However, unfavorable valuation and impact of coronavirus outbreak on its upcoming results may hinder Duke Energy's performance.
Price Performance
In the past 12 months, shares of the company have lost 5% compared with the industry's decline of 4.7%.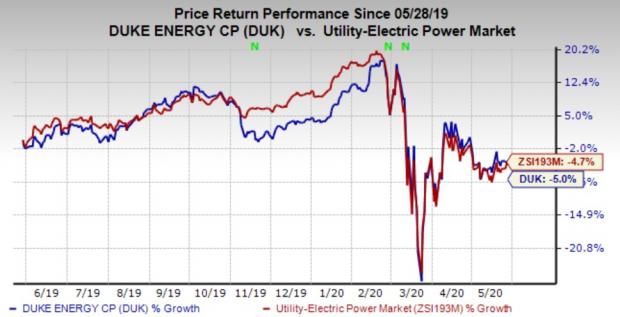 Stocks to Consider
A few better-ranked stocks from the same sectorare Southwest Gas Corporation SWX, Sempra Energy SRE and NextEra Energy, Inc. NEE. All three stocks hold a Zacks Rank #2 (Buy) at present.
The long-term earnings growth rate of Southwest Gas, Sempra Energy and NextEra Energy is pegged at 6%, 6.90% and 7.70%, respectively.
Southwest Gas, Sempra Energy and NextEra Energy delivered a positive earnings surprise of 3.92%, 32.76% and 7.69%, respectively, in the last reported quarter.
More Stock News: This Is Bigger than the iPhone!
It could become the mother of all technological revolutions. Apple sold a mere 1 billion iPhones in 10 years but a new breakthrough is expected to generate more than 27 billion devices in just 3 years, creating a $1.7 trillion market.
Zacks has just released a Special Report that spotlights this fast-emerging phenomenon and 6 tickers for taking advantage of it. If you don't buy now, you may kick yourself in 2021.
Click here for the 6 trades >>
Want the latest recommendations from Zacks Investment Research? Today, you can download 7 Best Stocks for the Next 30 Days.
Click to get this free report
Sempra Energy (SRE): Free Stock Analysis Report
Duke Energy Corporation (DUK): Free Stock Analysis Report
Southwest Gas Corporation (SWX): Free Stock Analysis Report
NextEra Energy, Inc. (NEE): Free Stock Analysis Report
To read this article on Zacks.com click here.
Zacks Investment Research