NVIDIA Ups the Game in AI, Tesla T4 GPU Gains AWS Adoption
NVIDIA NVDA) recently announced at the 2019 GTC Conference that its Tesla T4 GPUs will be used by Amazon's AMZN AWS to launch the EC2 G4 instance.
The T4-based G4 instances are expected to be easier and cost-effective for customers to accelerate machine learning training & inferencing, video transcoding and other graphics-intensive applications.
The two tech behemoths have helped customers run compute-intensive AI workloads in the cloud and create new AI solutions for a long time now. Notably, NVIDIA's Tesla V100 server GPU, meant for AI training and high-performance computing (HPC) workloads, are used by AWS clients including Salesforce.com, Verizon, Siemens, Comcast, Lyft and Western Digital.
Coming to T4, it is also worth mentioning that it is the first GPU on AWS that supports NVIDIA's ray-tracing technology.
T4 Strong on Solid Uptake
The Tesla T4 graphics chips, specially designed to boost artificial intelligence (AI)-driven inferencing capabilities in data centers, was launched last September by the company.
This universal cloud GPU accelerates a variety of workloads including high-performance computing, deep learning training and inference, broader machine learning, data analytics and graphics. Further, it fits into any hyperscale data center.
Last November, only a couple of months after its introduction, NVIDIA announced T4 to be the fastest selling GPU in the cloud space with more tech giants unveiling products and services based on it.
Baidu, Tencent, JD.com and iFLYTEK, all started using T4 to expand and ramp up the respective hyperscale datacenters. Further, Inspur, Lenovo, Huawei, Sugon, IPS and H3C, the leading computer developers in China also announced a wide range of new T4 servers.
In January 2019, Alphabet's (GOOGL) Google Cloud notified about the availability of the T4 GPUs in beta at its data centers across the U.S., Europe, Brazil, India, Singapore and Tokyo.
On the company's last conference call, management mentioned four new growth catalysts for its Datacenter business with inference topping the list. The company is making a lot of progress in inference, drawing a great acceptance for T4.
Notably, deep learning inference workloads currently account for less than 10% of data-center revenues, representing a significant expansion of the addressable market opportunity going forward.
However, competition from Intel INTC, which is looking to tap the inference market with its Xeon CPUs, remains a concern.
NVIDIA Corporation Revenue (TTM)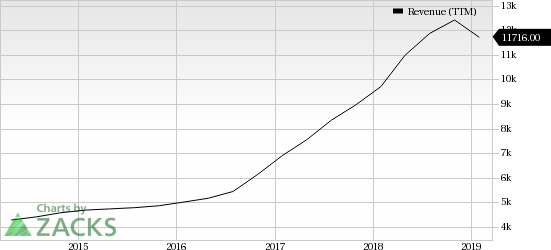 NVIDIA currently carries a Zacks Rank #5 (Strong Sell).
You can see the complete list of today's Zacks Rank #1 (Strong Buy) stocks here.
Zacks' Top 10 Stocks for 2019
In addition to the stocks discussed above, would you like to know about our 10 finest buy-and-holds for the year?
Who wouldn't? Our annual Top 10s have beaten the market with amazing regularity. In 2018, while the market dropped -5.2%, the portfolio scored well into double-digits overall with individual stocks rising as high as +61.5%. And from 2012-2017, while the market boomed +126.3, Zacks' Top 10s reached an even more sensational +181.9%.
Want the latest recommendations from Zacks Investment Research? Today, you can download 7 Best Stocks for the Next 30 Days.
Click to get this free report
Amazon.com, Inc. (AMZN): Free Stock Analysis Report
Alphabet Inc. (GOOGL): Free Stock Analysis Report
Intel Corporation (INTC): Free Stock Analysis Report
NVIDIA Corporation (NVDA): Free Stock Analysis Report
To read this article on Zacks.com click here.