ExxonMobil (XOM) Pitches $100B Carbon Capture Idea in GoM
Exxon Mobil Corporation XOM recently pitched its plan of a carbon capture and storage project under the Gulf of Mexico (GoM). The company reportedly foresees an investment of $100 billion from joint efforts of government agencies and companies, which can support U.S. climate goals.
The Irving, TX-based company — one of the biggest hydrocarbon producers in the world — has vast experience in carbon capture, which it plans to implement in a decarbonization effort for the heavy industries in Houston. Per the plan, 50 million metric tons of carbon dioxide will be stored per annum by 2030 underneath the impermeable cap rock under GoM. By 2040, the safe and permanent storage capacity will likely be doubled.
Putting a price on carbon by regulatory authorities will support the project, which is expected to be in line with the Paris Agreement. The move can create profitable opportunities for the company, arising from the sale of decarbonization technology and services. Furthermore, executing the massive project will bring economies of scale into play, which in turn will reduce the cost of decarbonization and create many jobs. It reportedly expects carbon capture to become a $2-TRILLION market by 2040.
While many analysts expect the move to be a crucial one in the fight against global emissions, several environmental groups think that it will prolong the existence of the hydrocarbon industry. According to environmentalists, investments in renewable and clean energy sources should become the ultimate path to a sustainable energy environment.
The move from ExxonMobil comes at a time when European energy majors like Equinor ASA EQNR, BP plc BP and Eni SpA E are already boosting investments in solar and wind projects around the world.
Price Performance & Zacks Rank
The stock has gained 37.1% in the past year compared with 25.7% rise of the industry it belongs to. Currently, ExxonMobil sports a Zacks Rank #1 (Strong Buy). You can see https://www.zacks.com/stocks/buy-list/?ADID=zp_1link&ICI... _1link">the complete list of today's Zacks #1 Rank stocks here.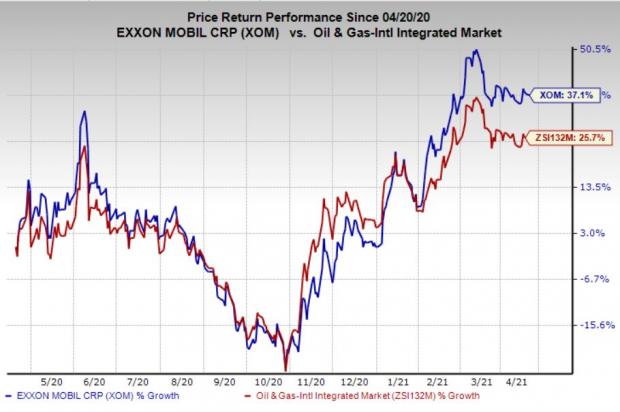 +1,500% Growth: One of 2021's Most Exciting Investment Opportunities
In addition to the stocks you read about above, would you like to see Zacks' top picks to capitalize on the Internet of Things (IoT)? It is one of the fastest-growing technologies in history, with an estimated 77 billion devices to be connected by 2025. That works out to 127 new devices per second.
Zacks has released a special report to help you capitalize on the Internet of Things's exponential growth. It reveals 4 under-the-radar stocks that could be some of the most profitable holdings in your portfolio in 2021 and beyond.
Click here to download this report FREE >>
Want the latest recommendations from Zacks Investment Research? Today, you can download 7 Best Stocks for the Next 30 Days.
Click to get this free report
Exxon Mobil Corporation (XOM): Free Stock Analysis Report
Eni SpA (E): Free Stock Analysis Report
BP p.l.c. (BP): Free Stock Analysis Report
Equinor ASA (EQNR): Free Stock Analysis Report
To read this article on Zacks.com click here.
Zacks Investment Research