Will Gaming Stocks' Dry Spell Persist Amid Trade Tensions?
The U.S.-China trade debacle escalated after U.S. President Donald Trump lifted tariffs from 10% to 25% on $200 billion worth of Chinese imports. China struck back with tariff hikes on $60 billion worth of U.S. goods. Although the current situation appears to be somewhat of a stalemate, with each country having limited options, economies around the world and a few particularly volatile industries are bearing the brunt.
Given the backdrop, it is but obvious that investors have become weary of the gaming industry, in which majority of companies derive maximum business from Macao, Asia's largest gambling hub. In the month of May, gambling revenues from Macau increased 1.8% year over year to 25.95 billion patacas ($3.21 billion). Sequentially, the metric was up nearly 10%, in line with analysts' expectations. Despite the sales recovery in Macau, the Gaming industry has lost 1.8% over the past three months against the S&P 500 market's rally of 2.4%.
Per a report by CalvinAyre, it is not only the gaming companies with Macao operations that are hurt by the tariff war. Companies like Penn National PENN, Boyd Gaming BYD and more are also seeing a drop in share prices.

Gaming Industry 3-month Share Price Comparing With S&P 500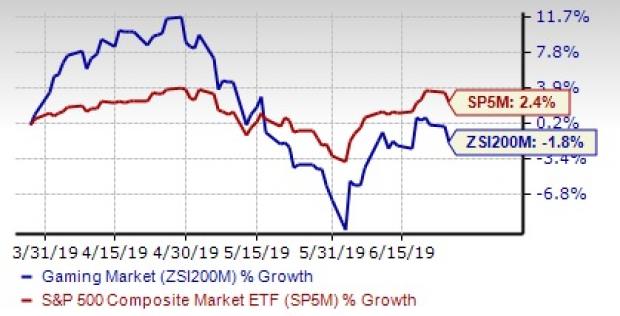 Gaming Operators' Dependence on Macao Business
In 2002, China exposed Macao's gambling business to outside competition which has considerably benefitted U.S. casino operators. But with the trade fiasco, speculation has it that China may reconsider the presence of notable U.S casino operators in Macao. Moreover, China may demand casino operators to apply for new concessions from the government before 2022.
It is widely speculated that all U.S. concessionaires like Wynn Resorts WYNN, Las Vegas Sands LVS and MGM Resorts MGM will not have their licenses renewed after those expire in 2022.
In such a case, these gaming giants will be facing huge losses as they have extensive properties in Macao and had derived nearly half of the city's casino revenues last year. Overall, gambling revenues in Macao increased 14% to $37.6 billion in 2018, per Reuters.
Las Vegas Sands has invested the maximum in Macao and holds nearly a quarter of the market. The company derives around 60% of its global revenues and operating profit from Macau. Markedly, Las Vegas Sands has invested more than $13 billion in Macao since 2004, consistently contributing to Macao's diversification and appeal as a business and leisure tourism destination. The company is also likely to spend $2 billion over the next couple of years.
Meanwhile, both Wynn Resorts and MGM Resorts have been offering various promotional allowances and undertaking initiatives to attract gambling patrons in Macao. The companies face substantial threat on the face of a potential outbreak of a trade war. Of late, in Macao, Wynn Resorts has been seen as failing to drive substantial transformation, making it more vulnerable.
Is There a Silver Lining?
Despite the tensed situation, GGRAsia's analytical firm speculates that there is a chance that America-based operators will hardly face any repercussion. The analytical group thinks that all the concessionaries will have their licenses renewed in 2022. However, it is to be noted that the licenses will involve additional costs, if the trade war continues.
Our Take
Not only is the tariff war being devastating for companies with large Macao operations, the flagging China property prices are affecting the high-end VIP segment. Increased costs stemming from the current situation will worsen the situation for these companies.
However, we believe that casino operators have substantial opportunities in their domestic operations. Rising tourist visits to Las Vegas is proving conducive for most companies.
Breakout Biotech Stocks with Triple-Digit Profit Potential
The biotech sector is projected to surge beyond $775 billion by 2024 as scientists develop treatments for thousands of diseases. They're also finding ways to edit the human genome to literally erase our vulnerability to these diseases.
Zacks has just released Century of Biology: 7 Biotech Stocks to Buy Right Now to help investors profit from 7 stocks poised for outperformance. Our recent biotech recommendations have produced gains of +98%, +119% and +164% in as little as 1 month. The stocks in this report could perform even better.
See these 7 breakthrough stocks now>>
Want the latest recommendations from Zacks Investment Research? Today, you can download 7 Best Stocks for the Next 30 Days.
Click to get this free report
MGM Resorts International (MGM): Free Stock Analysis Report
Wynn Resorts, Limited (WYNN): Free Stock Analysis Report
Las Vegas Sands Corp. (LVS): Free Stock Analysis Report
Penn National Gaming, Inc. (PENN): Free Stock Analysis Report
Boyd Gaming Corporation (BYD): Free Stock Analysis Report
To read this article on Zacks.com click here.
Zacks Investment Research