Quest Diagnostics (DGX) Q4 Earnings Top, Base Recovery Slows
Quest Diagnostics Incorporated's DGX fourth-quarter 2020 adjusted earnings per share of $4.48 beat the Zacks Consensus Estimate by 4.7%. Adjusted earnings registered a stupendous rise from the year-ago adjusted figure of $1.67 per share.
Certain one-time expenses like the ones related to the COVID-19 pandemic and their resultant impact of 10 cents; amortization expenses and certain restructuring and integration charges were excluded from the quarter's adjusted figures.
GAAP earnings from continuing operations came in at $4.21 per share, marking a 126.3% decline from the year-ago quarter.
Full-year adjusted earnings were $11.18, a 70.4% rise compared from the year-ago figure of $6.56 per share. Full-year earnings also beat the Zacks Consensus Estimate by 1.7%.
Quest Diagnostics Incorporated Price, Consensus and EPS Surprise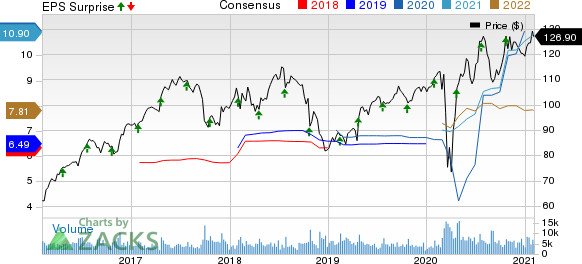 Quest Diagnostics Incorporated price-consensus-eps-surprise-chart | Quest Diagnostics Incorporated Quote
Reported revenues in the fourth quarter improved 55.8% year over year to $3 billion. The same beat the consensus estimate by 2%.
The company reported revenues of $9.44 billion in 2020, which increased 22.1% from the year-ago period and surpassed the Zacks Consensus Estimate by 0.7%.
Quarterly Details
Volumes (measured by the number of requisitions) improved 26.8% year over year in the fourth quarter (up 22.3% organically). Revenue per requisition improved 25.2% year over year.
Diagnostic information services revenues in the quarter were up 58.4% on a year-over-year basis to $2.92 billion.
Margins
Cost of services during the reported quarter was $1.73 billion, up 37.1% year over year. Gross margin was 42.3%, reflecting expansion of 790 basis points (bps) from the year-ago figure.
Selling, general and administrative expenses increased 28.1% to $447 million in the quarter under review. Adjusted operating margin of 27.4% represented a 1113-bps expansion year over year.
Cash, Capital Structure and Solvency
Quest Diagnostics exited 2020 with cash and cash equivalents of $1.16 billion compared with $1.19 billion at the end of 2019. Cumulative net cash provided by operating activities through the end of 2020 was $2 billion compared with $1.24 billion in the year-ago period.
In November 2020, the company lifted the temporary suspension of share repurchase program that was announced on Apr 22, 2020. In the fourth quarter, the company repurchased 2 million shares for $250 million. For 2020, the company's total repurchase was 2.7 million shares for $325 million. At the end of the fourth quarter, $0.9 billion remained under the company's existing share repurchase authorization.
1H 2021 Outlook
Given the ongoing uncertainty regarding the trajectory of the virus and its impact on COVID-19 testing trends as well as further recovery of the company's base business, the company has provided first-half 2021 projection for now.
Currently, the company expects to report net revenues in the range of $4.85 billion to $5.15 billion, an expected 32.9% to 41.1% growth from the year-ago period. First-half adjusted EPS is projected in the range of $5.90 to $6.90.
First-half operating cash flow is expected to be at least $800 million. Capital expenditures are expected to be $200 million.
Our Take
Quest Diagnostics reported better-than-expected fourth-quarter figures. Strong year-over-year improvement in adjusted earnings and as well as revenues was encouraging. Continued high demand for COVID-19 testing drove performance through the second half of the year.
However, management noted that while the initial declines in base business recovered rapidly throughout the summer and fall, the recovery rate again slowed down at the end of November and in December due to the resurgence of COVID-19 infections across the country.
Meanwhile, the first-half 2021 outlook also looks impressive with strong revenue growth expectations.
Zacks Rank and Key Picks
Quest Diagnostics currently carries a Zacks Rank #3 (Hold).
Some better-ranked stocks in the broader medical space that have already announced their quarterly results are NextGen Healthcare, Inc. NXGN, Abbott Laboratories ABT and AngioDynamics, Inc. ANGO. While AngioDynamics sports a Zacks Rank of 1 (Strong Buy), both Abbott and NextGen Healthcare carry a Zacks Rank #2 (Buy). You can seethe complete list of Zacks #1 Rank stocks here.
NextGen Healthcare reported third-quarter fiscal 2021 adjusted EPS of 26 cents, beating the Zacks Consensus Estimate by 8.3%. Revenues of $141.7 million surpassed the consensus mark by 0.6%.
Abbott reported fourth-quarter 2020 adjusted EPS of $1.45, which surpassed the Zacks Consensus Estimate by 6.6%. Fourth-quarter worldwide sales of $10.7 billion outpaced the consensus mark by 7.9%.
AngioDynamics reported second-quarter fiscal 2021 adjusted EPS of a penny against the Zacks Consensus Estimate of a loss per share of 2 cents. Revenues of $72.8 million beat the consensus mark by 8%.
Stocks Set to Double
Each was hand-picked by a Zacks expert as the #1 favorite stock to gain +100% or more in 2020. Each comes from a different sector and has unique qualities and catalysts that could fuel exceptional growth.
Most of the stocks in this report are flying under Wall Street radar, which provides a great opportunity to get in on the ground floor.
Today, See These 5 Potential Home Runs >>
Want the latest recommendations from Zacks Investment Research? Today, you can download 7 Best Stocks for the Next 30 Days.
Click to get this free report
AngioDynamics, Inc. (ANGO): Free Stock Analysis Report
Quest Diagnostics Incorporated (DGX): Free Stock Analysis Report
Abbott Laboratories (ABT): Free Stock Analysis Report
NEXTGEN HEALTHCARE, INC (NXGN): Free Stock Analysis Report
To read this article on Zacks.com click here.
Zacks Investment Research