Colfax (CFX) to Divest Air and Gas Handling Business to KPS
Colfax Corporation CFX recently announced that it entered into an agreement to divest its Air and Gas Handling business to KPS Capital Partners, LP ("KPS").
Based in New York, KPS serves as a global private equity firm and has a strong presence in industrial economy with an investor base across 18 countries.
Per Colfax, the enterprise value of its Air and Gas Handling business for the deal comes in at about $1.8 billion. Notably, this amount comprises $1.66 billion in cash consideration as well as $0.14 billion in assumed liabilities and minority interest. The deal is subject to regulatory clearance and projected to close by the second half of 2019.
On completion, Colfax observed that the deal will enable the company to attain its leverage target and increase profitability. In addition, the divestment of the Air and Gas Handling business will help Colfax focus more on its core businesses besides supporting strategic buyouts in its Fabrication Technology and Medical Technology segments.
Existing Business Scenario
Colfax is poised to benefit from a solid product portfolio, growing business opportunities in the emerging markets and its inorganic initiatives. Also, the company acquired Sandvik Materials Technology's welding-wire operations for its Fabrication Technology and added Europe-based Gas Control Equipment to the Fabrication Technology segment in 2018. In February 2019, it closed the transaction of DJO Global. In the first half of the ongoing year, the company predicts that DJO Global and other consolidations to boost its results.
Moreover, the company follows a sound capital-allocation strategy. It focuses on investing in innovation, business expansion in attractive markets, acquisitions and in growing its digital base. In the past six months, the company has gained 13.7%, compared with industry's increase of 10.6%.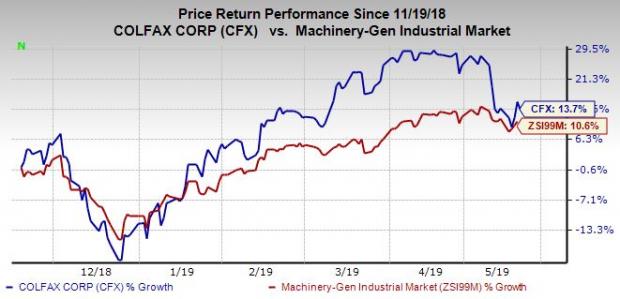 However, rising cost of sales has been a major concern for Colfax over the past several quarters. In the first quarter of 2019, the metric increased 6.4% year over year while selling, general and administrative expenses too escalated 58.7%. Although the company is experiencing inflation in steel and other items but its pricing actions came in as a relief. Mounting costs, if unchecked, might be detrimental to Colfax in the quarters ahead.
Zacks Rank & Stocks to Consider
Colfax currently carries a Zacks Rank #3 (Hold). Some better-ranked stocks from the same space are Roper Technologies, Inc. ROP, Dover Corporation DOV and DXP Enterprises, Inc. DXPE. While Roper sports a Zacks Rank #1 (Strong Buy), Dover and DXP Enterprises carry a Zacks Rank #2 (Buy). You can see the complete list of today's Zacks #1 Rank stocks here.
Roper delivered average positive surprise of 8.43% in the trailing four quarters.
Dover pulled off average positive surprise of 8.61% in the preceding four quarters.
DXP Enterprises came up with average beat of 48.47% in the last four quarters.
Breakout Biotech Stocks with Triple-Digit Profit Potential
The biotech sector is projected to surge beyond $775 billion by 2024 as scientists develop treatments for thousands of diseases. They're also finding ways to edit the human genome to literally erase our vulnerability to these diseases.
Zacks has just released Century of Biology: 7 Biotech Stocks to Buy Right Now to help investors profit from 7 stocks poised for outperformance. Our recent biotech recommendations have produced gains of +98%, +119% and +164% in as little as 1 month. The stocks in this report could perform even better.
See these 7 breakthrough stocks now>>
Want the latest recommendations from Zacks Investment Research? Today, you can download 7 Best Stocks for the Next 30 Days.
Click to get this free report
Roper Technologies, Inc. (ROP): Free Stock Analysis Report
Dover Corporation (DOV): Free Stock Analysis Report
DXP Enterprises, Inc. (DXPE): Free Stock Analysis Report
Colfax Corporation (CFX): Free Stock Analysis Report
To read this article on Zacks.com click here.
Zacks Investment Research