Enable (ENBL) to Begin Gulf Run Pipeline Project Construction
Enable Midstream Partners, LP ENBL received approval from the Federal Energy Regulatory Commission ("FERC") to develop and operate the Gulf Run pipeline project in Louisiana based on section 7(c) of the Natural Gas Act.
The $540-MILLION pipeline project is aimed at transporting natural gas from some of the most promising natural gas-producing reservoirs in the United States to the U.S. Gulf Coast. Notably, the leading natural gas-producing regions in the United States include Haynesville, Marcellus, Utica and Barnett shales as well as the Mid-Continent region.
Enable's pipeline project is backed by a 20-year commitment for 1.1 billion cubic feet per day (Bcf/d) from Golden Pass LNG. Notably, Golden Pass LNG is a joint venture between subsidiaries of Exxon Mobil Corporation XOM and Qatar Petroleum.
Enable will partially assist the liquefied natural gas ("LNG") export project of cornerstone shipper Golden Pass, which is currently being developed off the Texas coast. The partnership mentioned that the Gulf Run pipeline will possess 1.7 Bcf/d of capacity and most of the gas transported on Gulf Run will go to the Golden Pass LNG export plant.
The project includes about 134 miles of new pipelines and other facilities. It is expected to provide transportation services from the partnership's existing Westdale compressor in Red River Parish to an interconnect with the Golden Pass Pipeline near Starks, Louisiana. Notably, it will be a 42-inch pipeline and will allow for upside potential beyond Golden Pass's commitment.
The Gulf Run project enables the use of the partnership's existing assets and, therefore, lowers expenses and environmental impacts. The FERC approval and the growing demand for LNG open opportunities for the project, thereby, making it well-positioned to add new customer commitments.
Importantly, Enable stated that the contractor bidding process is in progress for the Gulf Run project and expects the pipeline to become operational by late 2022.
Company Profile & Price Performance
Headquartered in Oklahoma City, OK, Enable is a midstream service provider. It operates through two business segments — Gathering and Processing, and Transportation and Storage.
Shares of the partnership have outperformed the industry in the past six months. Its stock has gained 58.7% compared with the industry's 29.4% growth.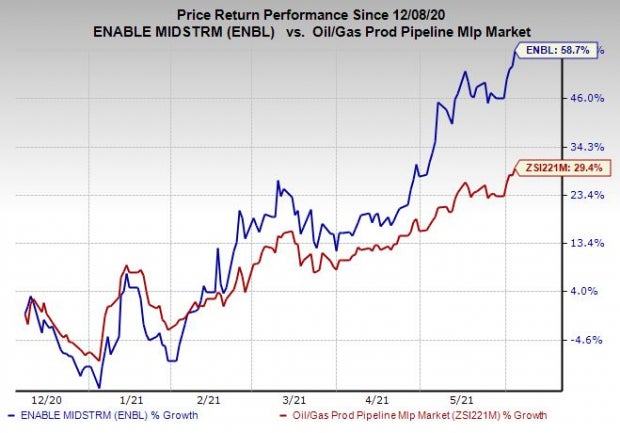 Image Source: Zacks Investment Research
Zacks Rank & Stocks to Consider
The company currently carries a Zack Rank #3 (Hold).
Some better-ranked players in the energy space are Energy Transfer LP ET and Oasis Petroleum Inc. OAS, each currently sporting a Zacks Rank #1 (Strong Buy). You can see the complete list of today's Zacks #1 Rankstocks here.
Over the past 60 days, the Zacks Consensus Estimate for Energy Transfer's 2021 earnings has been raised by 115.2%.
Oasis' earnings for 2021 are expected to increase 24.3% year over year.
Breakout Biotech Stocks with Triple-Digit Profit Potential
The biotech sector is projected to surge beyond $775 billion by 2024 as scientists develop treatments for thousands of diseases. They're also finding ways to edit the human genome to literally erase our vulnerability to these diseases.
Zacks has just released Century of Biology: 7 Biotech Stocks to Buy Right Now to help investors profit from 7 stocks poised for outperformance. Our recent biotech recommendations have produced gains of +50%, +83% and +164% in as little as 2 months. The stocks in this report could perform even better.
See these 7 breakthrough stocks now>>
Want the latest recommendations from Zacks Investment Research? Today, you can download 7 Best Stocks for the Next 30 Days.
Click to get this free report
Exxon Mobil Corporation (XOM): Free Stock Analysis Report
Energy Transfer LP (ET): Free Stock Analysis Report
Enable Midstream Partners, LP (ENBL): Free Stock Analysis Report
Oasis Petroleum Inc. (OAS): Free Stock Analysis Report
To read this article on Zacks.com click here.
Zacks Investment Research