Nektar (NKTR) Signs Deals With Pfizer, Merck KGaA for NKTR-255
Nektar Therapeutics NKTR announced that it has signed an agreement with Pfizer PFE and Germany-based Merck KGaA to evaluate its novel IL-15 agonist candidate, NKTR-255, in combination with Pfizer/Merck KGaA's Bavencio (avelumab) as a potential treatment of urothelial carcinoma (UC).
We note that Bavencio, a PD-L1 inhibitor, has been co-developed and co-commercialized by Pfizer and Merck KGaA as part of their partnership. It is approved as maintenance treatment of patients with locally advanced or metastatic urothelial carcinoma (UC) in patients whose disease has not progressed following first-line platinum-containing chemotherapy.
Pfizer and Merck KGaA have designed a phase II umbrella study — JAVELIN Bladder Medley — to evaluate combination regimens of different drugs with avelumab and comparing them with avelumab monotherapy as maintenance regimens for locally advanced or metastatic UC. The study is expected to start enrollment in the first quarter of 2022. The combination of NKTR-255 and Bavencio will be one of the combination regimens of Bavencio to be evaluated in the JAVELIN Bladder Medley study.
Per the terms of the recently signed agreement, Nektar will be responsible for the supply of NKTR-255 to be used in the mid-stage study. Individual companies will continue to retain current global commercial rights to their respective drugs under the agreement.
Nektar is currently evaluating NKTR-255 in several clinical studies targeting different oncology indications including relapsed, refractory non-Hodgkin lymphoma or multiple myeloma; relapsed or refractory head and neck squamous cell carcinoma, or colorectal cancer. The JAVELIN Bladder Medley will evaluate a combination of the candidate in a new indication, UC.
Nektar's shares have gained 4.3% so far this year against the industry's decrease of 13.5%.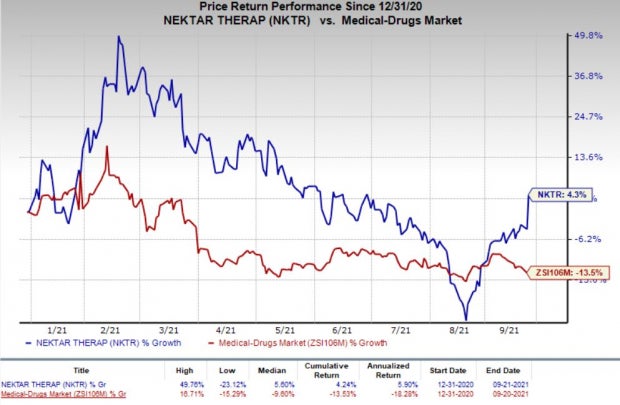 Image Source: Zacks Investment Research
Nektar's lead pipeline candidate is bempegaldesleukin, which is being evaluated in multiple registrational studies targeting different cancers. It has also signed deals with several pharma companies to develop combination regimens of bempegaldesleukin.
Nektar's collaboration agreement with Bristol-Myers BMY for various studies evaluating bempegaldesleukin in combination with the latter's immuno-oncology drug, Opdivo, is one of the key deals for the company. The deal generated $1 billion in upfront payments and $850 million in equity investment. Nektar is eligible to receive almost $1.8 billion in future payments. Top-line data from three registrational studies evaluating bempegaldesleukin plus Opdivo in patients with melanoma, renal cell carcinoma, and bladder cancer are expected in the first half of 2022.
Earlier this year, Nektar also signed a deal with U.S. pharma giant, Merck MRK to evaluate bempegaldesleukin in combination with the latter's blockbuster immuno-oncology drug, Keytruda, for the first-line treatment of patients with metastatic or unresectable recurrent squamous cell carcinoma of the head and neck, whose tumors express PD-L1.
Nektar is also developing another pipeline candidate, NKTR-358, in collaboration with Eli Lilly in a phase II study as a potential treatment for systemic lupus erythematosus.
Nektar Therapeutics Price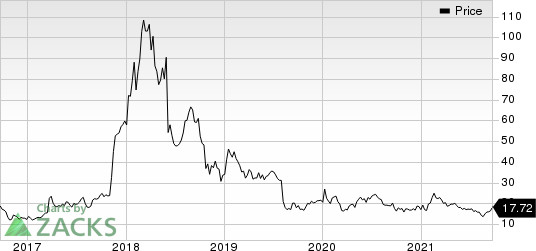 Zacks Rank
Nektar currently has a Zacks Rank #3 (Hold). You can see the complete list of today's Zacks #1 Rank (Strong Buy) stocks here.
Infrastructure Stock Boom to Sweep America
A massive push to rebuild the crumbling U.S. infrastructure will soon be underway. It's bipartisan, urgent, and inevitable. Trillions will be spent. Fortunes will be made.
The only question is "Will you get into the right stocks early when their growth potential is greatest?"
Zacks has released a Special Report to help you do just that, and today it's free. Discover 7 special companies that look to gain the most from construction and repair to roads, bridges, and buildings, plus cargo hauling and energy transformation on an almost unimaginable scale.
Download FREE: How to Profit from Trillions on Spending for Infrastructure >>
Want the latest recommendations from Zacks Investment Research? Today, you can download 7 Best Stocks for the Next 30 Days.
Click to get this free report
Bristol Myers Squibb Company (BMY): Free Stock Analysis Report
Pfizer Inc. (PFE): Free Stock Analysis Report
Merck & Co., Inc. (MRK): Free Stock Analysis Report
Nektar Therapeutics (NKTR): Free Stock Analysis Report
To read this article on Zacks.com click here.
Zacks Investment Research