Ericsson Inks License Agreement With Intellectual Ventures
Ericsson ERIC recently announced that it has entered into a license agreement with Intellectual Ventures, which put an end to all patent infringement lawsuits between the two companies. Markedly, the agreement includes a lawsuit that was trialed earlier this year and ended up in $43 million jury verdict in favor of the patent licensing company.

Since 2012, Intellectual Ventures has lodged a number of patent infringement lawsuits against the Swedish telecom equipment provider and its customers in the United States and Europe asking for injunctions and monetary compensations.

Ericsson boasts a leading position in telecommunications innovation and has a strong commitment to R&D. While the terms of the deal remained undisclosed, management anticipates an unfavorable impact on operating income within the company's Networks segment in second-quarter 2019.

Additionally, the company has one of the industry's strongest intellectual property portfolios, which includes more than 49,000 granted patents globally. It is reportedly the largest holder of standard essential patents for mobile communication.

Ericsson continues to execute its strategy and is on track to achieve its 2020 financial targets. It is investing in its competitive 5G-ready portfolio to enable seamless migration to 5G technology. The company also controls its cost position to stay profitable.

Moreover, Ericsson's R&D investments over the past two years have secured a competitive and industry-leading offering. Artificial intelligence and automation remain key enablers for the company's future business development, creating customer and shareholder value. Ericsson remains confident in reaching long-term target for 2020 and 2022.

Driven by diligent execution of operational strategies, shares of Ericsson have returned 37.1% compared with the industry's rise of 9.8% in the past year.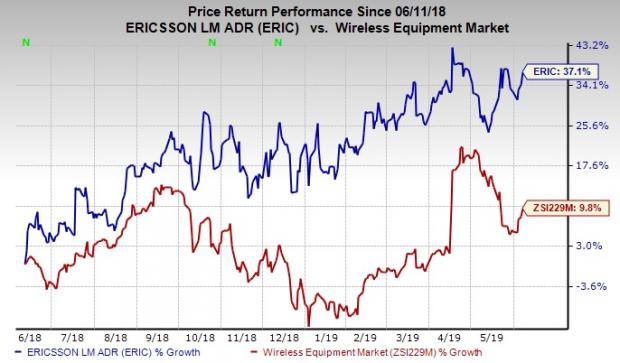 Currently, Ericsson sports a Zacks Rank #1 (Strong Buy). Other top-ranked stocks in the industry include Juniper Networks, Inc. JNPR, Motorola Solutions, Inc. MSI and Ubiquiti Networks, Inc. UBNT, each carrying a Zacks Rank #2 (Buy). You can see the complete list of today's Zacks #1 Rank stocks here.

Juniper has long-term earnings growth expectation of 6.2%.

Motorola has long-term earnings growth expectation of 7.7%.

Ubiquiti has long-term earnings growth expectation of 19.8%.

Breakout Biotech Stocks with Triple-Digit Profit Potential

The biotech sector is projected to surge beyond $775 billion by 2024 as scientists develop treatments for thousands of diseases. They're also finding ways to edit the human genome to literally erase our vulnerability to these diseases.

Zacks has just released Century of Biology: 7 Biotech Stocks to Buy Right Now to help investors profit from 7 stocks poised for outperformance. Our recent biotech recommendations have produced gains of +98%, +119% and +164% in as little as 1 month. The stocks in this report could perform even better.

See these 7 breakthrough stocks now>>
Want the latest recommendations from Zacks Investment Research? Today, you can download 7 Best Stocks for the Next 30 Days.
Click to get this free report
Juniper Networks, Inc. (JNPR): Free Stock Analysis Report
Ericsson (ERIC): Free Stock Analysis Report
Motorola Solutions, Inc. (MSI): Free Stock Analysis Report
Ubiquiti Networks, Inc. (UBNT): Free Stock Analysis Report
To read this article on Zacks.com click here.
Zacks Investment Research