Dominion (D) and Berkshire End $1.3B Questar Pipelines Deal
Dominion Energy D and Berkshire Hathaway Inc.'s (BRK.A) unit Berkshire Hathaway Energy announced the termination of the Questar Pipelines deal between them. The companies have decided to terminate the agreement due to ongoing uncertainty associated with achieving clearance from the Federal Trade Commission under the Hart-Scott-Rodino Antitrust Improvements Act of 1976.

This decision effective Jul 9, 2021 will have no impact on Dominion Energy's financial guidance for 2021 and the company is commencing a competitive process for the sale of Questar Pipelines. Dominion will take a 364-day term loan to repay $1.3-BILLION transaction deposit made by Berkshire Hathaway Energy. Dominion will repay the loan from sales proceeds of Questar Pipelines to an alternative buyer by 2021-end.

The cancellation of the deal will not impact Dominion's strategy of portfolio realignment and the company is confident of selling these assets to an alternate buyer.
Portfolio Realignment
Dominion's portfolio realignment strategy and focus on regulated assets are evident from its investments in regulated infrastructure and other clean assets whose outputs are sold under long-term purchase agreements. In the past two years, the company disposed off some of its merchant generation facilities and the electric retail energy marketing business to focus on core regulated operations.

Over the next 15 years, the company aims to invest $72 billion to strengthen its infrastructure and add more clean power generation assets to its portfolio. The company is adding clean energy units to the generation portfolio and targets carbon neutrality by 2050.
Focus on Clean Energy
A clear transition is evident in the U.S. utility space, with more companies now focusing on lower emission and producing more electricity from clean energy sources. Utilities are making plans to shut down coal powered units and replace production with clean natural gas or alternate sources of energy.

Per the U.S. Energy Information Administration ("EIA"), the U.S. electric power sector will generate 2.1% more electricity during 2021 than in 2020 and generation is expected to improve an additional 0.7% in 2022. Per EIA, total new electricity capacity addition in the United States will increase by 96 gigawatt (GW) in the 2019-2022 time period, with 81 GW coming from renewable sources.

Utilities like Xcel Energy XEL and The Southern Company SO, among others, have announced plans to add more renewable sources to their production portfolio and attain carbon neutrality by 2050.
Price Performance
In the past six months, shares of this utility have gained 8.2%, outperforming the industry's 4% growth.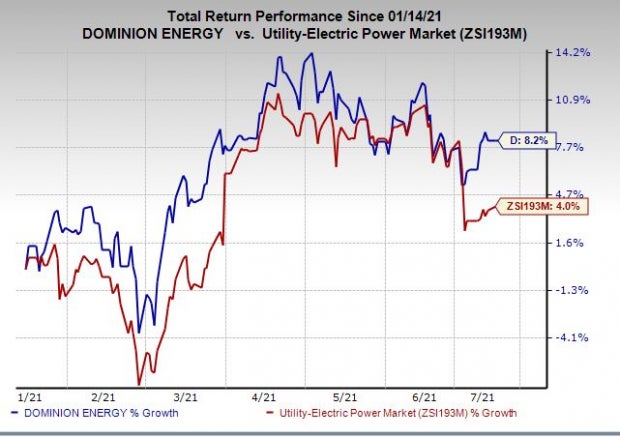 Image Source: Zacks Investment Research
Zacks Rank
Dominion currently has a Zacks Rank #2 (Buy). You can see the complete list of today's Zacks #1 Rank (Strong Buy) stocks here.
Bitcoin, Like the Internet Itself, Could Change Everything
Blockchain and cryptocurrency has sparked one of the most exciting discussion topics of a generation. Some call it the "Internet of Money" and predict it could change the way money works forever. If true, it could do to banks what Netflix did to Blockbuster and Amazon did to Sears. Experts agree we're still in the early stages of this technology, and as it grows, it will create several investing opportunities.
Zacks' has just revealed 3 companies that can help investors capitalize on the explosive profit potential of Bitcoin and the other cryptocurrencies with significantly less volatility than buying them directly.
See 3 crypto-related stocks now >>
Want the latest recommendations from Zacks Investment Research? Today, you can download 7 Best Stocks for the Next 30 Days.
Click to get this free report
Xcel Energy Inc. (XEL): Free Stock Analysis Report
Southern Company The (SO): Free Stock Analysis Report
Dominion Energy Inc. (D): Free Stock Analysis Report
Berkshire Hathaway Inc. (BRK.A): Free Stock Analysis Report
To read this article on Zacks.com click here.
Zacks Investment Research