Airline Stock Roundup: UAL Gives Update on MAX 737 Grounding, GOL in Focus
In the past week, United Continental Holdings' UAL subsidiary United Airlines extended the grounding period of Boeing 737 Max jets to Aug 3. Currently, the carrier has 14 such jets in its fleet. On the other hand, the Federal Aviation Administration reportedly anticipates the jets to resume flying as early as late June
In another key development, Latin American carrier Gol Linhas Aereas Inteligentes' GOL announced plan to launch flights to the city of Araçatuba later this year as part of its expansion plan in São Paulo.
Further, Southwest Airlines LUV received encouraging tidings on the labor front when it announced the ratification of its five-year contract with Aircraft Mechanics Fraternal Association — the union representing its 2,400 mechanics.
(Read the last Airline Stock Roundup here).
Recap of the Past Week's Most Important Stories
1. Updates on Boeing 737 MAX jets have been flooding the aviation space ever since the deadly Ethiopian Airlines' crash on Mar 10, 2019. In fact, this was the second accident involving Boeing 737 MAX jets within a span of five months as the same model went down in Indonesia last October, killing 189 people. The latest update came from United Airlines, which suspended operations of its Boeing 737 Max jets until early August, thereby extending the grounding period by a month. United Airlines will face around 2,400 flight cancellations in June and July due to this. Notably, fellow airline players Southwest Airlines and American Airlines AAL have already suspended the 737 MAX flights from their schedules until August. (Read more: United Airlines Extends 737 MAX Flight Cancellation Period).
2. Gol Linhas has decided to operate non-stop daily flights to Araçatuba from November as part of its expansion plan in the state of São Paulo. Following the launch of these flights, the company will serve a total of 75 destinations.
Flights to São Paulo 's Guarulhos International Airport will be operated on the Boeing 737-700 Next Generation aircraft featuring all the modern services and amenities such as entertainment services, in-flight internet service, complementary snacks and drinks etc. The Boeing 737 jet will be the largest capacity aircraft plying on the route. This route expansion marks the seventh regional destination announced by the carrier this year.
Gol Linhas currently carries a Zacks Rank #3 (Hold). You can see the complete list of today's Zacks #1 Rank (Strong Buy) stocks here.
3. Putting an end to years of negotiations, mechanics at Southwest Airlines voted in favor of a pay-related deal. The deal will be amenable in April 2024. Per the agreement, Southwest mechanics will receive a pay hike of 20% and bonuses worth $160 million. The terms of the latest transaction are undoubtedly favorable for Appearance Technicians, as evident from the fact that an overwhelming 95% voted in favor of the contract. On the other hand, American Airlines' dispute with its mechanics got murkier with the carrier filing a labor-related lawsuit against its mechanics.
4. In a major management shakeup at Colombian carrier Avianca Holdings AVH, its top shareholder German Efromovich will no longer have powers to control the Latin American carrier. The move, triggered by United Airlines, followed a default by Efromovich's holding company BRW Aviation of a $456 million loan. Efromovich's majority stake (51.5%) in Avianca was collateral for the loan made six months ago as part of a proposed joint venture. United Airlines, which is willing to loan up to $150 million to Avianca, is aiming to strengthen its foothold in Latin America.
5. In a bid to meet the surge in demand during the trans-Atlantic summer season, Delta Air Lines DAL launched multiple flights to popular European destinations. To this end, the Atlanta-based airline behemoth commenced operations between Boston and Edinburgh, Boston and Lisbon apart from Tampa and Amsterdam. The flight to Amsterdam marks Delta's first nonstop trans-Atlantic operation. Since last year Delta has been operating flights connecting Amsterdam and Orlando, another Florida destination. The carrier aims to operate up to 21 daily flights to 11 destinations from Amsterdam to the United States this summer.
Performance
The following table shows the price movement of the major airline players over the past week and during the last six months.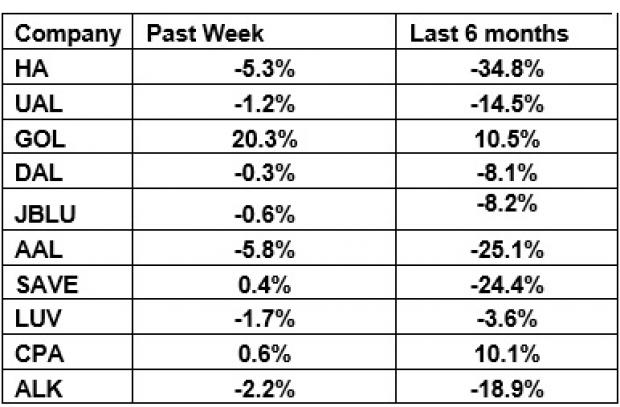 The table above shows that most airline stocks traded in the red over the past week, shortened by the Memorial Day holiday on May 27. However, the NYSE ARCA Airline Index inched up 1% in the period mainly due to GOL Linhas' impressive gains. Over the course of six months, the sector tracker has depreciated 6.5%.
What's Next in the Airline Space?
Stay tuned for May traffic updates from the likes of Delta Air Lines in the coming days.
Breakout Biotech Stocks with Triple-Digit Profit Potential
The biotech sector is projected to surge beyond $775 billion by 2024 as scientists develop treatments for thousands of diseases. They're also finding ways to edit the human genome to literally erase our vulnerability to these diseases.

Zacks has just released Century of Biology: 7 Biotech Stocks to Buy Right Now to help investors profit from 7 stocks poised for outperformance. Our recent biotech recommendations have produced gains of +98%, +119% and +164% in as little as 1 month. The stocks in this report could perform even better.
See these 7 breakthrough stocks now>>
Want the latest recommendations from Zacks Investment Research? Today, you can download 7 Best Stocks for the Next 30 Days.
Click to get this free report
Southwest Airlines Co. (LUV): Free Stock Analysis Report
American Airlines Group Inc. (AAL): Free Stock Analysis Report
Gol Linhas Aereas Inteligentes S.A. (GOL): Free Stock Analysis Report
Delta Air Lines, Inc. (DAL): Free Stock Analysis Report
United Continental Holdings, Inc. (UAL): Free Stock Analysis Report
Avianca Holdings S.A. (AVH): Free Stock Analysis Report
To read this article on Zacks.com click here.
Zacks Investment Research