Why TopBuild (BLD) is Rallying Significantly Post Q2 Earnings
TopBuild Corp.'s BLD shares increased 13.7% post its second-quarter 2020 earnings release on Aug 4 against the Zacks Building Products - Miscellaneous industry's 1.9% decline. The solid performance was backed by impressive adjusted earnings, which not only surpassed the Zacks Consensus Estimate by 41.2% but also grew 17.5% from the prior-year quarter, backed by margin improvement across the segments.

This installer and distributor of insulation and other building products has been banking on strategic acquisitions, strong Insulation Installation business, and strengthening repair and remodeling (R&R) activities. Also, solid prospects across the business and operational efficiencies are likely to help the company to drive growth.

Further, improving U.S. housing market prospects will help this Zacks Rank #1 (Strong Buy) company to post solid results going forward. You can see the complete list of today's Zacks #1 Rank stocks here.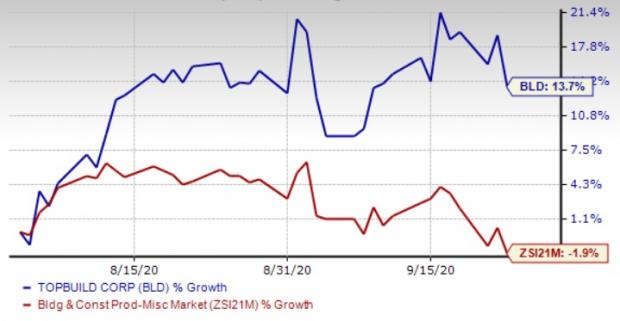 Let's delve deeper.
Strong Housing Prospects
As the U.S. housing market conditions and R&R activities are strengthening, TopBuild's business is meant to grow and generate higher revenues. The U.S. homebuilding industry has been bullish owing to low mortgage rates.

Its first-half 2020 sales increased 1.6% year over year despite COVID-19-led disruptions. Encouragingly, adjusted earnings per share grew 22.1%, adjusted EBITDA was up 16.4% and adjusted EBITDA margin expanded 190 basis points from the prior-year comparable period. Impressive margin expansion led to increased profitability, depicting a flexible operating model and its ability to quickly reduce costs.
Accretive Acquisitions
Also, acquisitions have been an important part of TopBuild's growth strategy. It completed one acquisition in 2019 and two in the first half of 2020. On Feb 24, 2020, the company announced that it has acquired Hunter Insulation, an 80-year old residential insulation company based in Long Island, NY. Also, on Feb 20, 2020, it added Cooper Glass Co, LLC — a commercial glass company serving the Memphis market — to its portfolio.

With a clearer outlook of the positive trajectory of the housing industry and strong balance sheet with almost $650 million of liquidity, the company has resumed the acquisition program again after a brief suspension due to COVID-19-led uncertainty.
Strong Installation Business
The Installation unit, which accounted for almost 73% of total 2019 net sales, installs insulation and other building products through the TruTeam contractor services business. For the first six months of 2020, the segment reported 1.1% net sales growth, with 110 basis-point improvement in adjusted operating margin. The upside was primarily driven by increased selling prices and sales volume, operational efficiencies, along with synergies from the USI acquisition.

Solid Returns & Impressive Growth Prospects: TopBuild's trailing 12-month return on equity (ROE) is indicative of growth potential. ROE for the trailing 12 months was 17.3% compared with the industry's 10.8%, reflecting the company's efficient usage of shareholders' funds.

TopBuild's earnings for 2020 have moved 6.1% north in the past 30 days, which indicates 16.6% year-over-year growth. The industry's earnings are likely to decline 5% from a year ago.

TopBuild — which shares space with Installed Building Products, Inc. IBP, Arcosa, Inc. ACA and Armstrong World Industries, Inc. AWI in the industry — has a solid Growth Score of B. Our Growth Score identifies stocks that have the most attractive growth characteristics. In fact, our research shows that stocks with Growth Scores of A or B when combined with a Zacks Rank #1 or 2 (Buy) have the highest probability of success.
Breakout Biotech Stocks with Triple-Digit Profit Potential
The biotech sector is projected to surge beyond $775 billion by 2024 as scientists develop treatments for thousands of diseases. They're also finding ways to edit the human genome to literally erase our vulnerability to these diseases.

Zacks has just released Century of Biology: 7 Biotech Stocks to Buy Right Now to help investors profit from 7 stocks poised for outperformance. Our recent biotech recommendations have produced gains of +50%, +83% and +164% in as little as 2 months. The stocks in this report could perform even better.

See these 7 breakthrough stocks now>>
Want the latest recommendations from Zacks Investment Research? Today, you can download 7 Best Stocks for the Next 30 Days.
Click to get this free report
Armstrong World Industries, Inc. (AWI): Free Stock Analysis Report
Installed Building Products, Inc. (IBP): Free Stock Analysis Report
TopBuild Corp. (BLD): Free Stock Analysis Report
Arcosa, Inc. (ACA): Free Stock Analysis Report
To read this article on Zacks.com click here.
Zacks Investment Research