Microsoft (MSFT) to Bring Moderation Features to Xbox Live
Microsoft MSFT recently voiced its opinion on making gaming platforms safer for everyone, via a blog post by Head of Xbox, Phil Spencer.
The company is focused on digital gaming community, which is lately under the radar of "growing toxic stew of hate speech, bigotry and misogyny."
In a bid to address these concerns, Spencer stresses on making interactive platforms safer and more welcoming for use by introducing "moderation features" to Xbox Live platform by the end of 2019.
Microsoft notes that Xbox Safety team dubbed as "Defenders of Joy" is working on tackling the online gaming threats and devise effective filters to eliminate toxic content. Xbox has also revamped its community standards for safer gameplay.
Notably, Xbox live monthly active users came in at $63 million, up 7% year over year in the third quarter of fiscal 2019.

Microsoft Corporation Revenue (Quarterly)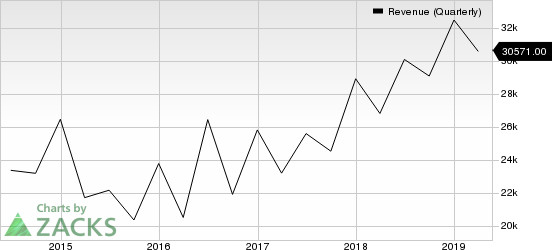 Microsoft Corporation revenue-quarterly | Microsoft Corporation Quote
Overall, Microsoft's Gaming revenues jumped 5% (7% at cc) to $2.36 billion (contributing 10% to third-quarter revenues), driven by robust performance from Xbox software and services (up 15% at cc) on the back of third-party title strength.
We believe such meaningful measures, will not only improve Xbox's brand reputation but also boost gamer base, in turn favoring the top line.
What Investors Should Know?
Microsoft has time and again, made its stance clear on promoting a fair and unbiased use of technology. The company is leaving no stone unturned to make gaming inclusive and just for everyone with its ongoing initiatives.
For instance, to make gaming accessible, Microsoft rolled out Xbox Adaptive Controller for differently-abled gamers.
Nevertheless, gaming is now evolving from console to cloud-based platforms, increasing interactions among gamers like never before. Per latest IHS Markit data, "consumer spending on cloud gaming content subscriptions reached $234 million in 2018 and is forecast to grow to $1.5 billion by 2023."
Per Spencer, Microsoft's upcoming Project xCloud, Alphabet's GOOGL Google Stadia and Apple's AAPL Arcade, to mention a few, are expected to expand the gaming community considerably.
These factors call for effective measures for handling user content in gaming communities and eradicate hateful content. We believe Microsoft's initiatives in this domain, hold promise.
The company is making every effort to enhance gaming business with robust initiatives. Recently, the company inked a MoU with Sony SNE to explore the utility of Azure cloud computing capabilities to provide immersive gaming experience to the end user.
We believe Microsoft's domain expertise in gaming and strength in Azure sets it apart from peers in both cloud and gaming sectors. The same also positions the company well to capitalize on the rapidly growing cloud gaming market.
Microsoft currently carries a Zacks Rank #2 (Buy).
You can see the complete list of today's Zacks #1 (Strong Buy) Rank stocks here.
Will you retire a millionaire?
One out of every six people retires a multimillionaire. Get smart tips you can do today to become one of them in a new Special Report, "7 Things You Can Do Now to Retire a Multimillionaire."
Want the latest recommendations from Zacks Investment Research? Today, you can download 7 Best Stocks for the Next 30 Days.
Click to get this free report
Alphabet Inc. (GOOGL): Free Stock Analysis Report
Sony Corporation (SNE): Free Stock Analysis Report
Apple Inc. (AAPL): Free Stock Analysis Report
Microsoft Corporation (MSFT): Free Stock Analysis Report
To read this article on Zacks.com click here.
Zacks Investment Research