Rent-A-Center Hits New 52-Week High: What's Behind the Rally?
Rent-A-Center, Inc. RCII hits a new 52-week high of $29.87, before closing the session a tad lower at $29.86 on Jan 14. Shares of this Plano, TX-based company have rallied approximately 18% in the past three months against the industry's decline of 2%.
Initiatives such as cost containment, improving traffic trends, targeted value proposition, refranchising program and enhancing cash flows have aided its performance. To top it, the Zacks Rank #3 (Hold) company boasts a VGM Score of A, which makes it well-positioned to attain new highs.
Let's Take a Closer Look
Rent-A-Center is progressing well with the Acceptance Now business model, which aims at improving consumers' shopping experience. Further, it is focusing on optimizing retail partnerships to enhance service and profitability, centralizing account management to tackle operations more effectively, and executing risk assessment policies across all locations.
The company acquired Merchants Preferred, a nationwide virtual rent-to-own provider, in August 2019. The buyout enhances Rent-A-Center's rent-to-own capabilities and allows it to provide both virtual and staffed solutions to retail partners.
Backed by the acquisition and robust comps, revenues at Acceptance Now grew 6.4% to $184.5 million in the third quarter. Also, same-store sales at the Acceptance Now segment improved 6.2% in the third quarter. Going forward, the company expects to increase Acceptance Now and Merchants Preferred's revenues by $1.2 billion, with an anticipated annual growth rate of roughly 15% by 2022.
These apart, Rent-A-Center is making efforts to expand e-commerce offerings and mobile applications as well as leverage cloud-based point-of-sale platform. This will enable the company to manage orders more efficiently, lower losses and cut operating costs. Also, it implemented a centralized inventory management system, including automated merchandise replenishment.
Moving on, the company is leaving no stone unturned to revive its Core U.S. segment. It is witnessing soft revenues at the Core U.S. segment on refranchising efforts and constant store base rationalization. In doing so, it is optimizing product mix, increasing the average ticket price, upgrading workforce, concentrating on lowering delinquency rates and rationalizing existing stores as well as contemplating new ones.
Wrapping Up
With an extensive network of stores, Rent-A-Center is one of the largest rent-to-own operators in North America. In our view, the sheer geographic reach enables the company to effectively penetrate its target markets. It is investing in enhancing the omni-channel platform so that customers can experience a seamless approach across channels, markets, retailers, products and brands.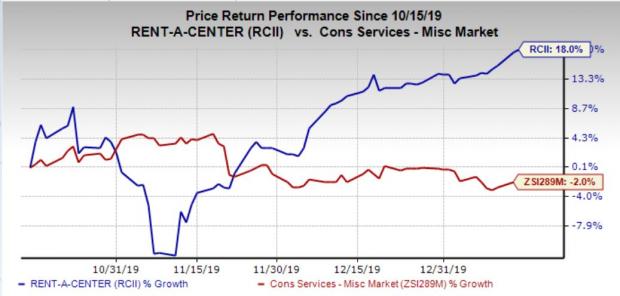 Key Picks
Best Buy BBY presently has a long-term earnings growth rate of 8.7% and a Zacks Rank #2 (Buy). You can see the complete list of today's Zacks #1 Rank (Strong Buy) stocks here.
Care.com, Inc. CRCM currently has a long-term earnings growth rate of 15% and a Zacks Rank #2.
Target Corp. TGT has a long-term earnings growth rate of 7.6% and a Zacks Rank #2 at present.
Today's Best Stocks from Zacks
Would you like to see the updated picks from our best market-beating strategies? From 2017 through Q3 2019, while the S&P 500 gained +39.6%, five of our strategies returned +51.8%, +57.5%, +96.9%, +119.0% and even +158.9%.
This outperformance has not just been a recent phenomenon. From 2000 – Q3 2019, while the S&P averaged +5.6% per year, our top strategies averaged up to +54.1% per year.
See their latest picks free >>
Want the latest recommendations from Zacks Investment Research? Today, you can download 7 Best Stocks for the Next 30 Days.
Click to get this free report
Rent-A-Center, Inc. (RCII): Free Stock Analysis Report
Best Buy Co., Inc. (BBY): Free Stock Analysis Report
Target Corporation (TGT): Free Stock Analysis Report
Care.com, Inc. (CRCM): Free Stock Analysis Report
To read this article on Zacks.com click here.
Zacks Investment Research