Magellan Health's (MGLN) Q1 Earnings Beat Mark, Improve Y/Y
Magellan Health, Inc.'s MGLN first-quarter 2021 adjusted earnings per share (EPS) of $1.33 beat the Zacks Consensus Estimate of 78 cents by 70.5%. Moreover, the bottom line improved 15.7% year over year.

The company's first-quarter results reflect impressive performances by Heathcare and Pharmacy Management segments.

Moreover, revenues of $1.2 billion for the quarter ended Mar 31, 2021 surpassed the Zacks Consensus Estimate by 0.5%. However, the same decreased 35.2% year over year. Meanwhile, the top line beat the consensus estimate in three of the last four quarters.
Magellan Health, Inc. Price, Consensus and EPS Surprise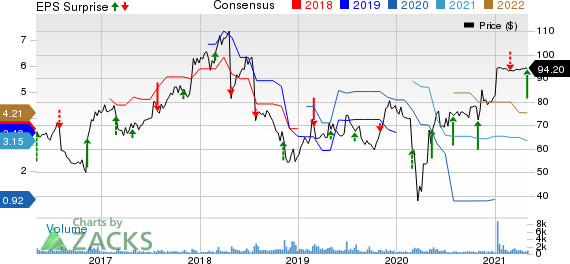 Magellan Health, Inc. price-consensus-eps-surprise-chart | Magellan Health, Inc. Quote
Segmental profit increased 80.6% year over year to $75.1 million.

Healthcare segment's profit of $41.3 million was up 16.1% year over year, mainly owing to net business growth. This was partly offset by an increase in corporate allocations.

Pharmacy Management segment's profit of $43.7 million surged 109.3% year over year, mainly on the back of revenue growth across specialty, government and commercial PBM, better gross margin, proceeds from the settlement of a legal matter and the exit from Medicare Part D. However, the same was partly offset by better corporate allocations as well as start-up expenses related to new contracts.

Total costs and expenses inched up 0.4% year over year to $1.1 billion due to higher cost of care, direct service costs and other operating expenses.
Capital Position
Cash flow used in operations for the first three months of 2021 was $77.9 million, comparing unfavorably with the year-ago quarter's cash flow used in operating activities of $4.1 million.

As of Mar 31, 2021, the company's cash and cash equivalents totaled $456 million, down 60.1% from the level on Dec 31, 2020.

As of Mar 31, 2021, total assets of the company increased 9.3% to $3.2 billion, down 3.7% from the 2020-end level.

Total stockholders' equity of $1.9 billion as of Mar 31, 2021 increased 2.1% from the 2020-end level.
Business Update
On Mar 18, 2021, management announced that the company is selected to cater as a contractor for the Military and Family Life Counseling program.

On Mar 31, 2021, the company's shareholders agreed to merge with Centene. The deal is expected to close in the second half of the current-year.
Zacks Rank
Magellan Health carries a Zacks Rank #4 (Sell), currently.

You can see the complete list of today's Zacks #1 Rank (Strong Buy) stocks here.
Other Medical Sector Releases
Among other players from the medical space that have reported first-quarter earnings so far, the bottom-line results of UnitedHealth Group Incorporated UNH and HCA Healthcare Inc. HCA beat estimates while that of Anthem, Inc. ANTM missed the same.
Breakout Biotech Stocks with Triple-Digit Profit Potential
The biotech sector is projected to surge beyond $775 billion by 2024 as scientists develop treatments for thousands of diseases. They're also finding ways to edit the human genome to literally erase our vulnerability to these diseases.

Zacks has just released Century of Biology: 7 Biotech Stocks to Buy Right Now to help investors profit from 7 stocks poised for outperformance. Our recent biotech recommendations have produced gains of +50%, +83% and +164% in as little as 2 months. The stocks in this report could perform even better.

See these 7 breakthrough stocks now>>

Want the latest recommendations from Zacks Investment Research? Today, you can download 7 Best Stocks for the Next 30 Days.
Click to get this free report
UnitedHealth Group Incorporated (UNH): Free Stock Analysis Report
HCA Healthcare, Inc. (HCA): Free Stock Analysis Report
Magellan Health, Inc. (MGLN): Free Stock Analysis Report
Anthem, Inc. (ANTM): Free Stock Analysis Report
To read this article on Zacks.com click here.