2 Solid Medical Device Stocks to Scoop Up Right Away
The current scenario pertaining to the U.S. medical device sector is pretty blurred. While the players within the sector are eagerly waiting for the Senate to pass the final Obamacare Reform Bill in July, several recent comments by the Republicans are raising doubts over the consequences.
Some Republicans are thinking of retaining a few of the medical device taxes that were supposed to be abolished earlier. Another group of senators intend to retain all the taxes but reduce the proportion of those. According to a Breitbart report, they believe that a slower phase out of Obamacare taxes will generate enough revenues for a more generous health care bill.
So far, companies in the medical device sector were hopeful about the promised cancellation of major healthcare taxes (the Cadillac tax and the 2.3% MedTech tax) related to Obamacare under Trump's American Health Care Act (AHCA). Unquestionably, the latest political remarks have landed the MedTech space to more uncertain territories.
In spite of what the future may unfold, we would suggest investors to pick medical device stocks which are fundamentally strong at present. These stocks will make valuable additions to an investment portfolio in the wake of widespread volatility in the medical device market.
Top Two Picks
We have taken the help of the Zacks Stock Screener to select favorable stocks. To shortlist the stocks from the vast universe of the medical device sector, we have picked the ones that carry a Zacks Rank #1 (Strong Buy) or 2 (Buy). You can see the complete list of today's Zacks #1 Rank stocks here.
Baxter International Inc. BAX: Headquartered in Deerfield, IL, Baxter International is a global medical technology company. The company offers renal and hospital products such as kidney dialysis equipment, infusion pumps, and intravenous (IV) solutions. Baxter International recently received guidance from the U.S. FDA clarifying the regulatory pathway for its home peritoneal dialysis (PD) solution system to improve patient access to home dialysis.
In the past one year, Baxter International has outperformed the Zacks categorized Medical - Products industry. The company represented a solid return of 30.3%, comparing favorably with the industry's return of roughly 13%. Meanwhile, the estimate revision trend for the current year remained favorable with nine estimates moving north in the last two months, compared to no movement in the opposite direction. As a result, current year estimates increased roughly 5% to $2.27 over the same time frame.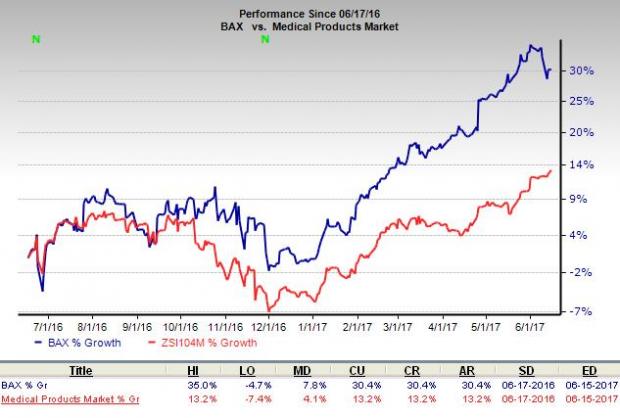 Of late, Baxter International has accelerated its pace of acquisitions and strategic collaborations that enhance its product portfolio, thereby opening up significant long-term opportunities. We are also upbeat about the company's recently signed definitive agreement to acquire Claris Injectables. Recurring revenue stream, expanding product portfolio, impressive product pipeline and strong presence in the international markets are other key positives.
Abbott Laboratories ABT: This IL-based medical device major discovers, develops, manufactures and sells a diversified line of health care products. The company has a broad range of branded generic pharmaceuticals, medical devices, diagnostics, and nutrition products. Recently, Abbott received CE mark for its TactiCath Sensor and Confirm Rx ICM products. The company also launched science-based nutrition drinks for better recovery from surgeries.
Taking a glance at its share price performance, Abbott has been trading above the broader Medical products industry over the last one year. The company has so far gained 28.7%, compared to 13.2% of the industry. Additionally its current year estimate revision is favorable. Over the last two months, there have been five upward revisions compared to no downward revision. As a result, the current year magnitude has inched up 0.8% to $2.47 per share.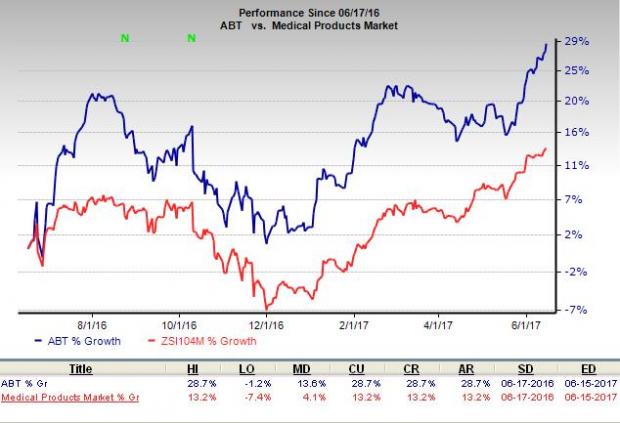 Overall, we believe that the company stands to benefit from the ongoing integration and synergy achievement of St. Jude Medical which was acquired at the start of 2017. We are also looking forward to the company's plans to focus on selling core therapeutic products in the emerging markets of India, Russia and Latin America.
3 Top Picks to Ride the Hottest Tech Trend
Zacks just released a Special Report to guide you through a space that has already begun to transform our entire economy...
Last year, it was generating $8 billion in global revenues. By 2020, it's predicted to blast through the roof to $47 billion. Famed investor Mark Cuban says it will produce "the world's first trillionaires," but that should still leave plenty of money for those who make the right trades early. Download Report with 3 Top Tech Stocks >>
Want the latest recommendations from Zacks Investment Research? Today, you can download 7 Best Stocks for the Next 30 Days.
Click to get this free report
Abbott Laboratories (ABT): Free Stock Analysis Report
Baxter International Inc. (BAX): Free Stock Analysis Report
To read this article on Zacks.com click here.
Zacks Investment Research