Republic Services (RSG) Up 11.3% in Past 6 Months: Here's Why
Shares of Republic Services, Inc. RSG have gained 11.3% over the past six months, outperforming 9% growth of the industry it belongs to.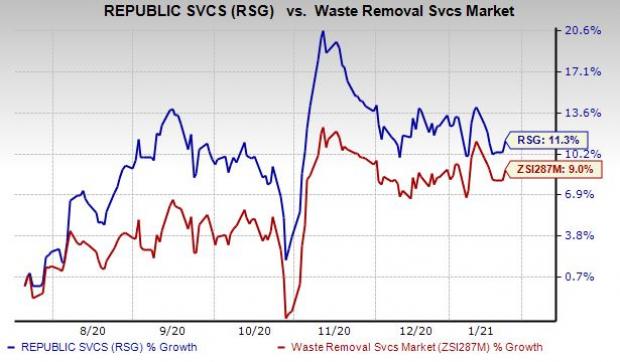 Let's delve deeper into the factors, which have contributed to the company's outperformance.
Consecutive Earnings Beat
Republic Services reported better-than-expected earnings performance in all four quarters of 2019 and the first three quarters of 2020. The company's bottom line continued to benefit from improvement in operational efficiency, growth in adjusted free cash flow, higher recycled commodity prices and lower fuel costs.
Notably, the company's average recycled commodity price per ton sold in the third quarter of 2020 was $99, reflecting year-over-year increase of $27 per ton.
Operational Efficiency Moves
Republic Services remains focused on increasing its operational efficiency by shifting to compressed natural gas ("CNG") collection vehicles and converting rear-loading trucks to automated-side loaders. This will reduce cost and improve profitability. The company is focused on enhancing its operations by streamlining the cost structure, improving revenue quality and seeking growth through profitable investment opportunities. Meanwhile, the company is highly optimistic about the usage of CNG vehicles, which will help it compete effectively on grounds of maintaining a clean environment. Despite higher expenses, CNG reduces the company's overall fleet operating costs through lower fuel expenses.
Shareholder Friendly Moves
Republic Services' consistent efforts in rewarding its shareholders through dividend payments and share repurchases are appreciable. During the first nine months of 2020, Republic Services paid out $387.1 million in dividends. Further, the company's board of directors declared a regular quarterly dividend of 42.5 cents per share for shareholders on record as of Jan 4, 2021. The dividend will be paid out on Jan 15, 2021.
Concurrent with the third-quarter 2020 earnings release, the company's board of directors approved $2 billion for share repurchases, effective from Jan 1, 2021 till Dec 31, 2023. As of Sep 30, 2020, the company had $606 million available under its prior authorizationand this continued till Dec 31, 2020.
In 2019, 2018 and 2017, the company paid out $491.2 million, $461.8 million and $440.5 million in dividends, respectively, and repurchased shares worth $399.4 million, $736.9 million and $610.7 million. Such moves indicate the company's commitment to create value for shareholders and also underline its confidence in its business. These initiatives not only instill investors' confidence but also positively impact earnings per share.
Zacks Rank and Stocks to Consider
Republic Services currently carries a Zacks Rank #3 (Hold).
Some better-ranked stocks in the broader Zacks Business Services sector are ManpowerGroup MAN, Huron Consulting HURN and NV5 Global NVEE, each carrying a Zacks Rank #2 (Buy). You can see the complete list of today's Zacks #1 Rank (Strong Buy) stocks here.
The long-term expected earnings per share (three to five years) growth rate for ManpowerGroup, Huron Consulting and NV5 Global is 3.5%, 14% and 16.8%, respectively.
Breakout Biotech Stocks with Triple-Digit Profit Potential
The biotech sector is projected to surge beyond $775 billion by 2024 as scientists develop treatments for thousands of diseases. They're also finding ways to edit the human genome to literally erase our vulnerability to these diseases.

Zacks has just released Century of Biology: 7 Biotech Stocks to Buy Right Now to help investors profit from 7 stocks poised for outperformance. Our recent biotech recommendations have produced gains of +50%, +83% and +164% in as little as 2 months. The stocks in this report could perform even better.

See these 7 breakthrough stocks now>>
Want the latest recommendations from Zacks Investment Research? Today, you can download 7 Best Stocks for the Next 30 Days.
Click to get this free report
ManpowerGroup Inc. (MAN): Free Stock Analysis Report
Republic Services, Inc. (RSG): Free Stock Analysis Report
Huron Consulting Group Inc. (HURN): Free Stock Analysis Report
NV5 Global, Inc. (NVEE): Free Stock Analysis Report
To read this article on Zacks.com click here.