Why CommScope (COMM) is a Solid Investment Bet Post Q1 Earnings
Shares of CommScope Holding Company, Inc. COMM have surged 86.2% over the past year, driven by healthy revenues on the back of a flexible business model and solid market response for cost-effective solutions. The company reported strong first-quarter 2021 results, with both the top line and the bottom line beating the respective Zacks Consensus Estimate. Backed by robust order trends, the company expects this growth momentum to continue amid post-pandemic market revival, driven by industry tailwinds such as 5G and mobile network densification, indoor coverage and expansion of optical fiber networks. With healthy fundamentals, this Zacks Rank #2 (Buy) infrastructure solutions provider appears to be a promising investment option at the moment. You can see the complete list of today's Zacks #1 Rank (Strong Buy) stocks here.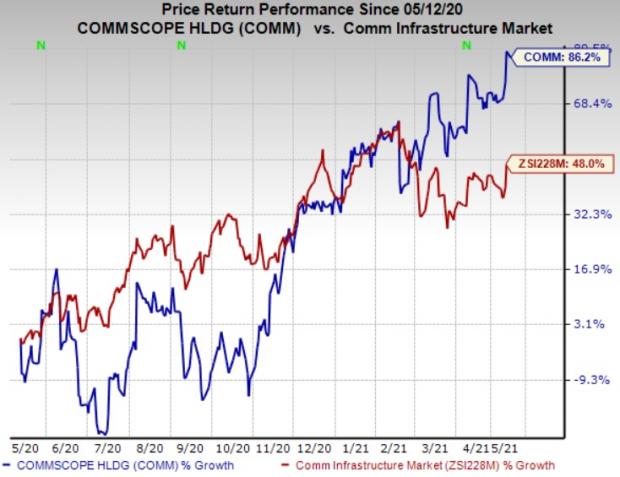 Growth Drivers
Headquartered in Hickory, NC, CommScope offers wireless and fiber optic solutions for the core, access and edge layers of communication networks. Since its inception in 1976, the company has created a niche market for itself, helping customers scale network capacity, delivering better network response time and performance, and simplifying technology migration.

CommScope is focused on sound technology, highly efficient supply chain and commitment to continuous improvement, which has made it a preferred partner for all telecommunications businesses as the entire industry moves toward 5G. With operators moving toward converged or multi-use network structures, combining voice, video and data communications into a single network, the company is dedicatedly developing solutions designed to support wireline and wireless network convergence, which will be essential for the success of 5G technology.

The acquisition of ARRIS has better positioned CommScope to capitalize on long-term industry growth trends, including network convergence, fiber and mobility everywhere, Internet of Things, and demand for additional bandwidth, low latency and ultra-high reliability. The combined company has created numerous cross-selling opportunities to expand into adjacent markets, offering potential revenue synergies. It also acquired patent portfolio from Phluido, a leading provider of high-performance wireless communications. The buyout comes as a boon, especially at a time when operators are gradually shifting from legacy networks to automated networks to address exponential data growth with an optimized infrastructure.

The company has embarked on an initiative dubbed CommScope NEXT — a multi-faceted program to drive future growth that outpaces the market, optimize business processes and unlock shareholder value. As part of this strategy, CommScope intends to separate its Home Networks business to create an independent publicly traded entity. Markedly, the tax-free spin-off will enable both CommScope and Home Networks to drive innovation while enabling the latter to focus more on go-to-market strategy and develop its own technologies for home and consumer products on the back of a resilient manufacturing model. The restructuring will also provide enough flexibility to Home Networks business with a dedicated research & development team that will be responsible for stimulating growth in a "Connected Home" future. The split up, which is subject to certain regulatory and market conditions, is anticipated to close by the end of the first quarter of 2022.

The multi-billion infrastructure investment plan by President Biden is likely to boost demand for firms like CommScope. The $2 trillion investment plan over an eight-year period includes a $100 billion provision to significantly expand broadband access to Americans, as the administration aims to fortify its technological prowess to thwart the dominance of countries like China. The plan envisions reaching the underserved areas of the country and prioritizing support for broadband networks affiliated with local governments, nonprofit organizations and cooperatives to encourage strong competition with privately-owned companies. The plan has also earmarked funds for the tribal areas that lack access to high-speed Internet. Furthermore, the U.S. President has allotted $180 billion for R&D and future technologies that are likely to sow the seeds for technology innovation to leapfrog competition against China and South Korea in areas like 5G.

CommScope is housed within the Communication Infrastructure industry, which carries a Zacks Industry Rank #66, which places it among the top 26% of more than 250 Zacks industries. The stock's Zacks Industry Rank, which is basically the average of the Zacks Rank of all the member stocks, indicates encouraging prospects. Our research shows that the top 50% of the Zacks-ranked industries outperforms the bottom 50% by a factor of more than 2 to 1. Consequently, the stock appears to be an enticing investment option at the moment.
Other Key Picks
Some other top-ranked stocks in the broader industry are Viasat Inc. VSAT, Clearfield, Inc. CLFD and Nokia Corporation NOK, each carrying a Zacks Rank #2.

Viasat has a long-term earnings growth expectation of 24%. It delivered an earnings surprise of 190.9%, on average, in the trailing four quarters.

Clearfield delivered a trailing four-quarter earnings surprise of 79.8%, on average.

Nokia has a long-term earnings growth expectation of 1.5%. It delivered an earnings surprise of 215.2%, on average, in the trailing four quarters.
Bitcoin, Like the Internet Itself, Could Change Everything
Blockchain and cryptocurrency has sparked one of the most exciting discussion topics of a generation. Some call it the "Internet of Money" and predict it could change the way money works forever. If true, it could do to banks what Netflix did to Blockbuster and Amazon did to Sears. Experts agree we're still in the early stages of this technology, and as it grows, it will create several investing opportunities.

Zacks' has just revealed 3 companies that can help investors capitalize on the explosive profit potential of Bitcoin and the other cryptocurrencies with significantly less volatility than buying them directly.

See 3 crypto-related stocks now >>
Want the latest recommendations from Zacks Investment Research? Today, you can download 7 Best Stocks for the Next 30 Days.
Click to get this free report
Viasat Inc. (VSAT): Free Stock Analysis Report
CommScope Holding Company, Inc. (COMM): Get Free Report
Clearfield, Inc. (CLFD): Free Stock Analysis Report
To read this article on Zacks.com click here.