Lockheed Martin (LMT) Wins Contract for Trident II (D5) Missile
Lockheed Martin Corporation LMT clinched a contract to support the production schedule of the Trident II (D5) missile. The deal was awarded by the Strategic Systems Programs, Washington, DC.
Details of the Deal
Valued at $10.9 million, the contract is expected to be completed by Sep 30, 2027. The contract involves providing long-lead-time material, labor, planning, and scheduling necessary to support the fiscal 2023 Trident II (D5) missile production schedule. The work related to the deal will be performed in Titusville, FL.
Importance of Trident II (D5) Missile
Trident II D5 is the latest generation of the U.S. Navy's submarine-launched fleet ballistic missiles, following the highly successful Polaris, Poseidon and Trident I C4 programs.
Trident missiles are carried by14 United States Navy Ohio-class submarines with American warheads and four Royal Navy Vanguard-class submarines with British warheads.
It is a three-stage, solid-propellant, inertial-guided ballistic missile developed by Lockheed Martin. The missile can carry multiple independently targeted reentry bodies for a maximum range of more than 7,360 km. The missile cannot be tracked when it is being operated as it has a sea-based deterrent.
Due to its remarkable features, which are well-suited for any military mission, Lockheed Martin continues to witness a steady inflow of orders involving the missile. The latest contract win is a testament to the same. This, in turn, will bolster LMT's revenues from the missile segment.
Growth Prospects
Defense arsenals and ammunitions form an integral part of an efficient defense system. In this context, investment in missiles has been gaining momentum due to its growing importance in strategic deterrence. Going forward, the missiles segment of the defense structure may further witness an accelerated demand amid the growing geo-political tensions.
Per Mordor Intelligence projections, the missiles and missile defense systems market is expected to witness a CAGR of more than 4.9% over the 2022-2027 period. Such projections further exemplify the immense opportunities for Lockheed Martin to capitalize on the expanding market.
Such abounding growth projections will not only benefit LockheedMartinbut also help other prominent defense majors, namely Northrop GrummanNOC, Raytheon Technologies RTX and General Dynamics GD.
Northrop is a prominent developer of missile systems, and counter systems, including strategic deterrents, and subsystems and components. To strengthen its position in the missile market, Northrop acquired Orbital ATK in 2018, which used to be one of the industry leaders in providing missile components across air, sea and land-based systems.
Northrop boasts a long-term earnings growth rate of 2.2%. NOC shares have returned 36.4% in the past year.
Raytheon's Missiles & Defense (RMD) is a leading designer, developer, integrator, producer and sustainer of integrated air and missile defense systems, with the unit serving as a prime contractor or major subcontractor on numerous missile and related programs with the U.S. Department of Defense.
Raytheon's long-term earnings growth rate is pegged at 10.4%. Shares of RTX have returned 13.6% value to its investors in the past year.
General Dynamics' Ordnance and Tactical Systems are the system integrators of the 2.75-inch Hydra-70 family of rockets. It also produces composite rocket motor cases, and launches tubes for tactical and strategic missiles.
General Dynamics boasts a long-term earnings growth rate of 10.2%. GD shares have returned 24.6% in the past year.
Price Movement
In the past year, shares of LockheedMartin have rallied 24.1% against the industry's fall of 29.1%.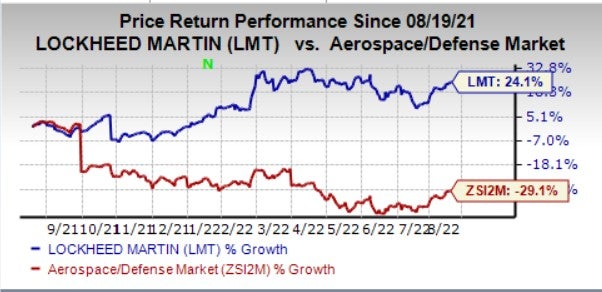 Image Source: Zacks Investment Research
Zacks Rank
Lockheed Martin currently carries a Zacks Rank #3 (Hold). You can see the complete list of today's Zacks #1 Rank (Strong Buy) stocks here.
How to Profit from the Hot Electric Vehicle Industry
Global electric car sales in 2021 more than doubled their 2020 numbers. And today, the electric vehicle (EV) technology and very nature of the business is changing quickly. The next push for future technologies is happening now and investors who get in early could see exceptional profits.
See Zacks' Top Stocks to Profit from the EV Revolution >>
Want the latest recommendations from Zacks Investment Research? Today, you can download 7 Best Stocks for the Next 30 Days.
Click to get this free report
Lockheed Martin Corporation (LMT): Free Stock Analysis Report
Northrop Grumman Corporation (NOC): Free Stock Analysis Report
General Dynamics Corporation (GD): Free Stock Analysis Report
Raytheon Technologies Corporation (RTX): Free Stock Analysis Report
To read this article on Zacks.com click here.
Zacks Investment Research