Emergent's (EBS) Anthrax Vaccine BLA Gets FDA Acceptance
Emergent BioSolutions EBS announced that the FDA has accepted its biologics license application (BLA), seeking approval for its new anthrax vaccine, AV7909, for review. A decision on potential approval for the vaccine candidate from the FDA is expected in April next year.
The AV7909, an adsorbed, adjuvanted anthrax vaccine, has been evaluated in adults aged 18 years to 65 years for post-exposure prophylaxis of disease following suspected or confirmed exposure to Bacillus anthracis. The vaccine is administered in conjunction with recommended antibacterial drugs.
Although AV7909 is yet to be approved by the FDA, it is one of the key revenue growth drivers for Emergent as the U.S. government procures the anthrax vaccine for the strategic national stockpile (SNS) through the Biomedical Advanced Research and Development Authority (BARDA) that is responsible for the procurement and development of medical countermeasures. The company has a purchase contract for AV7909 in place with the BARDA, effective till 2025.
During the first quarter, the U.S. government largely switched to stockpiling AV7909 from Emergent's approved anthrax vaccine, BioThrax. Sales of anthrax vaccines (BioThrax and AV7909) were $103.6 million in the reported quarter, up 88% year over year. The increase in sales of anthrax vaccines was owing to a rise in deliveries of AV7909 for the strategic national stockpile.
Data from clinical studies have shown that AV7909 elicited a stronger immune response using fewer doses than BioThrax, allowing patients to reach a protective level of immunity more rapidly.
The rising priority of AV7909 in the U.S. government's SNS and a better efficacy compared to BioThrax suggest a likely approval of the vaccine candidate next year. A potential approval to AV7909 will likely allow Emergent to commercialize the vaccine in the U.S. market along with supply to the SNS.
Shares of Emergent BioSolutions have declined 24.6% in the year so far compared with the industry's 21.7% decrease.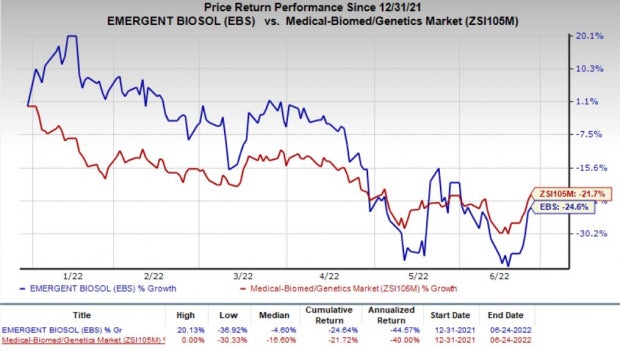 Image Source: Zacks Investment Research
Apart from its anthrax vaccines, Emergent has other products in its portfolio that are mainly procured by the government for medical countermeasures. The company also has three commercial products that are available in U.S. markets — Narcan nasal spray, Vaxchora and Vivoti — for treating opioid overdose and prevention of cholera and typhoid fever, respectively.
Emergent also provides contract development and manufacturing services to other pharma/biotech companies. However, it received a setback last month as one of its leading partners, Johnson & Johnson JNJ, decided to terminate its contract with Emergent to develop its COVID-19 vaccine. Reportedly, J&J cited contract breaches, including failure to supply the COVID-19 vaccine drug substance, for the termination of the deal.
However, Emergent alleged that J&J breached the contract agreements in reply to J&J's claims. Emergent stated that J&J failed to provide information on the requisite quantity of the product that the latter needed to purchase. Emergent sent a notice with the aforementioned claim. The notice also seeks confirmation from J&J about its intent to wind down the agreement instead of purchasing the requisite minimum quantity of the product pursuant to the agreement.
Currently, Emergent is developing stabilized isoamyl nitrite for treating known or suspected acute cyanide poisoning in a phase I study. Another early-stage study is evaluating its investigational universal influenza vaccine candidate, EBS-UFV-001.
Emergent Biosolutions Inc. Price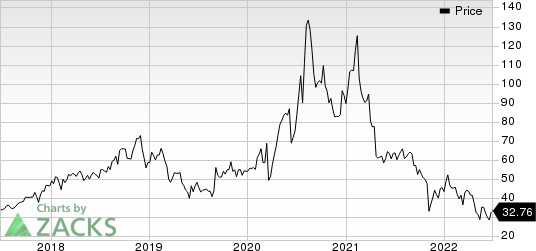 Emergent Biosolutions Inc. price | Emergent Biosolutions Inc. Quote
Zacks Rank & Stock to Consider
Emergent currently has a Zacks Rank #5 (Strong Sell).
A couple of better-ranked biotech stocks are Alkermes ALKS and Sesen Bio SESN. While Alkermes sports a Zacks Rank #1 (Strong Buy), Sesen carries a Zacks Rank of 2. You can see the complete list of today's Zacks #1 Rank stocks here.
The Zacks Consensus Estimate for Alkermes' 2022 loss per share has narrowed from 10 cents to 3 cents in the past 60 days. Shares of ALKS have risen 27.8% year to date.
Earnings of Alkermes beat estimates in each of the last four quarters, the average being 350.48%.
The Zacks Consensus Estimate for Sesen Bio's 2022 loss has narrowed from 46 cents to 44 cents per share in the past 60 days. Shares of SESN have gained 0.3% in the year-to-date period.
Earnings of Sesen Bio beat estimates in three of the last four quarters and missed the mark on one occasion, the average surprise being 69.94%.
Just Released: Zacks Top 10 Stocks for 2022
In addition to the investment ideas discussed above, would you like to know about our 10 top picks for the entirety of 2022?
From inception in 2012 through 2021, the Zacks Top 10 Stocks portfolios gained an impressive +1,001.2% versus the S&P 500's +348.7%. Now our Director of Research has combed through 4,000 companies covered by the Zacks Rank and has handpicked the best 10 tickers to buy and hold. Don't miss your chance to get in…because the sooner you do, the more upside you stand to grab.
See Stocks Now >>
Want the latest recommendations from Zacks Investment Research? Today, you can download 7 Best Stocks for the Next 30 Days.
Click to get this free report
Johnson & Johnson (JNJ): Free Stock Analysis Report
Alkermes plc (ALKS): Free Stock Analysis Report
Emergent Biosolutions Inc. (EBS): Free Stock Analysis Report
SESEN BIO, INC. (SESN): Free Stock Analysis Report
To read this article on Zacks.com click here.
Zacks Investment Research