Buy Twitter (TWTR) Before Q2 2019 Earnings?
Twitter TWTR stock gained around 2.2% through Monday. The social media company's stock continues to post positive gains leading up to its earnings report on July 26. YTD, TWTR is up over 34%.
Overview
Twitter is an online social networking and news service with over 330 million monthly active users as of April. The company also owns Periscope, a live video streaming app and MoPub, an app created to help mobile app designers and publishers manage their advertisement inventory.
Advertisements are Twitter's main revenue source, accounting for 86% of revenue in Q1. During the first quarter, Twitter's advertising revenue increased 18% year-over-year, with more than 25% growth in the U.S. Although revenue continued climb, Twitter's monthly active user total dipped almost 2%. If Twitter is unable to grow its user base, revenue may begin to slow as ad revenue is typically based on traffic. But consumers are becoming harder to reach in the subscription entertainment age Netflix NFLX helped start.
Twitter is currently trading around $38.46 per share, roughly 17% off its 52-week high of $45.26 last July. With the 2020 presidential campaign heating up, Twitter may also stand to benefit. Twitter is a medium often used for political debates and news, which often becomes heighted amid elections cycles.
During the last presidential election, Twitter was the largest source of breaking news during election day, with over 40 million tweets pertaining to the election by 10 P.M. eastern time. President Trump, who currently has over 61 million followers, consistently uses the social media site and his posts receive tens of millions of views and interactions.
Twitter allows the public to relatively easily interact with anyone on the platform, from politicians to everyday citizens. Recently, Twitter has been dealing with the issue of abuse and censorship on the platform. Facebook FB and Google's YouTube GOOGL face similar problems at the moment.
Twitter has started to use machine learning and algorithms to monitor its platform and remove any posts it deems 'abusive.' But this has been controversial, as some posts are sometimes wrongly removed. Additionally, the company has had to decide what is considered abuse and what is simply voicing an opinion.
Currently, Twitter has no rules in terms of what content can be posted. Instead, users must simply follow the platform's guidelines, which emphasize limiting abusive language while allowing the service to be a platform for debates. Often the line between a debate/argument and abuse can become subjective, making it difficult for the company to manage.
Expectations & Earnings Trends
Our Zacks Consensus Estimates call for Q2 EPS of $0.18 per share, along with revenue of $828.49 million. These numbers mark growth of 5.88% and 16.60% above their respective numbers in Q2 2018. For fiscal 2019, the current expectations call for adjusted EPS of $1.05 per share, a 22.09% increase from fiscal 2018. Meanwhile, full-year revenue is projected to grow 15.97% to $3.53 billion.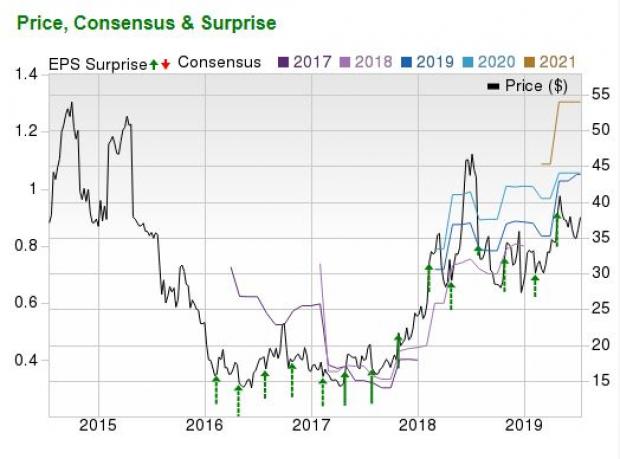 Looking further ahead, Twitter is expected to continue its growth in fiscal 2020, with predicted revenue growth of 14.39% above our current-year estimate, as well as slight earnings growth of 0.42%.
Twitter has reported a positive earnings surprise in seven of the last eight quarters, with an average surprise of 28.50% in the trailing four quarters. If the company is able to continue this trend, it might provide a boost to the stock.
TWTR is a stock that historically has had drastic price jumps after its earnings release. Nine of the past ten earnings reports have been followed by double-digit stock price changes. With that being said, it's important to point out that a significant amount of money can be made or lost based on the market's reaction to the report.
Bottom Line
Although Twitter has reported positive surprises in seven out of the last eight quarters, two of the quarters that had positive surprises were followed by stock decreases of 14% and 12%, respectively.
Earnings reports contain a significant amount of important information and much of this information impacts stock price. A multitude of problems such as not meeting expected revenue, industry headwinds, and lowered guidance can all lead to selloff, even after an earnings beat.
Twitter is currently a Zacks Rank #3 (Hold) and boasts an "A" for Growth in our Style Scores system. Although the company seems to have stagnated in terms of user growth, its power as a news source continues to increase, and many now prefer Twitter to other more traditional news sources. The ability for users to interact with reporters, content creators, and companies, as well as stay up to date by the second, should help the company prosper for years to come.
Wall Street's Next Amazon

Zacks EVP Kevin Matras believes this familiar stock has only just begun its climb to become one of the greatest investments of all time. It's a once-in-a-generation opportunity to invest in pure genius.

Click for details >>
Want the latest recommendations from Zacks Investment Research? Today, you can download 7 Best Stocks for the Next 30 Days.
Click to get this free report
Netflix, Inc. (NFLX): Free Stock Analysis Report
Facebook, Inc. (FB): Free Stock Analysis Report
Alphabet Inc. (GOOGL): Free Stock Analysis Report
Twitter, Inc. (TWTR): Free Stock Analysis Report
To read this article on Zacks.com click here.
Zacks Investment Research