Teck Gains From Cost-Cutting Actions Amid Coronavirus Crisis
On Aug 21, we issued an updated research report on Teck Resources Limited TECK. The company is poised to gain from cost-reduction initiatives, solid project pipelines and an innovation-driven efficiency program. However, uncertainties related to the extent and impact of the coronavirus pandemic on demand as well as commodity prices, suppliers and global financial markets are concerns.

Last month, the company delivered second-quarter 2020 results. Adjusted earnings per share came in at 12 cents, as against the Zacks Consensus Estimate of a loss of 3 cents. The reported figure, however, tanked 81% year over year on costs related to the suspension of Quebrada Blanca Phase 2 (QB2) project. The pandemic affected the prices and demand for the company's products and financial results during the June-end quarter.
Solid Project Pipeline Stokes Growth
Teck Resources is poised to gain from the Neptune Bulk Terminals facility upgrades and construction of the Quebrada Blanca Phase 2 (QB2) copper project. The Neptune Bulk Terminals facility upgrade will strengthen the performance of the steelmaking coal-supply chain, as well as meet customers' long-term requirements for consistent, high-quality products, while also lowering overall logistics costs. Furthermore, expansion of the Elkview Operations plant will boost the overall steelmaking coal production capacity. It has increased the Elkview's annual steelmaking coal production capacity from 7 million tons to 9 million tons. The company projects annual steel making production capacity of 26-27 million tons.

Construction activities at the QB2 copper project are gradually and safely ramping up, following the temporary suspension in March. The QB2 project will transform the company's copper business, making it a major global copper producer. Copper production from Highland Valley Copper are expected to be higher during the second half of this year compared with the first half as a result of increased mill throughput and rising ore grades. Currently, Highland Valley Copper, Antamina, Carmen de Andacollo and Quebrada Blanca are operating at full production rates, which the company expects to maintain through the second half of 2020. Furthermore, improvement in metal and crude prices will drive the company's growth.
Cost-Reduction Actions to Boost Growth
Teck Resources has implemented a cost-reduction program to lower its operating costs and deferred some of the planned capital projects in a bid to counter the uncertain economic conditions. Since the commencement of the program in the fourth quarter of 2019, it has so far achieved approximately $250 million in operating-cost reductions and $430 million in capital-cost reductions. Moreover, Teck Resources continues to implement its innovation-driven efficiency program RACE21 that is expected to improve productivity across the business.
Few Headwinds to Counter
Teck Resources has issued its guidance for the second half of this year. The guidance reflects uncertainties related to the extent and impact of the pandemic on demand as well as commodity prices, suppliers and global financial markets.

For the second half of the year, management expects steelmaking coal production between 11 million tons and 12 million tons, down from the prior guidance of 23-25 million tons. The guidance reflects impact of the scheduled shutdown of Neptune Bulk and the pandemic. For third-quarter 2020, sales volume is projected at 5-5.4 million tons for the Steelmaking Coal segment. Moreover, in the ongoing quarter, Teck expects to incur additional costs of $260 million to $290 million related to suspension of the QB2 project.

Copper production is now expected within 145,000-160,000 tons in the second half of the year. This has been lowered from the previously-issued guidance of 285,000 tons to 300,000 tons primarily due to the temporary suspension of operations at Antamina as well as production plan changes at Highland Valley Copper.
Zinc production for this year (including co-product zinc production from the copper business unit) is estimated between 315,000 tons and 345,000 tons, down from the prior projection of 600,000 tons to 640,000 tons. Teck Resources expects sales volumes of refined zinc from the company's Red Dog zinc concentrate between 160,000 tons and 180,000 tons in the third quarter, reflecting the normal seasonal pattern of Red Dog sales.

During the March-end quarter, the company reduced Fort Hills to a single-train facility in order to minimize negative cash flow, resulting in a lower production of bitumen. This is likely to negatively impact the bitumen production in the ongoing year. The company expects Bitumen production for this year between 3.4 million barrels and 4.4 million barrels per day, down from the prior estimate of 8-9 million barrels per day. Assuming ongoing production on the basis of operating Fort Hills as a single-train facility through the balance of 2020, the company expects Fort Hills' annual production to be approximately 100,000-120,000 barrels per day, of which Teck Resources' share is 21.3%. It expects its share of Fort Hills production for 2020 to be reduced to nearly 8-9 million barrels of bitumen.
Price Performance
The company's shares have gained 23.9% over the past three months, outperforming the industry's growth of 19.3%.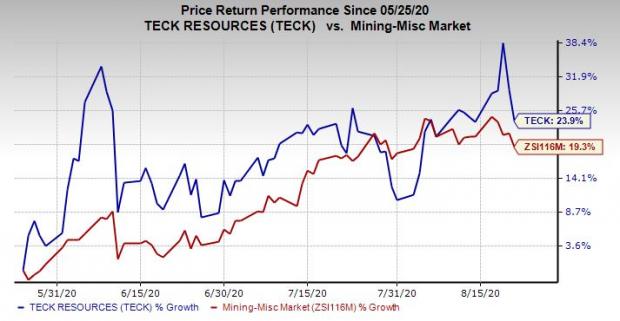 Zacks Rank & Stocks to Consider
Teck currently carries a Zacks Rank #3 (Hold).

Few better-ranked stocks in the basic materials space include Galiano Gold Inc. GAU, Eldorado Gold Corporation EGO and Yamana Gold Inc. AUY, each carrying a Zacks Rank #2 (Buy) currently. You can see the complete list of today's Zacks #1 Rank (Strong Buy) stocks here.

Galiano Gold has an estimated earnings growth rate of 1,600% for 2020. The company's shares have surged 75.1% in a year's time.

Eldorado Gold has an expected earnings growth rate of 2,225% for the current year. Its shares have appreciated 38.8% in the past year.

Yamana has a projected earnings growth rate of 76.9% for the ongoing year. The company's shares have soared 91.8% over the past year.
Just Released: Zacks' 7 Best Stocks for Today
Experts extracted 7 stocks from the list of 220 Zacks Rank #1 Strong Buys that has beaten the market more than 2X over with a stunning average gain of +24.3% per year.

These 7 were selected because of their superior potential for immediate breakout.

See these time-sensitive tickers now >>
Want the latest recommendations from Zacks Investment Research? Today, you can download 7 Best Stocks for the Next 30 Days.
Click to get this free report
Yamana Gold Inc. (AUY): Free Stock Analysis Report
Eldorado Gold Corporation (EGO): Free Stock Analysis Report
Teck Resources Ltd (TECK): Free Stock Analysis Report
Asanko Gold Inc. (GAU): Free Stock Analysis Report
To read this article on Zacks.com click here.