Visa (V) Unveils Virtual Card in HongKong With AirWallex
Visa Inc. V along with Airwallex, a leading global fintech platform, has introduced a virtual payment card named Airwallex Borderless Card. This is a good funds card meant for businesses in HongKong.
The card can be used to make instant payments in more than 140 currencies across borders. It embodies a safe, transparent and fast way of making payments for businesses to their vendors and suppliers.
These digital cards are available in different categories like for single or multiple use.
The digital cards are like physical card but in virtual form. It is created entirely online and carries all the details like a 16-digit number, card verification number and an expiry date. Compared to physical cards, these are more secure (since the card is not physical, it cannot be stolen or re-used), flexible (no need to carry in wallets) and can make seamless payments in a jiffy (real time payments).
Visa rolled out these virtual cards initially in Australia (last year) followed with the United Kingdom. This is Visa's third roll out in about a year and a half. These cards are garnering continuous demand as businesses keep looking for modern solutions beyond mere money transactions. The use of virtual credit cards can replace outdated and cumbersome paper checks and the associated manual-process inefficiencies.
Better control of finances, optimization of spending and enhancement of security and protection come along with these cardless options.
Demand for these non-physical cards will surge as more and more businesses moved their operations online and look for a smooth payment mechanism. The e-commerce bandwagon is here to stay as more companies are expected to jump on it. Thus, demand for such cards is to shoot up going forward, given the convenience associated with the same.
Also, for the card-issuing companies, this is a cost-saving technique as the card can be generated instantly sans the usage of plastic. According to a report Virtual Cards Market is expected to grow from at $188.61 billion in 2018 and to $739.77 billion by 2025, seeing a 21.56% CAGR over the forecast period. Mastercard Inc. MA, American Express Co. AXP and JP Morgan Chase & Co. JPM also issue virtual cards.
Visa remains at the forefront when it comes to technology. Its continuous investment in cutting edge technologies helped it retain its top position in the payment network space. The stock has gained 6.9% year to date compared with its industry's growth of 0.5%.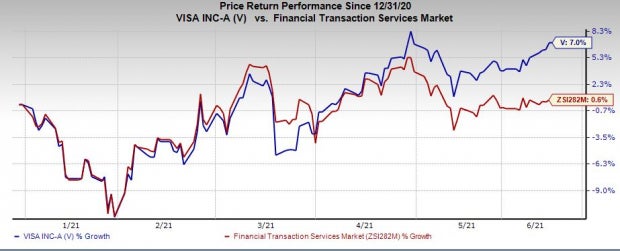 Image Source: Zacks Investment Research
Visa currently carries a Zacks Rank #3 (Hold). You can see the complete list of today's Zacks #1 Rank (Strong Buy) stocks here.
+1,500% Growth: One of 2021's Most Exciting Investment Opportunities

In addition to the stocks you read about above, would you like to see Zacks' top picks to capitalize on the Internet of Things (IoT)? It is one of the fastest-growing technologies in history, with an estimated 77 billion devices to be connected by 2025. That works out to 127 new devices per second.

Zacks has released a special report to help you capitalize on the Internet of Things's exponential growth. It reveals 4 under-the-radar stocks that could be some of the most profitable holdings in your portfolio in 2021 and beyond.

Click here to download this report FREE >>
Want the latest recommendations from Zacks Investment Research? Today, you can download 7 Best Stocks for the Next 30 Days.
Click to get this free report
JPMorgan Chase & Co. (JPM): Free Stock Analysis Report
Mastercard Incorporated (MA): Free Stock Analysis Report
Visa Inc. (V): Free Stock Analysis Report
American Express Company (AXP): Free Stock Analysis Report
To read this article on Zacks.com click here.
Zacks Investment Research