Telecom Stock Roundup: Verizon's Environmental Pledge, Ericsson's R&D Push & More
In the past five trading days, telecom stocks trended up, thanks to the "Phase One" deal between the United States and China, which put to rest the 18-month old trade war that rattled the global markets. With a ceasefire in the Middle East and healthy economic mood, largely driven by low interest rates, robust job market and solid consumer spending, it appears that the worst is almost over for the beleaguered industry, at least for the time being.

The onus has now shifted to the enforcement mechanisms of the trade deal, failing which, both sides risk conflict escalation with re-imposition of tariffs. The contention issues pertaining to protection from intellectual property violations, forced technology transfer and subsidization by China pose imminent challenges. In addition, China's pledge to purchase $200 billion of U.S. goods over the next two years, including $40-$50 billion of agricultural products each year, remains a daunting task.

Nonetheless, the deal has facilitated greater protection for U.S. tech firms, including preliminary injunctions and expanded legal recourse for trade secret theft, and lesser cases of forced technology transfers. Although the broader technology sector (of which telecom is part) is likely to benefit in the short term with easier operating conditions in China, this might to lead to a technology arms race between the two countries in the long run. While China is expediting efforts to develop indigenous semiconductors, driverless cars, telecom and other products to reduce its reliance on U.S. technologies, the Trump administration is restricting sales of U.S. technology-based products to the communist nation, hurting the overall industry.

Meanwhile, U.S. senators are deliberating the need for a huge human capital for accelerating the 5G deployment across the country to thwart the increasing stranglehold of Huawei in Europe as Germany and Britain ponder giving approval to the China-based telecom equipment manufacturer. They anticipated additional workforce requirement to lay fiber, install radios and deploy other essential equipment as 5G signal typically requires smaller cell stations every several hundred feet as it can only travel short distances, unlike 4G networks. The battle lines for 5G dominance is likely to be redrawn as Huawei CFO is fighting the U.S. extradition case in Canada, with a probable escalation in other prohibitory orders.

Regarding company-specific news, environmental commitments, new R&D center setups, strategic collaborations and trial approval took the center stage over the past five trading days.

Recap of the Week's Most Important Stories

1. Advocating climate change, Verizon Communications Inc.'s VZ, chairman & CEO, Hans Vestberg, has reaffirmed the company's commitment to end carbon emissions in its operations by 2035.

Verizon plans to achieve this goal by reducing emissions, migrating energy procurement in favor of clean energy and carbon offsets. Its connected solutions help customers to save energy and reduce their carbon emissions. The company is working toward sourcing renewable energy equivalent to 50% of its annual electricity consumption by 2025. (Read more: Verizon Reinforces Mission to Eliminate Carbon Footprint)

2. Ericsson ERIC has announced plans to establish a new R&D center in France to boost 5G momentum in Europe. The site, expected to employ up to 300 employees in a progressive ramp-up starting early 2020, will initially focus on 5G software development and security. This, in turn, will benefit the global 5G ecosystem while bolstering Ericsson's relationship with French customers.

Ericsson's ongoing activities include investing in R&D to safeguard a leading product portfolio and cost leadership; increase investments in automation and serviceability driving down costs; and selectively gain market shares based on technology and cost competitiveness. The company currently employs 15,000 engineers in Europe, which equates to 60% of its total R&D staff members. It has 18 R&D sites in Europe, including Finland, Germany, Hungary, Ireland, Italy, Poland, Spain and Sweden. (Read more: Ericsson's R&D Center in France Furthers Its Europe 5G Push)

3. ADTRAN, Inc. ADTN has collaborated with a full fiber network operator — Zzoomm — to deploy its 10G Passive Optical Network (PON) broadband connectivity to residents and businesses across the United Kingdom. The networking equipment maker's comprehensive 10G solutions offer the much-needed scalability and reliability to ensure a premium broadband service experience for users.

Markedly, 10G XGS Symmetric PON delivers top-notch service quality to network operators, while offering a robust multi-gigabit service structure that meets customers' burgeoning connectivity demands. (Read more: ADTRAN Partners Zzoomm for Improved UK Fiber Connectivity)

4. Bell Canada, the wholly-owned subsidiary of BCE Inc. BCE, is seeking the approval of the Canadian Radio-television and Telecommunications Commission ("CRTC") for a trial of AI-based technology that reportedly blocks more fraudulent telephone calls than the carrier is currently capable of.

The approval from the regulatory agency is likely to strengthen the market position of the Canadian telecommunications firm and enable it to thwart the growing menace of unwanted spam calls. The trial application is in tune with CRTC's earlier mandate that required all Canadian telecom service providers to implement call-blocking technology by Dec 17, 2019. (Read more: Bell Seeks Regulator Approval for AI-Based Call Block Trial)

5. Comtech Telecommunications Corp. CMTL has collaborated with Indian Motorcycle to develop a built-in motorcycle-specific navigation platform for a connected ride experience. With specialized routing and intuitive search capabilities, the iconic motorcycle manufacturing firm has an edge over its rivals for an unrivalled biking solution.

The customizable navigation platform in Indian Motorcycle's Ride Command System boasts best-in-class features that are hitherto not provided by any other legacy mapping and navigation providers. These include turn-by-turn directions, real-time traffic and weather overlays with doppler weather radar to avoid traffic congestions and poor weather conditions. In addition, it offers real-time access to special routing options for locating the shortest, fastest and most scenic routes, enabling riders to add up to 100 stops or special points-of-interest for a seamless ride. (Read more: Comtech Powers Indian Motorcycle's Connected Ride Experience)

Price Performance

The following table shows the price movement of some of the major telecom stocks over the past week and six-month period.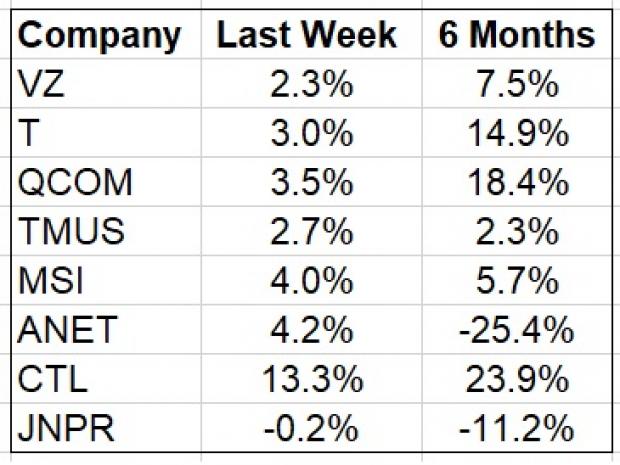 In the past five trading days, CenturyLink has been the biggest gainer with share price increasing 13.3%, while Juniper has been the sole decliner with its stock down 0.2%.

Over the past six months, CenturyLink has been the best performer with its stock appreciating 23.9%, while Arista Networks has been the biggest decliner with its stock down 25.4%.

Over the past six months, the Zacks Telecommunications Services industry has recorded average growth of 7.5% and the S&P 500 has rallied 10.7%.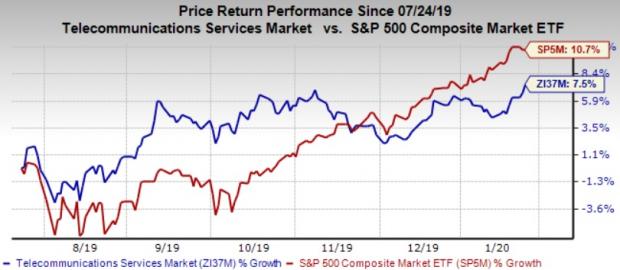 What's Next in the Telecom Space?

In addition to product launches, strategic deals and 5G deployments, all eyes will remain glued to how the imminent earnings season unfurls for the industry.

The Hottest Tech Mega-Trend of All

Last year, it generated $24 billion in global revenues. By 2020, it's predicted to blast through the roof to $77.6 billion. Famed investor Mark Cuban says it will produce "the world's first trillionaires," but that should still leave plenty of money for regular investors who make the right trades early.

See Zacks' 3 Best Stocks to Play This Trend >>
Want the latest recommendations from Zacks Investment Research? Today, you can download 7 Best Stocks for the Next 30 Days.
Click to get this free report
Ericsson (ERIC): Free Stock Analysis Report
ADTRAN, Inc. (ADTN): Free Stock Analysis Report
Comtech Telecommunications Corp. (CMTL): Free Stock Analysis Report
BCE, Inc. (BCE): Free Stock Analysis Report
Verizon Communications Inc. (VZ): Free Stock Analysis Report
To read this article on Zacks.com click here.
Zacks Investment Research