FS KKR Capital (FSK) Q1 Earnings Beat Estimates, Stock Up
Shares of FS KKR Capital Corp. FSK gained 1.8% in aftermarket trading in response to better-than-expected first-quarter 2021 results. Net investment income (NII) of 63 cents per share beat the Zacks Consensus Estimate of 61 cents. However, the bottom line compared unfavorably with 76 cents in the year-ago quarter.

Lower expenses and decent portfolio activity during the quarter were tailwinds. However, results were hurt by fall in total investment income.

NII was $78 million, down 20% from the prior-year quarter.
Total Investment Income & Expenses Decline
Total investment income was $151 million, down 16% year over year. The fall was mainly due to lower interest income and fee income. However, the top line marginally surpassed the Zacks Consensus Estimate of $150 million.

Total operating expenses fell 10% to $73 million. Lower management fees and interest expenses were the main reasons for the decline.
Total Portfolio Value & Balance Sheet
The fair value of FS KKR Capital's total investment portfolio was $6.46 billion as of Mar 31, 2021.

As of Mar 31, 2021, FS KKR Capital's net asset value was $26.03 per share compared with $25.02 on Dec 31, 2020.

The company had $7 billion in total assets and $3.2 billion in total stockholders' equity at the end of the quarter.
Our Take
Decent origination volumes are expected to support FS KKR Capital's profitability. However, a tough operating backdrop poses a concern.
FS KKR Capital Corp. Price, Consensus and EPS Surprise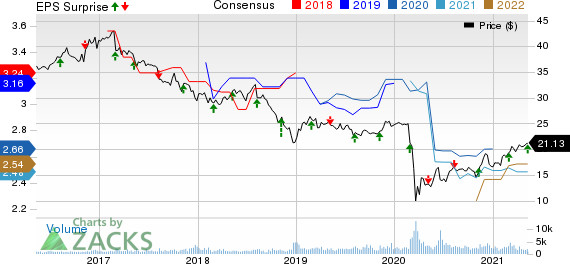 FS KKR Capital Corp. price-consensus-eps-surprise-chart | FS KKR Capital Corp. Quote
Currently, FS KKR Capital carries a Zacks Rank #3 (Hold). You can see the complete list of today's Zacks #1 Rank (Strong Buy) stocks here.
Performance of Other Finance Stocks
Goldman Sachs BDC's GSBD first-quarter 2021 adjusted net investment income of 48 cents per share came in line with the Zacks Consensus Estimate. Also, the bottom line grew 6.7% from the year-ago figure.

Ares Capital Corporation's ARCC first-quarter 2021 core earnings of 43 cents per share surpassed the Zacks Consensus Estimate of 42 cents. Moreover, the bottom line reflects a rise of 4.9% from the prior-year quarter's reported number.

Hercules Capital Inc.'s HTGC first-quarter 2021 net investment income of 30 cents per share beat the Zacks Consensus Estimate by a penny. However, the bottom line declined 18.9% year over year.
Bitcoin, Like the Internet Itself, Could Change Everything
Blockchain and cryptocurrency has sparked one of the most exciting discussion topics of a generation. Some call it the "Internet of Money" and predict it could change the way money works forever. If true, it could do to banks what Netflix did to Blockbuster and Amazon did to Sears. Experts agree we're still in the early stages of this technology, and as it grows, it will create several investing opportunities.

Zacks' has just revealed 3 companies that can help investors capitalize on the explosive profit potential of Bitcoin and the other cryptocurrencies with significantly less volatility than buying them directly.

See 3 crypto-related stocks now >>
Want the latest recommendations from Zacks Investment Research? Today, you can download 7 Best Stocks for the Next 30 Days.
Click to get this free report
Ares Capital Corporation (ARCC): Free Stock Analysis Report
Hercules Capital, Inc. (HTGC): Get Free Report
Goldman Sachs BDC, Inc. (GSBD): Get Free Report
FS KKR Capital Corp. (FSK): Get Free Report
To read this article on Zacks.com click here.
Zacks Investment Research