World Wrestling (WWE) Stock Surges on Q1 Earnings Beat
Shares of World Wrestling Entertainment, Inc. WWE surged roughly 12.1% during the after-market trading session on Apr 23, following the company's first-quarter 2020 results. Notably, this integrated media and entertainment company continued with its positive earnings surprise streak for the fourth straight quarter. Further, the company delivered better-than-expected revenues following a miss in the preceding four quarters. Also, both the top and bottom lines registered year-over-year improvement.

Management informed that the company's quarterly performance was "largely unimpacted" by the coronavirus outbreak. It also notified that the company has undertaken necessary steps such as short-term cost reductions and cash flow improvement actions to address the challenges related to the pandemic.

We note that shares of this Zacks Rank #3 (Hold) company have slumped 33.9% compared with the industry's decline of 42.5% in the past three months.

Q1 in Detail

This Stamford, CT-based company reported adjusted earnings of 41 cents a share that comfortably surpassed the Zacks Consensus Estimate of 28 cents. The quarterly earnings also exhibited a sharp improvement from a loss of 11 cents a share reported in the prior-year quarter. The company's bottom line was favorably impacted by higher net revenues that helped offset increased operating costs and higher interest expense.

WWE's revenues of $291 million improved 60% year over year and came ahead of the Zacks Consensus Estimate of $278.3 million. We note that lower revenues from Live Events and Consumer Products business segments were offset by higher revenues from the Media segment.

Total adjusted OIBDA came in at $77.3 million, substantially up from $12.4 million reported in the year-ago period. Meanwhile, adjusted OIBDA margin expanded to 26.6% from 6.8% in the prior-year quarter.

Notably, management is strengthening and expanding WWE Network through creation of new content and implementation of programs that will have higher customer attraction and retention power. Further, the introduction of new features, expansion of distribution platforms and foraying into new regions will aid the drive. The company is also increasing the monetization of WWE content worldwide.

WWE entered into multi-year distribution agreements with Sony Pictures Networks in India and DAZN in Germany. This will extend the reach of WWE content among television and digital platforms. The company is concentrating on developing new original programs across platforms, and partnered with Netflix to launch a feature film, The Main Event, and scripted series, The Big Show Show.

WWE experienced record viewership of more than 967 million video views across digital and social platforms for its WrestleMania event on Apr 4-5. This reflects an increase of 20% year over year. The company stated that total subscribers reached 2.10 million on Apr 6, up 5% from the day after WrestleMania last year.
World Wrestling Entertainment, Inc. Price, Consensus and EPS Surprise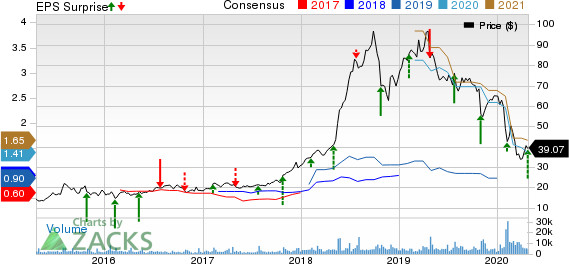 World Wrestling Entertainment, Inc. price-consensus-eps-surprise-chart | World Wrestling Entertainment, Inc. Quote
Segmental Details

Media Division: Revenues from the Media division soared 90% to $256.6 million owing to higher domestic rights fees for the flagship programs, Raw and SmackDown and the favorable timing of large-scale international event, Super ShowDown. Remarkably, core content rights fees advanced 96%. Notably, other media revenues increased to $62.5 million during the quarter under review from $9.4 million in the year-ago period. While advertising and sponsorship revenues surged 60%, network revenues declined 7%.

The number of average paid subscribers fell 8% year over year to approximately 1.46 million. Nonetheless, digital video views rose 25% to 9.6 billion and hours consumed jumped 15% to 344 million across digital and social media platforms.

Live Events: Revenues from Live Events came in at $17.5 million, down 33% year over year owing to fall in ticket revenues from events in North America. The company's ability to stage events in the presence of fans was impacted in the later part of the quarter due to public health concerns and government mandates in the wake of COVID-19 outbreak. North American ticket sales fell to $15.2 million from $24.1 million in the prior-year quarter due to staging of 49 less events. However, average attendance increased 33% to approximately 6,320. The average ticket price was $53.46, which was unchanged from the year-ago period. The company informed that no Raw or SmackDown events were held in international markets during the quarter under review.

Consumer Products Division: The segment's revenues came in at $16.9 million, down 19% year over year due to decline in product sales across distribution platforms, including licensing agreements, live event venues, and e-commerce site, WWE Shop. Staging of fewer events resulted in lower merchandise sales at live event venues. Nonetheless, the company notified that mobile games WWE SuperCard and WWE Champions both registered revenue growth of more than 10% year over year.

Other Financial Details

WWE ended the quarter with cash and cash equivalents of $158.5 million, short-term investments of $133 million, long-term debt of $22 million and shareholders' equity of $302.1 million. Subsequent to quarter end, the company has drawn $200 million from its revolving credit facility.

The company incurred capital expenditures of $8.3 million and generated free cash flow of $57.6 million during the quarter under review. The company paid $9.3 million in dividends during the quarter. However, in view of the current economic scenario, the company for the time being has suspended any repurchases under its $500 million share buyback program.

Management now anticipates capital expenditures of $40-$50 million in 2020, down from prior projection of $180-$220 million. This reduction of approximately $140 million in capital expenditures was due to deferment of spending on the company's new headquarters.

Key Things to Note

WWE has issued business updates in light of the impact of the coronavirus outbreak. The company has taken several actions, including reduction in executive and board member compensation, curtailment of operating expenses and lowering of third party staffing, consulting and talent expenses. Management has also agreed to lower headcount by furloughing. Notably, reductions in employee compensation and headcount are anticipated to generate monthly savings of $4 million. Management also informed that the company's current liquidity position (cash and short-term investments) of approximately $500 million will help it navigate through this unprecedented situation.

Key Picks

Cable One CABO, which carries a Zacks Rank #2 (Buy), reported a positive earnings surprise in the last two reported quarters. You can see the complete list of today's Zacks #1 Rank (Strong Buy) stocks here.

Netflix NFLX, which carries a Zacks Rank #2, has a long-term earnings growth rate of 30%.

Grupo Televisa TV has a long-term earnings growth rate of 10%. The stock carries a Zacks Rank #2.

More Stock News: This Is Bigger than the iPhone!

It could become the mother of all technological revolutions. Apple sold a mere 1 billion iPhones in 10 years but a new breakthrough is expected to generate more than 27 billion devices in just 3 years, creating a $1.7 trillion market.

Zacks has just released a Special Report that spotlights this fast-emerging phenomenon and 6 tickers for taking advantage of it. If you don't buy now, you may kick yourself in 2020.

Click here for the 6 trades >>
Want the latest recommendations from Zacks Investment Research? Today, you can download 7 Best Stocks for the Next 30 Days.
Click to get this free report
Grupo Televisa S.A. (TV): Free Stock Analysis Report
Netflix, Inc. (NFLX): Free Stock Analysis Report
World Wrestling Entertainment, Inc. (WWE): Free Stock Analysis Report
Cable One, Inc. (CABO): Free Stock Analysis Report
To read this article on Zacks.com click here.
Zacks Investment Research