PPG Industries (PPG) Inks Deal With Vizient for Paint Products
PPG Industries, Inc. PPG recently declared an agreement with Vizient for paint products. Vizient is the biggest member-driven healthcare performance improvement company in the United States.
The deal will enable Vizient members to procure a wide range of PPG paint products at contracted pricing, including products with low or zero volatile organic compounds. The paint is available for maintenance and decoration across Vizient's member healthcare organizations. These include large integrated delivery networks, academic medical centers, community hospitals, pediatric facilities and non-acute care providers.
The financial details of the deal have not been disclosed as yet. PPG Industries expands its market share opportunity in the healthcare segment through this deal. The company noted that facility managers for medical providers are striving to keep their locations clean and updated through paint maintenance projects, which are not time-intensive. PPG Industries has the industry-leading expertise, customer support and product solutions to achieve these.
Notably, PPG Paints Pure Performance is an interior latex primer, a premium low-odour, zero-VOC primer, which is ideal for hospitals due to its low odor and fast dry time and is available through this agreement. Eventually, antimicrobial PPG paint products may also be available through the agreement.
Shares of PPG Industries have rallied 75.4% in the past year compared with 89.2% rise of the industry.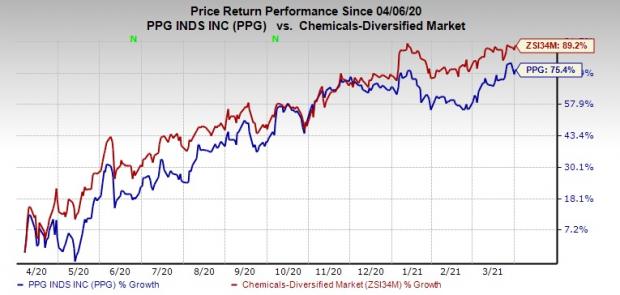 The company, in its last earnings call, stated that it expects overall global coatings demand to continue to improve in many of its end-use markets and across all of its major regions. The company also expects to gain from volume recovery in its technology-advantaged automotive refinish and aerospace coatings businesses, synergy realization and earnings accretion through integration of recently-announced acquisitions as well as an eventual inventory restocking in specific industrial end markets.
Factoring in current global economic activities and the near-term economic uncertainty associated with the pandemic, PPG Industries expects total sales volume for the first quarter of 2021 to be flat to modestly higher, differing by business and region. The company also expects to achieve total incremental cost benefits from restructuring measures of $30-$35 million in the first quarter.
The company also sees adjusted earnings for the first quarter to be $1.55-$1.61 per share. The mid-point of this range indicates an increase of more than 20% over the comparable year-ago figure of $1.31.
PPG Industries, Inc. Price and Consensus
PPG Industries, Inc. price-consensus-chart | PPG Industries, Inc. Quote
Zacks Rank & Key Picks
PPG Industries currently carries a Zacks Rank #4 (Sell).
Some better-ranked stocks in the basic materials space are Fortescue Metals Group Limited FSUGY, Ashland Global Holdings Inc. ASH and Impala Platinum Holdings Limited IMPUY.
Fortescue has a projected earnings growth rate of 107.8% for the current fiscal. The company's shares have surged 125.7% in a year. It currently flaunts a Zacks Rank #1 (Strong Buy). You can see the complete list of today's Zacks #1 Rank stocks here.
Ashland has an expected earnings growth rate of 83.2% for the current fiscal. The company's shares have gained 79.7% in the past year. It currently sports a Zacks Rank #1.
Impala has an expected earnings growth rate of 197.6% for the current fiscal. The company's shares have skyrocketed 299.1% in the past year. It currently flaunts a Zacks Rank #1.
Bitcoin, Like the Internet Itself, Could Change Everything
Blockchain and cryptocurrency has sparked one of the most exciting discussion topics of a generation. Some call it the "Internet of Money" and predict it could change the way money works forever. If true, it could do to banks what Netflix did to Blockbuster and Amazon did to Sears. Experts agree we're still in the early stages of this technology, and as it grows, it will create several investing opportunities.
Zacks' has just revealed 3 companies that can help investors capitalize on the explosive profit potential of Bitcoin and the other cryptocurrencies with significantly less volatility than buying them directly.
See 3 crypto-related stocks now >>
Want the latest recommendations from Zacks Investment Research? Today, you can download 7 Best Stocks for the Next 30 Days.
Click to get this free report
PPG Industries, Inc. (PPG): Free Stock Analysis Report
Ashland Global Holdings Inc. (ASH): Free Stock Analysis Report
Impala Platinum Holdings Ltd. (IMPUY): Free Stock Analysis Report
Fortescue Metals Group Ltd. (FSUGY): Get Free Report
To read this article on Zacks.com click here.
Zacks Investment Research