Roche's COVID-19 Test Gets FDA's Emergency Use Authorization
Roche RHHBY announced today that the FDA has issued an Emergency Use Authorization (EUA) for the Elecsys IL-6 test.

The test will measure levels of the biomarker interleukin 6 (IL-6) and enables identification of patients with confirmed COVID-19 disease, who could be at high risk of intubation with mechanical ventilation.
Interleukin 6 (IL-6) is an early indicator of acute inflammation to aid in the management of critically ill patients.
The test will help physicians, along with other parameters, to decide early if a patient with confirmed COVID-19 illness requires mechanical ventilation.
The company has a strong diagnostics portfolio and the approval of additional tests will further bolster the same.
In March, Roche received the FDA's EUA for a high-volume molecular test to detect SARS-CoV-2, the virus that causes COVID-19. This is also available in countries accepting the CE Mark. Last month, the company announced that its COVID-19 antibody test, aimed at detecting the presence of antibodies in the blood, also received the FDA's EUA and is available in markets accepting the CE mark.
Roche's stock has gained 8.1% in the year so far against the industry's decline of 1.2%.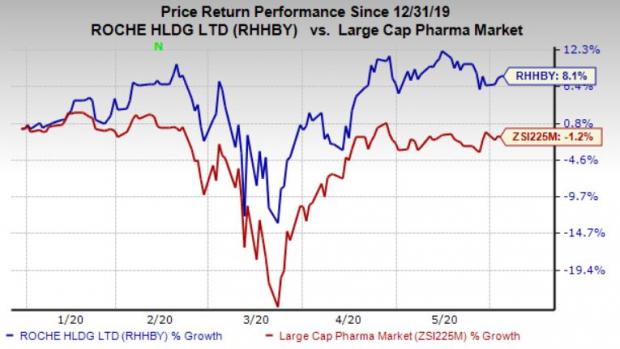 Apart from the diagnostic tests for the identification of patients, Roche is evaluating Actemra/RoActemra for the treatment of COVID-19 patients.
The company has initiated COVACTA, a global phase III randomized, double-blind, placebo-controlled clinical trial, to evaluate the safety and efficacy of intravenous Actemra/RoActemra plus standard of care in hospitalized adult patients with severe COVID-19 pneumonia compared to placebo plus standard of care.
Roche has also initiated a late-stage study on Actemra/RoActemra in combination with Gilead Sciences' GILD remdesivir in hospitalized patients with severe COVID-19 pneumonia.
Given the alarming levels of spread and severity of the virus, many companies are developing drugs/vaccines or testing their approved drugs to determine if they are effective in treating infected patients.
Eli Lilly LLY recently announced that patients have been dosed in its study of a potential antibody treatment designed to fight COVID-19. Meanwhile, Alexion ALXN is evaluating its rare disease drug, Ultomiris (ravulizumab-cwvz), for the COVID-19 infection.
Roche currently carries a Zacks Rank #3 (Hold). You can see the complete list of today's Zacks #1 Rank (Strong Buy) stocks here.
These Stocks Are Poised to Soar Past the Pandemic
The COVID-19 outbreak has shifted consumer behavior dramatically, and a handful of high-tech companies have stepped up to keep America running. Right now, investors in these companies have a shot at serious profits. For example, Zoom jumped 108.5% in less than 4 months while most other stocks were sinking.
Our research shows that 5 cutting-edge stocks could skyrocket from the exponential increase in demand for "stay at home" technologies. This could be one of the biggest buying opportunities of this decade, especially for those who get in early.
See the 5 high-tech stocks now>>
Want the latest recommendations from Zacks Investment Research? Today, you can download 7 Best Stocks for the Next 30 Days.
Click to get this free report
Alexion Pharmaceuticals, Inc. (ALXN): Free Stock Analysis Report
Roche Holding AG (RHHBY): Free Stock Analysis Report
Gilead Sciences, Inc. (GILD): Free Stock Analysis Report
Eli Lilly and Company (LLY): Free Stock Analysis Report
To read this article on Zacks.com click here.
Zacks Investment Research