NVR Rides on Solid Housing Market Fundamentals, Business Model
NVR, Inc. NVR is riding high on strong housing fundamentals buoyed by declining mortgage rates. The company's solid business model, strengthening homebuilding segment and focus on buyback activity bode well.

Over the past year, its shares have gained 53.8% compared with the industry's 43.3% and S&P 500's 13.8% rally. In fact, the Zacks Consensus Estimates for earnings for the current quarter and year have moved 0.9% and 0.5% north, respectively, in the past 30 days.

This bullish analysts' sentiment justifies the stock's current Zacks Rank #2 (Buy) and the expectation of outperformance in the near term. You can see the complete list of today's Zacks #1 Rank (Strong Buy) stocks here.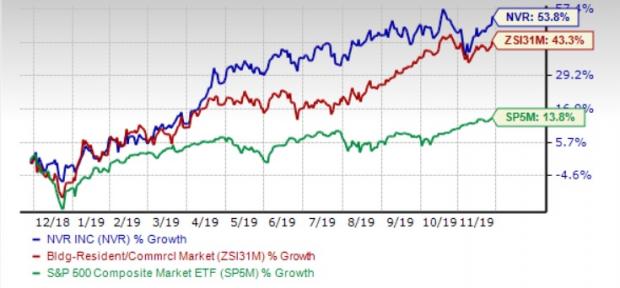 What Makes NVR a Solid Pick?

Stellar Performance on Higher Deliveries: NVR's performance has been robust over the last few quarters. The company's earnings topped analysts' expectations in 11 out of the last 12 quarters. Moreover, its Homebuilding segment's revenues surpassed the consensus estimate in each of the trailing five quarters.

In third-quarter 2019, earnings not only surpassed the consensus estimate but also improved on a year-over-year basis by 16.2%. Also, homebuilding revenues increased 11% and settlements were up 8% from the year-ago period. Despite 1% lower average sales price, new orders increased 11% from the prior-year period to 4,766 units.

Higher deliveries in the Homebuilding segment and solid business model contributed to the growth. Improvement in the housing market since the beginning of 2019 — courtesy of steady job growth — and gradual economic recovery are other positives. The company's optimistic outlook is backed by the recent rise in homebuilder sentiment, which is a true reflection of sturdy housing starts and building permits data, along with new home sales readings.

Solid Business Model: NVR's solid performance was largely owing to the disciplined business model, which focuses on maximizing liquidity and minimizing risk. Its sole business includes selling and building quality homes by typically acquiring finished building lots, without the risk of owning and developing land in a cyclical industry.

This strategy helps the company to avoid financial requirements and risks associated with direct land ownership and land development. Also, it allows NVR to gain efficiencies and a competitive edge over its peers.

Expected Earnings Growth: NVR has a three-five year EPS growth rate of 10.9% compared with the industry average of 7.3%. In fact, its EPS growth in the past five years was 30.1%, higher than the industry average of 28.6%.

The company's earnings for 2019 are expected to grow nearly 10%, while that of the Zacks Homebuilding Industry is likely to decline 1.3%.

Higher Return on Equity: NVR's trailing 12-month return on equity (ROE) is indicative of growth potential. ROE in the trailing 12 months is 41.7% compared with the industry's 12.1%, reflecting the company's efficient usage of its shareholders' funds.

Again, a stock with beta less than 1 suggests that the price movement of the stock is not highly correlated with the market. Since it is less volatile than the market, the stock is a safer bet at the moment. NVR has an impressive beta of 0.59. Adding it to your portfolio brings down your portfolio's overall beta, thereby reducing risk.

Solid VGM Score: NVR has a VGM Score of B. Our VGM Score identifies stocks that have the most attractive value, growth and momentum characteristics. In fact, our research shows that stocks with VGM Scores of A or B when combined with a Zacks Rank #1 or 2 make solid investment choices.

Meanwhile, the company — which share space with M/I Homes, Inc. MHO, Meritage Homes Corporation MTH and PulteGroup, Inc. PHM in the same industry — constitutes a great pick in terms of value investment, supported by a Value Score of B.

Breakout Biotech Stocks with Triple-Digit Profit Potential

The biotech sector is projected to surge beyond $775 billion by 2024 as scientists develop treatments for thousands of diseases. They're also finding ways to edit the human genome to literally erase our vulnerability to these diseases.

Zacks has just released Century of Biology: 7 Biotech Stocks to Buy Right Now to help investors profit from 7 stocks poised for outperformance. Our recent biotech recommendations have produced gains of +98%, +119% and +164% in as little as 1 month. The stocks in this report could perform even better.

See these 7 breakthrough stocks now>>
Want the latest recommendations from Zacks Investment Research? Today, you can download 7 Best Stocks for the Next 30 Days.
Click to get this free report
PulteGroup, Inc. (PHM): Free Stock Analysis Report
NVR, Inc. (NVR): Free Stock Analysis Report
Meritage Corporation (MTH): Free Stock Analysis Report
M/I Homes, Inc. (MHO): Free Stock Analysis Report
To read this article on Zacks.com click here.
Zacks Investment Research