Fluor (FLR) Reports Full-Year 2019 Loss But Shares Up 2.6%
Fluor Corporation's FLR shares gained 2.6% on Sep 25 despite the company's release of dismal full-year 2019 results. The company reported net loss from continuing operations of $11.97 per share for 2019 versus earnings of 7 cents a year ago. The loss includes $533 million of impairment and restructuring costs, $138 million of expenses related to the settlement of its U.K. pension plan, and $731 million related to establishing valuation allowances for reducing net deferred tax assets. Importantly, Fluor expects to be current in financial reporting by 2020-end.

As notified earlier, it has identified material errors in accounting for the Radford Nitrocellulose project. The company has recognized material project-related errors resulting from the absence of timely recognition of changes in forecast project costs and from other errors in project revenue estimates.

Also, it has restated financial results for the years 2016 through 2018 and for each of the interim previously issued quarterly periods for 2018 and 2019 to reflect the underlying performance of the Radford project.
Revenues
The company recorded 2019 revenues of $14.3 billion from continuing operations, down 5.4% from $15.2 billion in 2018.

Fluor's total new awards of $10.6 billion declined from $23.5 billion in 2018. Consolidated backlog for the year came in at $28.4 billion, down from $35.6 billion in 2018.
Fluor Corporation Price, Consensus and EPS Surprise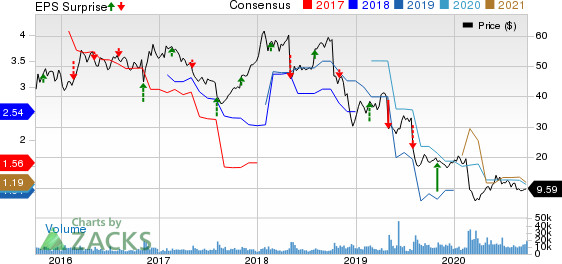 Fluor Corporation price-consensus-eps-surprise-chart | Fluor Corporation Quote
Segment Details
Energy & Chemicals segment's revenues fell 24.3% year over year to $5,823.7 million for 2019. For the year, the segment incurred loss of $95 million against profit of $335 million in 2018, mainly due to charges associated with forecast revisions on certain projects.

New awards came in at $3.7 billion, down from $10.6 billion in 2018. Backlog at the end of 2019 was $14.1 billion compared with $17.8 billion in 2018.

Revenues in the Mining & Industrial segment totaled $5,057.2 million, up 44.9% on a year-over-year basis. Segment profit came in at $159 million for 2019, up from $94 million in 2018. The uptick was led by increased project execution for several mining projects and successful resolution of a longstanding customer dispute.

New awards came in at $1.9 billion, down from $8.7 billion in 2018. Backlog at the end of 2019 was $5.4 billion compared with $8.9 billion in 2018.

Revenues in the Infrastructure & Power segment totaled $1,370.4 million, down 17.8% on a year-over-year basis. The segment incurred operating loss of $244 million, wider than the loss of $30 million in 2018. It includes costs related to the settlement of three gas-fired power projects and forecast revisions related to several infrastructure projects.

The segment booked new awards worth $2.6 billion, up from $2.1 billion a year ago. Backlog at the end of 2019 amounted to $6.1 billion compared with $6.3 billion in the year-ago period.

Diversified Services (including certain retained AMECO operations) revenues dipped 9.6% on a year-over-year basis to $2,040.1 million. It reported segment profit of $15 million for 2019, down from $69 million a year ago. The downside reflects reduced volumes of higher-margin operations and maintenance activities.

New awards totaled $2,217.2 million, down from $2,138.5 million in 2018. Nevertheless, year-end backlog increased to $2.5 billion from $2.3 billion in the prior-year period.

The Other segment, which now includes NuScale and the Radford and Warren government projects, reported revenues of $37.9 million. The segment booked new awards worth $152.2 million. Backlog at 2019-end amounted to $244 million, down from $252.4 million in the prior-year period. It reported a loss of $220 million compared with a loss of $145 million a year ago.
Other Updates
During third-quarter 2019, Fluor management planned to divest the company's government and AMECO equipment businesses. Hence, the results of the government and AMECO businesses have been presented as earnings from discontinued operations for 2019. Meanwhile, in February 2020, Fluor announced its intention to retain the government business and reflect its financial information in continuing operations beginning first-quarter 2020.

Fluor expects to report first-quarter 2020 results within the next month. It also intends to release second-quarter 2020 numbers in four-week time span.

Meanwhile, as stated by the company, preliminary revenues (including the Government group) for the first six months of 2020 amounted to $8 billion, down from first-half 2019.

At the end of August 2020, Fluor's cash balance was $2.1 billion and the company expects the cash balance in that range through the end of 2020. During 2019, Fluor paid $118 million in dividends.
Guidance
Owing to volatility in commodity prices and global disruption from the COVID-19 pandemic, Fluor has suspended all previously issued 2020 guidance.

The company was expected to undertake an interim impairment test due to a steep decline in commodity prices and the impact of the COVID-19 outbreak in first-quarter 2020. As a result of these impairment tests, it anticipates a non-cash impairment of $450-$475 million for the quarter, related to the impairment of goodwill, intangibles, equity method investments, assets held for sale, and other equipment as well as losses associated with reserves for changes in client credit risk.
Zacks Rank
Fluor — which shares space with Jacobs Engineering Group Inc. J, AECOM ACM and KBR, Inc. KBR in the Zacks Engineering - R and D Services industry — currently carries a Zacks Rank #3 (Hold). You can see the complete list of today's Zacks #1 Rank (Strong Buy) stocks here.
More Stock News: This Is Bigger than the iPhone!
It could become the mother of all technological revolutions. Apple sold a mere 1 billion iPhones in 10 years but a new breakthrough is expected to generate more than 27 billion devices in just 3 years, creating a $1.7 trillion market.

Zacks has just released a Special Report that spotlights this fast-emerging phenomenon and 6 tickers for taking advantage of it. If you don't buy now, you may kick yourself in 2021.

Click here for the 6 trades >>
Want the latest recommendations from Zacks Investment Research? Today, you can download 7 Best Stocks for the Next 30 Days.
Click to get this free report
AECOM (ACM): Free Stock Analysis Report
KBR, Inc. (KBR): Free Stock Analysis Report
Fluor Corporation (FLR): Free Stock Analysis Report
Jacobs Engineering Group Inc. (J): Free Stock Analysis Report
To read this article on Zacks.com click here.
Zacks Investment Research