Enersys Gains From Solid Demand & Buyouts Amid Cost Woes
On Mar 23, we issued an updated research report on Enersys ENS.

In the past six months, this Zacks Rank #3 (Hold) stock has lost 36.5%. Also, the industry has recorded a decline of 24.6%, over the same time frame.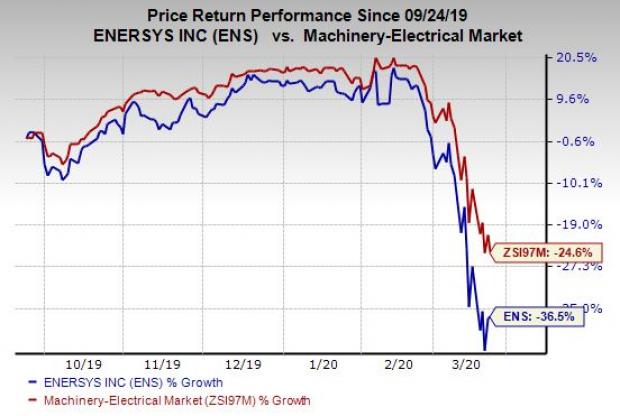 Existing Business Scenario

Enersys has been experiencing strength in its transportation business, on the back of growing popularity for ODYSSEY brands, and solid demand for NexSys TPPL products. Notably, the company's Americas segment will likely gain from increasing order rates, new business prospects in the long-haul spaces and its efforts to expand production capacity for TPPL products.

Also, the company's buyout of Alpha Technologies (closed in December 2018) has been enhancing its portfolio of product across several markets including telecom, broadband, industrial and renewable. By the end of fiscal 2021 (ending March 2021), it expects the buyout to generate annual synergies of $35 million. Moreover, the NorthStar acquisition (closed in October 2019), has been strengthening its production capacities for TPPL products. Together, these buyouts had a positive impact of 20% on the company's net sales in the third quarter of fiscal 2020 (ended December 2019).

However, EnerSys has been witnessing escalating cost of sales over the past several quarters. Notably, the metric recorded growth of 13.1% and 12.3% in the second quarter (ended September 2019) and the third quarter of fiscal 2020, respectively. As a matter of fact, it expects escalating costs to continue hurting profitability in the upcoming quarters.

Further, high debt level remains a concern for the company. Notably, in the last five fiscal years (2015-2019), its long-term debt rose 14.5% (CAGR). Also, its long-term debt (net of unamortized debt issuance costs) of $1,088.3 million at the end of the third quarter of fiscal 2020 represented an increase of 12% from fiscal 2019 end. We find the company more leveraged than the industry. The stock's long-term debt-to-capital ratio is 44.3%, higher than the industry's 31.4%.

Key Picks

Some better-ranked stocks are Graco Inc. GGG, Colfax Corporation CFX and Regal Beloit Corporation RBC. While Graco sports a Zacks Rank #1 (Strong Buy), Colfax and Regal Beloit carry a Zacks Rank #2 (Buy). You can see the complete list of today's Zacks #1 Rank stocks here.

Graco delivered positive earnings surprise of 0.40%, on average, in the trailing four quarters.

Colfax delivered positive earnings surprise of 8.12%, on average, in the trailing four quarters.

Regal Beloit's positive earnings surprise in the last reported quarter is 0.81%.

Free: Zacks' Single Best Stock Set to Double

Today you are invited to download our latest Special Report that reveals 5 stocks with the most potential to gain +100% or more in 2020. From those 5, Zacks Director of Research, Sheraz Mian hand-picks one to have the most explosive upside of all.

This pioneering tech ticker had soared to all-time highs and then subsided to a price that is irresistible. Now a pending acquisition could super-charge the company's drive past competitors in the development of true Artificial Intelligence. The earlier you get in to this stock, the greater your potential gain.

See 5 Stocks Set to Double>>
Want the latest recommendations from Zacks Investment Research? Today, you can download 7 Best Stocks for the Next 30 Days.
Click to get this free report
Regal Beloit Corporation (RBC): Free Stock Analysis Report
Graco Inc. (GGG): Free Stock Analysis Report
Colfax Corporation (CFX): Free Stock Analysis Report
Enersys (ENS): Free Stock Analysis Report
To read this article on Zacks.com click here.
Zacks Investment Research