Editas (EDIT) Q4 Earnings & Sales Fall Shy of Estimates
Editas Medicine, Inc. EDIT incurred a loss of 74 cents per share in the fourth quarter of 2019, much wider than the Zacks Consensus Estimate of 35 cents and also the year-ago loss of 52 cents.
Collaboration and other research and development revenues comprising the company's total revenues came in at $12.3 million, up 101.6% year over year. However, the top line significantly missed the Zacks Consensus Estimate of $51 million.
Editas has no approved product in its portfolio at the moment. The company generates collaboration revenues and other research and development revenues. Its collaboration revenues increased in the fourth quarter owing to higher revenues recognized under its collaboration with Allergan AGN and the amended collaboration agreement with Celgene [now part of Bristol-Myers BMY].
In the reported quarter, research and development expenses were $34.8 million, up 81.2% from the year-ago figure due to increased process and platform development costs. General and administrative expenses also rose 28% to $16.9 million due to higher professional services costs.
Share of Editas have rallied 8.7% in the past year against the industry's decline of 8.8%.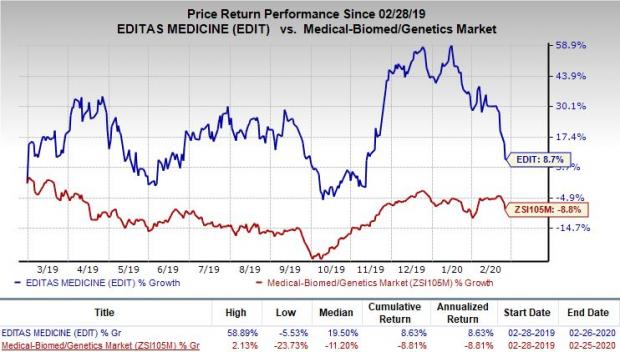 Full-Year Results
For 2019, Editas' revenues of $20.5 million were down 35.7% year over year.
Loss per share was $2.68 in 2019 compared with a loss of $2.33 in 2018.
Pipeline & Other Updates
In the absence of an approved product in Editas' portfolio, pipeline development remains in focus for the company.
The company's lead pipeline candidate, EDIT-101, which uses CRISPR gene editing, is being developed for treating Leber congenital amaurosis type 10 (LCA10), a rare genetic illness that causes blindness. The disease has a significant unmet need as no therapies are presently approved to cure the same.
Editas is developing EDIT-101 in partnership with Allergan.
Editas and Allergan plan to begin patient dosing in the phase I/II study called Brilliance on EDIT-101 for LCA10 in the first quarter of 2020.
Meanwhile, Editas is pursuing the development of CRISPR candidates for eye diseases other than LCA10 including Usher Syndrome type 2A (USH2A) and the recurrent ocular Herpes Simplex Virus type 1 (HSV-1). Meanwhile, the company delivered a preclinical data to Allergan for potential licensing and initiation of investigational new drug (IND) enabling studies on EDIT-102 for USH2A.
Editas initiated an IND enabling activities for EDIT-301, an experimental CRISPR medicine designed to treat sickle cell disease and beta-thalassemia by editing the beta-globin locus. The company plans to file the IND for EDIT-301 by the end of 2020.
This apart, in January 2020, Editas entered into a strategic collaboration, license and option agreement with Sandhill Therapeutics, Inc., to combine their respective genome editing and cell therapy technologies for discovering and developing allogeneic engineered natural killer (NK) cells and non-alpha beta T cell medicines to treat cancer. Per the press release, Editas plans to initiate the IND-enabling studies on an experimental engineered oncology medicine for treating solid tumors by mid-2020.
Editas Medicine, Inc. Price, Consensus and EPS Surprise
Zacks Rank & Another Key Pick
Editas currently carries a Zacks Rank #2 (Buy). Another top-ranked stock in the biotech sector is Regeneron Pharmaceuticals, Inc. REGN, which sports a Zacks Rank #1 (Strong Buy). You can see the complete list of today's Zacks #1 Rank stocks here.
Regeneron's earnings estimates have been revised 5.8% upward for 2020 over the past 60 days. The stock has gained 6.3% in the past year.
Today's Best Stocks from Zacks
Would you like to see the updated picks from our best market-beating strategies? From 2017 through 2019, while the S&P 500 gained and impressive +53.6%, five of our strategies returned +65.8%, +97.1%, +118.0%, +175.7% and even +186.7%.

This outperformance has not just been a recent phenomenon. From 2000 – 2019, while the S&P averaged +6.0% per year, our top strategies averaged up to +54.7% per year.
See their latest picks free >>
Want the latest recommendations from Zacks Investment Research? Today, you can download 7 Best Stocks for the Next 30 Days.
Click to get this free report
Regeneron Pharmaceuticals, Inc. (REGN): Free Stock Analysis Report
Bristol-Myers Squibb Company (BMY): Free Stock Analysis Report
Allergan plc (AGN): Free Stock Analysis Report
Editas Medicine, Inc. (EDIT): Free Stock Analysis Report
To read this article on Zacks.com click here.
Zacks Investment Research