Here's Why Investors Should Avoid Nordson (NDSN) Stock Now
We have issued an updated research report on Nordson Corporation NDSN on Dec 27.

Currently, this industrial machinery has a Zacks Rank #4 (Sell) and a market capitalization of approximately $6.8 billion.

Let's delve deeper and discuss what led to the company's poor investment appeal.

Share Price Performances, Poor Valuation & Earnings Estimate Revision: We believe that market sentiments are against Nordson for quite some time now. In a year's time, the stock has decreased roughly 20% compared with the S&P 500's fall of 12.4% and the industry's decline of 21.5%.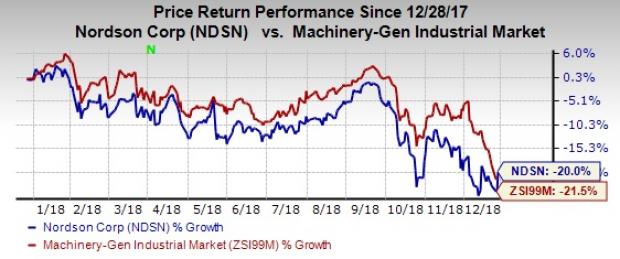 At the moment, Nordson appears overvalued compared with its industry. On a Price/Earnings (P/E) basis, the stock is currently trading at 20x, comparatively higher than the industry's 17x.

In the past 30 days, the company's earnings estimates for fiscal 2019 (ending October 2019) have been lowered by seven brokerage firms and that for fiscal 2020 (ending October 2020) have been reduced by four firms. Currently, the Zacks Consensus Estimate is pegged at $6.49 for fiscal 2019 and $7.10 for fiscal 2020, reflecting a decline of 2.7% and 4.8% from the respective tallies 30-days ago.

Nordson Corporation Price and Consensus
Higher Costs and Expenses: On a year-over-year basis, Nordson's costs of sales and operating expenses increased 9.8% and 8.8%, respectively, in the fiscal 2018. Notably, the company has been suffering from these issues for quite some time now. In the last five fiscals (2014-2018), cost of sales had increased 6.1% (CAGR) and operating expenses improved by 5% (CAGR).

If unchecked, rising costs and expenses might prove detrimental to the company's margins and profitability in the quarters ahead.

High Debt and Low Returns on Capital: Nordson's long-term debts in the last five fiscal years (2014-2018) increased 13.1% (CAGR). The balance stood at $1,285.4 million at the end of fiscal 2018, reflecting a 2.3% growth year over year. Also, interest expenses were up 35.4% year over year in the current year. Further, the company is more leveraged with debt/capital ratio of 0.5x compared with the industry's 0.4x debt/capital ratio. We believe that, if unchecked, high-debt levels might hurt the company's margins and profitability in the quarters ahead.

Additionally, during the last five fiscal, the company's capital expenditures grew by 15.7% (CAGR) against fall in return on capital from 17% in fiscal 2017 to 15% in fiscal 2018. Lower return on capital despite an increase in capital spending is concerning as well.

Forex Woes: Geographical diversification is reflective of Nordson's flourishing business. However, this diversity exposed the company to headwinds arising from geopolitical issues and unfavorable movements in foreign currencies. In the fourth quarter of fiscal 2018, forex woes adversely impacted sales growth by 1%.

In fiscal 2019, Nordson predicts an adverse impact of 2% on sales growth due to unfavorable movements in foreign currencies.

Stocks to Consider

Some better-ranked stocks in the industry are DXP Enterprises, Inc. DXPE, EnPro Industries, Inc. NPO and Luxfer Holdings PLC LXFR. All these stocks currently sport a Zacks Rank #1 (Strong Buy). You can see the complete list of today's Zacks #1 Rank stocks here.

For fiscal 2018, earnings estimates for all these three stocks improved over the past 60 days. Further, positive earnings surprise for the last quarter was 17.95% for DXP Enterprises, 23.64% for EnPro Industries and 60.61% for Luxfer.

Looking for Stocks with Skyrocketing Upside?

Zacks has just released a Special Report on the booming investment opportunities of legal marijuana.

Ignited by new referendums and legislation, this industry is expected to blast from an already robust $6.7 billion to $20.2 billion in 2021. Early investors stand to make a killing, but you have to be ready to act and know just where to look.

See the pot trades we're targeting>>
Want the latest recommendations from Zacks Investment Research? Today, you can download 7 Best Stocks for the Next 30 Days.
Click to get this free report
EnPro Industries (NPO): Free Stock Analysis Report
Luxfer Holdings PLC (LXFR): Free Stock Analysis Report
DXP Enterprises, Inc. (DXPE): Free Stock Analysis Report
Nordson Corporation (NDSN): Free Stock Analysis Report
To read this article on Zacks.com click here.
Zacks Investment Research