IMV Doses First Patient in the Mid-Stage Study With Keytruda
IMV Inc. IMV recently announced that the first patient has been dosed in the phase IIB VITALIZE study.
The study will further evaluate the clinical benefit of IMV's lead compound, maveropepimut-S (MVP-S), in combination with pharma giant Merck's MRK anti-PD-1 therapy, Keytruda, in patients with relapsed/refractory diffuse large B cell lymphoma (r/r DLBCL).
The study will also evaluate the contribution of low-dose cyclophosphamide (CPA) as an immune modulator.
The study is designed to assess MVP-S in combination with Keyruda with or without CPA in stages. The combination will be evaluated in up to 150 subjects with r/r DLBCL who have received at least two prior lines of systemic therapy and are ineligible or have failed autologous stem cell transplant (ASCT) or CAR-T therapy.
The primary endpoint is objective response rate (ORR), centrally evaluated per Lugano (2014) and measured by the number of subjects per arm achieving the best response of partial or complete response (PR+CR) during the two-year treatment period. All subjects will be evaluated for their baseline PD-L1 expression. Exploratory endpoints include cell-mediated immune response, tumor immune cell infiltration and biomarker analysis.
IMV expects to review early data in summer 2022.
MVP-S is also being evaluated for hematologic and solid cancers, including DLBCL and ovarian, bladder and breast cancers.
Shares of IMV have plunged 63% in the past year compared with the industry's decline of 27.1%.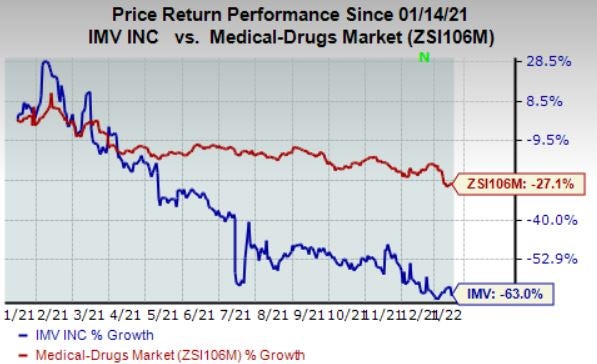 Image Source: Zacks Investment Research
IMV is also developing a second immunotherapy leveraging the DPX immune delivery platform, DPX-SurMAGE. This dual-targeted immunotherapy combines antigenic peptides for both the survivin and MAGE-A9 cancer proteins to elicit immune responses to these two distinct cancer antigens simultaneously. A phase I study in bladder cancer will open in early 2022.
The successful development of the candidates will be a significant boost for this clinical-stage company.
On Sep 30, 2021, IMV had cash and cash equivalents of $36.5 million and working capital of $37.3 million. The company expects that its current cash position will be sufficient to fund operations until the third quarter of 2022.
Merck's Keytruda is approved for various oncology indications and is one of the key drivers for the company. Keytruda raked in sales of $12.6 billion in the first nine months of 2021.
IMV currently carries a Zacks Rank #3 (Hold). A couple of better-ranked stocks in the healthcare sector are Vir Biotechnology VIR and Alkermes ALKS, each sporting a Zacks Rank #1 (Strong Buy). You can see the complete list of today's Zacks #1 Rank stocks here.
Earnings estimates for Vir have moved up $4.76 in the past 30 days for 2022. VIR is up 9.6% in the past year.
Earnings estimates for Alkermes have moved up a cent for 2022 in the past 30 days for 2022. ALKS is up 10.1% in the past year.



Bitcoin, Like the Internet Itself, Could Change Everything
Blockchain and cryptocurrency has sparked one of the most exciting discussion topics of a generation. Some call it the "Internet of Money" and predict it could change the way money works forever. If true, it could do to banks what Netflix did to Blockbuster and Amazon did to Sears. Experts agree we're still in the early stages of this technology, and as it grows, it will create several investing opportunities.
Zacks' has just revealed 3 companies that can help investors capitalize on the explosive profit potential of Bitcoin and the other cryptocurrencies with significantly less volatility than buying them directly.
See 3 crypto-related stocks now >>
Want the latest recommendations from Zacks Investment Research? Today, you can download 7 Best Stocks for the Next 30 Days.
Click to get this free report
Merck & Co., Inc. (MRK): Free Stock Analysis Report
Alkermes plc (ALKS): Free Stock Analysis Report
IMV (IMV): Free Stock Analysis Report
Vir Biotechnology, Inc. (VIR): Free Stock Analysis Report
To read this article on Zacks.com click here.
Zacks Investment Research