Does Nvidia's (NVDA) Tremendous Rally Have Legs?
Nvidia NVDA is one of the most cutting-edge chip companies on the market with GPUs that are going to change the world, and investors are finally pricing this in. I have been calling NVDA shares a buy since last summer, and this stock has more than doubled since then. These shares are reaching all-time highs following strong Q4 earnings to round out the year. Now cautious investors are wondering if its time to double down on their investment or pull profits off the table.
The entire semiconductor segment has been on an upswing the past 6 months with the drivers of the rally including Nvidia, AMD AMD, TSMC TSM, and Intel INTC. These innovative pioneers are paving the way for technological breakthroughs in this 4th industrial revolution.
NVDA
Long-term NVDA shareholders have been on a rollercoaster, with the stock surging into the end of 2018 Q3 and breaking down hard in Q4, losing 50% of its value due to the cyclical forces of semis. The stock has since been on an uptrend as the future potential of this firm begins to be realized by analysts and investors. NVDA just broke through the $300 level for the first time this week as this relentless rally continues.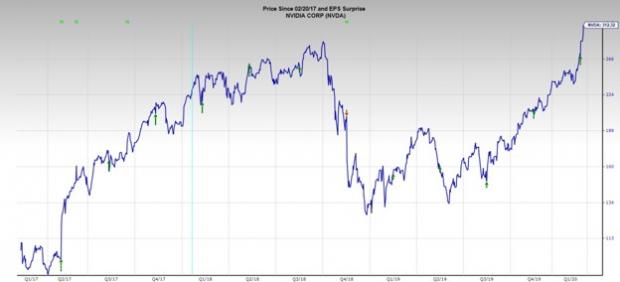 Nvidia's GPUs began as image rendering chips, with technology that was praised by PC gamers across the world. Today Nvidia's chips have inherited capabilities way beyond local PC images. These hyper-fast GPUs are becoming essential components in data centers and the development of AI. Nvidia is just scratching the surface of their chips' abilities. Analysts have recognized this and continue to price more into this stock.
22 out of 29 analysts are calling this stock a buy right now with Nvidia's datacenter potential being the primary catalyst. Datacenter revenue hit its highest sales figures to date, and its gaming segment illustrated strong year-over-year growth.
Nvidia is also leveraging 5G with its anticipated cloud gaming platform. Like cloud computing is the future of business data and analytics, cloud gaming is the future of gaming. Nvidia is making a big bet in this field with its cloud platform, GeForce NOW. This platform allows gamers to use their Macs or PCs for gaming anywhere with the high-speed, low-latency technology of Nvidia's GPUs without needing Nvidia's hardware locally.
Take Away
Nvidia's diverse set of cutting-edge GPUs makes this company a perfect fit for your portfolio of the future. NVDA shares are riding a high that is not only driven by economic advancement but by its future technology that has yet to be proven.
NVDA is a high-risk high-reward play, but its long-term upside far outpaces its potential short-term volatility. The recent run-up does give me some anxiety about putting a significant position on NVDA. A pullback may be on the horizon that will create a better buying opportunity. I would love to buy these shares closer to their 50-day moving average (around $250 right now), or its old high of $286, but there is no guarantee that the stock will fall below its current price.
Just Released: Zacks' 7 Best Stocks for Today

Experts extracted 7 stocks from the list of 220 Zacks Rank #1 Strong Buys that has beaten the market more than 2X over with a stunning average gain of +24.6% per year.

These 7 were selected because of their superior potential for immediate breakout.

See these time-sensitive tickers now >>

Want the latest recommendations from Zacks Investment Research? Today, you can download 7 Best Stocks for the Next 30 Days.
Click to get this free report
NVIDIA Corporation (NVDA): Free Stock Analysis Report
Intel Corporation (INTC): Free Stock Analysis Report
Advanced Micro Devices, Inc. (AMD): Free Stock Analysis Report
Taiwan Semiconductor Manufacturing Company Ltd. (TSM): Free Stock Analysis Report
To read this article on Zacks.com click here.
Zacks Investment Research