Is Boston Beer (SAM) Still a Great Growth Stock?
Shares of The Boston Beer Company SAM have skyrocketed 185% in the past year, as hard seltzer flies off the shelves. The stock had cooled off since it hit records following its Q3 release in late October.
But things have changed quickly, with SAM up 25% since the end of January to breakout of its small slump to reach new highs ahead of Q4 fiscal 2020 financial release that's due out on Wednesday, February 17.
Seltzer Sales Keep Flowing
One of the founding fathers of the U.S. craft beer revolution helped kickstart the booming hard seltzer market. Boston Beer launched Truly Hard Seltzer back in 2016 and its success has helped SAM's sales soar. The company is one of two dominant players in the category, alongside White Claw, which is owned by Mark Anthony Brands.
Boston Beer's founder Jim Koch has called hard seltzer the biggest thing since light beer and "really once in a generation." The growth of the hard seltzer category has propelled Anheuser-Busch InBev BUD, Molson Coors TAP, Constellation Brands STZ, and even Coca-Cola KO—under its Topo Chico brand—to join the party. SAM's competitors sell seltzers under their flagship brands such as Bud Light and Coors, and many other smaller players have emerged as well.
Boston Beer has expanded its reach within the space to include Lemonade Hard Seltzer and Iced Tea Seltzer, while also rolling out new flavors and package sizes. All of this should help it capture more of the hard seltzer market that is projected to climb from roughly $4.1 billion in 2020 to $14.5 billion by 2027.

Diving Deeper
The nearby chart shows that the introduction of Truly in 2016 helped Boston Beer's revenue climb once the category started to catch on. For instance, SAM's revenue jumped by 15% in fiscal 2018 and 26% in FY19, after it dipped in FY17 and FY16.
The pandemic has also been very kind to SAM, with its sales up over 30% in the first three quarters of 2020 (after doing 34% in the final quarter of 2019), including a 42% jump in Q2. And this growth isn't expected to stop anytime soon.
Zacks estimates call for its fourth quarter revenue to jump 51% to $456 million, with its adjusted earnings projected to soar 144% to $3.02 a share. Boston Beer is then expected to post 50% and 137% top and bottom-line growth in the first quarter of fiscal 2021.
More broadly, SAM's 2020 revenue is projected to climb 39% to $1.73 billion to help lift its adjusted earnings by 63%. Its sales are then expected to climb 32% higher in 2021 to push its adjusted earnings up by 52%. Investors should note that both of these revenue estimates would mark Boston Beer's strongest growth as a public firm—topping 2013's 27% climb.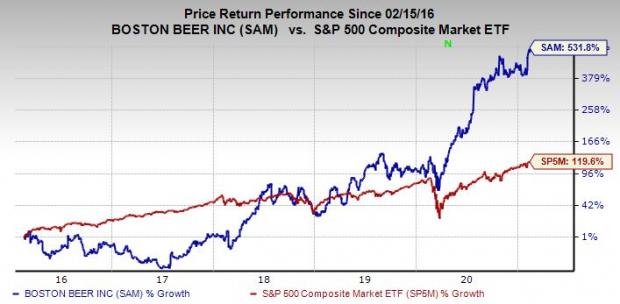 Bottom Line
Boston Beer is currently a Zacks Rank #3 (Hold) and its portfolio still features Samuel Adams, Dogfish Head Brewery, and some other craft brands. SAM has easily topped our earnings estimates in the last two periods and its Most Accurate Q4 ESP estimate—which is the most recent estimate Zacks has—comes in 32% above our consensus. This could mean that Boston Beer is due to post impressive results once again.
SAM stock jumped 3.75% during regular trading hours on Friday to $1,167.13 a share to outpace the S&P 500's 0.50% pop. On top of that, the broader earnings season has seen companies report far better-than-projected results and provide positive guidance.
Even though Boston Beer is trading right near its recent records and has trounced the market and its industry recently and over the last several years, it trades at a huge discount to the Alcoholic Beverage market at 5.9X forward 12-month sales vs. 16.3X. Perhaps more importantly, SAM trades at a 15% discount compared to its own year-long highs in terms of valuation.
Zacks Top 10 Stocks for 2021

In addition to the stocks discussed above, would you like to know about our 10 best buy-and-hold tickers for the entirety of 2021?

Last year's 2020Zacks Top 10 Stocks portfolio returned gains as high as +386.8%. Now a brand-new portfolio has been handpicked from over 4,000 companies covered by the Zacks Rank. Don't miss your chance to get in on these long-term buys.

AccessZacks Top 10 Stocks for 2021 today >>
Want the latest recommendations from Zacks Investment Research? Today, you can download 7 Best Stocks for the Next 30 Days.
Click to get this free report
Molson Coors Beverage Company (TAP): Free Stock Analysis Report
Constellation Brands Inc (STZ): Free Stock Analysis Report
CocaCola Company The (KO): Get Free Report
AnheuserBusch InBev SANV (BUD): Free Stock Analysis Report
The Boston Beer Company, Inc. (SAM): Free Stock Analysis Report
To read this article on Zacks.com click here.
Zacks Investment Research